Alpine Apartment of a studio type
The suite is inspired by the Alpine climate and traditional interior design typical of houses in the high Alps. Bright colours of the interior, characteristic accessories and the structure of wood create the charm of this apartment. The Alpine apartment is a perfect combination of tradition and functionality.
a single-level apartment with a surface of approximately 30 m2, designed for two people,
the suite includes: a sleeping area, bathroom, a leisure part combined with a kitchenette,
the kitchenette is equipped with a fridge with  afreezer, electric cooker hob, Nespresso coffee machine with a starter kit, electric kettle, dishwasher, microwave oven, toaster, and all necessary kitchenware (glass, plates, cutlery, pots), ironing facilities,
additional place to sleep in the form of a folding sofa in the living room
air conditioning,
the apartment has two balconies,
the apartment is located on the second floor,
free WI-FI access,
free car park available on site (one parking space per apartment).
Additional information
breakfast catering (extra charge),
satellite TV in the apartment,
free cots and high chairs for children as well as baby baths (available on Customer's request),
free sledges in the winter season,
individual ski storage for the apartment,
possibility to use sauna and salt graduation house (extra charge) in the neighbouring Villa TATIANA lux.
The apartment is equipped with
a set of high quality toiletries (shampoo and hair conditioner, soap), towels, hair dryer, bed linen, slippers.
Important information
non-smokers only,
pets are not allowed,
organizing events and parties is prohibited.
Facilities and equipment
Nespresso coffee machine with a starter kit
Sauna (extra charge – available in Villa Lux)
Salt graduation house (extra charge – available in Villa Lux)
In order to acquire information concerning price and availability of the apartment, please determine the dates of your stay and then confirm them by clicking the "check" button
Online booking without brokers
guarantee of the best price | current availability of the apartments
See the layout of the apartment:
level 1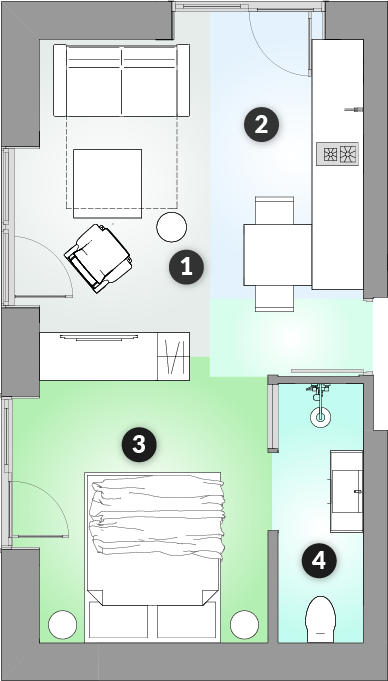 Leisure area (1)
The area features a comfortable sofa which can function as an extra bed (ideal for one person), as well as a small coffee table, a TV set and a comfortable armchair. Two separate entrances to the terrace are located in this part of the apartment.
---
Kitchenette (2)
A fully equipped kitchenette also has a slide-out table and 2 chairs.
---
Sleeping area (3)
A comfortable double bed with a 180×200 mattress guarantees sleeping comfort. Wardrobe is located between the leisure and sleeping areas.
---
Bathroom (4)
Modern bathroom has standard equipment, a large mirror and a spacious shower cabin.
---
See reviews Willa Tatiana folk
Neighbourhood of Villa Tatiana
500 m – grocery store
300 m - park and children's playground
300 m – ice skating rink in winter
1,1 km - Aqua Park
1,4 km – market under Gubałówka
1,5 km – railway station
The nearest airports
31,4 km - Poprad-Tatry Airport
88,1 km - Kraków-Balice Airport
The most popular attractions
500 m – Krupówki
500 m – Museum of Kornel Makuszyński
800 m - Municipal Art Gallery in Zakopane
900 m - Szymanowski Museum
600 m – Gigant ski lift
900 m – Nosal ski lift
900 m - Wielka Krokiew ski jump
1 km – Białego Valley
1,6 km - Gubałówka funicular
1,8 km - Szymoszkowa lift
1,8 km – Cemetery on Peksowy Brzyzek
2,1 km – Villa Koliba
2,5 km - Kasprowy Wierch ski lift
2,7 km - Pardałówka ski lift
2,8 km - Gubałówka
4,1 km - Harenda ski lift
5,1 km – Strążyńska Valley
5,7 km - Cabanówka ski lift
6,4 km - Kasprowy Wierch
7 km – Kościeliska Valley
11,4 km - Ku Dolinie ski lift
12,9 km - Morskie Oko
14,9 km – Chochołowska Valley
15,3 km - Bania Thermal Bath
See similar apartments
see and book

4+2

Array ( [0] => Array ( [id] => 1500 [alt] => Apartament Tatrzański Willa Tatiana folk drewniany kuchnia [title] => Apartament_Tatrzański_Willa_Tatiana_folk [caption] => [description] => [mime_type] => image/jpeg [url] => https://willatatiana.pl/wp-content/uploads/2016/11/Apartament_Tatrzański_Willa_Tatiana_folk_Zakopane_01.jpg [width] => 1000 [height] => 667 [sizes] => Array ( [thumbnail] => https://willatatiana.pl/wp-content/uploads/2016/11/Apartament_Tatrzański_Willa_Tatiana_folk_Zakopane_01-150x150.jpg [thumbnail-width] => 150 [thumbnail-height] => 150 [medium] => https://willatatiana.pl/wp-content/uploads/2016/11/Apartament_Tatrzański_Willa_Tatiana_folk_Zakopane_01-300x200.jpg [medium-width] => 300 [medium-height] => 200 [medium_large] => https://willatatiana.pl/wp-content/uploads/2016/11/Apartament_Tatrzański_Willa_Tatiana_folk_Zakopane_01-768x512.jpg [medium_large-width] => 620 [medium_large-height] => 413 [large] => https://willatatiana.pl/wp-content/uploads/2016/11/Apartament_Tatrzański_Willa_Tatiana_folk_Zakopane_01.jpg [large-width] => 620 [large-height] => 414 [1536x1536] => https://willatatiana.pl/wp-content/uploads/2016/11/Apartament_Tatrzański_Willa_Tatiana_folk_Zakopane_01.jpg [1536x1536-width] => 1000 [1536x1536-height] => 667 [2048x2048] => https://willatatiana.pl/wp-content/uploads/2016/11/Apartament_Tatrzański_Willa_Tatiana_folk_Zakopane_01.jpg [2048x2048-width] => 1000 [2048x2048-height] => 667 [slider-image] => https://willatatiana.pl/wp-content/uploads/2016/11/Apartament_Tatrzański_Willa_Tatiana_folk_Zakopane_01-1000x430.jpg [slider-image-width] => 1000 [slider-image-height] => 430 [slider-image-thumb] => https://willatatiana.pl/wp-content/uploads/2016/11/Apartament_Tatrzański_Willa_Tatiana_folk_Zakopane_01-625x215.jpg [slider-image-thumb-width] => 625 [slider-image-thumb-height] => 215 [slider-apartamenty] => https://willatatiana.pl/wp-content/uploads/2016/11/Apartament_Tatrzański_Willa_Tatiana_folk_Zakopane_01-1000x240.jpg [slider-apartamenty-width] => 1000 [slider-apartamenty-height] => 240 [slider-apartamenty-thumb] => https://willatatiana.pl/wp-content/uploads/2016/11/Apartament_Tatrzański_Willa_Tatiana_folk_Zakopane_01-625x120.jpg [slider-apartamenty-thumb-width] => 625 [slider-apartamenty-thumb-height] => 120 [apartament-image] => https://willatatiana.pl/wp-content/uploads/2016/11/Apartament_Tatrzański_Willa_Tatiana_folk_Zakopane_01-290x177.jpg [apartament-image-width] => 290 [apartament-image-height] => 177 [apartament-gallery-image] => https://willatatiana.pl/wp-content/uploads/2016/11/Apartament_Tatrzański_Willa_Tatiana_folk_Zakopane_01-905x523.jpg [apartament-gallery-image-width] => 905 [apartament-gallery-image-height] => 523 [apartament-gallery-image-thumb] => https://willatatiana.pl/wp-content/uploads/2016/11/Apartament_Tatrzański_Willa_Tatiana_folk_Zakopane_01-150x84.jpg [apartament-gallery-image-thumb-width] => 150 [apartament-gallery-image-thumb-height] => 84 ) ) [1] => Array ( [id] => 1501 [alt] => Apartament Tatrzański Willa Tatiana folk drewniany salon [title] => Apartament_Tatrzański_Willa_Tatiana_folk [caption] => [description] => [mime_type] => image/jpeg [url] => https://willatatiana.pl/wp-content/uploads/2016/11/Apartament_Tatrzański_Willa_Tatiana_folk_Zakopane_02.jpg [width] => 1000 [height] => 667 [sizes] => Array ( [thumbnail] => https://willatatiana.pl/wp-content/uploads/2016/11/Apartament_Tatrzański_Willa_Tatiana_folk_Zakopane_02-150x150.jpg [thumbnail-width] => 150 [thumbnail-height] => 150 [medium] => https://willatatiana.pl/wp-content/uploads/2016/11/Apartament_Tatrzański_Willa_Tatiana_folk_Zakopane_02-300x200.jpg [medium-width] => 300 [medium-height] => 200 [medium_large] => https://willatatiana.pl/wp-content/uploads/2016/11/Apartament_Tatrzański_Willa_Tatiana_folk_Zakopane_02-768x512.jpg [medium_large-width] => 620 [medium_large-height] => 413 [large] => https://willatatiana.pl/wp-content/uploads/2016/11/Apartament_Tatrzański_Willa_Tatiana_folk_Zakopane_02.jpg [large-width] => 620 [large-height] => 414 [1536x1536] => https://willatatiana.pl/wp-content/uploads/2016/11/Apartament_Tatrzański_Willa_Tatiana_folk_Zakopane_02.jpg [1536x1536-width] => 1000 [1536x1536-height] => 667 [2048x2048] => https://willatatiana.pl/wp-content/uploads/2016/11/Apartament_Tatrzański_Willa_Tatiana_folk_Zakopane_02.jpg [2048x2048-width] => 1000 [2048x2048-height] => 667 [slider-image] => https://willatatiana.pl/wp-content/uploads/2016/11/Apartament_Tatrzański_Willa_Tatiana_folk_Zakopane_02-1000x430.jpg [slider-image-width] => 1000 [slider-image-height] => 430 [slider-image-thumb] => https://willatatiana.pl/wp-content/uploads/2016/11/Apartament_Tatrzański_Willa_Tatiana_folk_Zakopane_02-625x215.jpg [slider-image-thumb-width] => 625 [slider-image-thumb-height] => 215 [slider-apartamenty] => https://willatatiana.pl/wp-content/uploads/2016/11/Apartament_Tatrzański_Willa_Tatiana_folk_Zakopane_02-1000x240.jpg [slider-apartamenty-width] => 1000 [slider-apartamenty-height] => 240 [slider-apartamenty-thumb] => https://willatatiana.pl/wp-content/uploads/2016/11/Apartament_Tatrzański_Willa_Tatiana_folk_Zakopane_02-625x120.jpg [slider-apartamenty-thumb-width] => 625 [slider-apartamenty-thumb-height] => 120 [apartament-image] => https://willatatiana.pl/wp-content/uploads/2016/11/Apartament_Tatrzański_Willa_Tatiana_folk_Zakopane_02-290x177.jpg [apartament-image-width] => 290 [apartament-image-height] => 177 [apartament-gallery-image] => https://willatatiana.pl/wp-content/uploads/2016/11/Apartament_Tatrzański_Willa_Tatiana_folk_Zakopane_02-905x523.jpg [apartament-gallery-image-width] => 905 [apartament-gallery-image-height] => 523 [apartament-gallery-image-thumb] => https://willatatiana.pl/wp-content/uploads/2016/11/Apartament_Tatrzański_Willa_Tatiana_folk_Zakopane_02-150x84.jpg [apartament-gallery-image-thumb-width] => 150 [apartament-gallery-image-thumb-height] => 84 ) ) [2] => Array ( [id] => 1502 [alt] => Apartament Tatrzański Willa Tatiana folk drewniany salon [title] => Apartament_Tatrzański_Willa_Tatiana_folk [caption] => [description] => [mime_type] => image/jpeg [url] => https://willatatiana.pl/wp-content/uploads/2016/11/Apartament_Tatrzański_Willa_Tatiana_folk_Zakopane_03.jpg [width] => 1000 [height] => 627 [sizes] => Array ( [thumbnail] => https://willatatiana.pl/wp-content/uploads/2016/11/Apartament_Tatrzański_Willa_Tatiana_folk_Zakopane_03-150x150.jpg [thumbnail-width] => 150 [thumbnail-height] => 150 [medium] => https://willatatiana.pl/wp-content/uploads/2016/11/Apartament_Tatrzański_Willa_Tatiana_folk_Zakopane_03-300x188.jpg [medium-width] => 300 [medium-height] => 188 [medium_large] => https://willatatiana.pl/wp-content/uploads/2016/11/Apartament_Tatrzański_Willa_Tatiana_folk_Zakopane_03-768x482.jpg [medium_large-width] => 620 [medium_large-height] => 389 [large] => https://willatatiana.pl/wp-content/uploads/2016/11/Apartament_Tatrzański_Willa_Tatiana_folk_Zakopane_03.jpg [large-width] => 620 [large-height] => 389 [1536x1536] => https://willatatiana.pl/wp-content/uploads/2016/11/Apartament_Tatrzański_Willa_Tatiana_folk_Zakopane_03.jpg [1536x1536-width] => 1000 [1536x1536-height] => 627 [2048x2048] => https://willatatiana.pl/wp-content/uploads/2016/11/Apartament_Tatrzański_Willa_Tatiana_folk_Zakopane_03.jpg [2048x2048-width] => 1000 [2048x2048-height] => 627 [slider-image] => https://willatatiana.pl/wp-content/uploads/2016/11/Apartament_Tatrzański_Willa_Tatiana_folk_Zakopane_03-1000x430.jpg [slider-image-width] => 1000 [slider-image-height] => 430 [slider-image-thumb] => https://willatatiana.pl/wp-content/uploads/2016/11/Apartament_Tatrzański_Willa_Tatiana_folk_Zakopane_03-625x215.jpg [slider-image-thumb-width] => 625 [slider-image-thumb-height] => 215 [slider-apartamenty] => https://willatatiana.pl/wp-content/uploads/2016/11/Apartament_Tatrzański_Willa_Tatiana_folk_Zakopane_03-1000x240.jpg [slider-apartamenty-width] => 1000 [slider-apartamenty-height] => 240 [slider-apartamenty-thumb] => https://willatatiana.pl/wp-content/uploads/2016/11/Apartament_Tatrzański_Willa_Tatiana_folk_Zakopane_03-625x120.jpg [slider-apartamenty-thumb-width] => 625 [slider-apartamenty-thumb-height] => 120 [apartament-image] => https://willatatiana.pl/wp-content/uploads/2016/11/Apartament_Tatrzański_Willa_Tatiana_folk_Zakopane_03-290x177.jpg [apartament-image-width] => 290 [apartament-image-height] => 177 [apartament-gallery-image] => https://willatatiana.pl/wp-content/uploads/2016/11/Apartament_Tatrzański_Willa_Tatiana_folk_Zakopane_03-905x523.jpg [apartament-gallery-image-width] => 905 [apartament-gallery-image-height] => 523 [apartament-gallery-image-thumb] => https://willatatiana.pl/wp-content/uploads/2016/11/Apartament_Tatrzański_Willa_Tatiana_folk_Zakopane_03-150x84.jpg [apartament-gallery-image-thumb-width] => 150 [apartament-gallery-image-thumb-height] => 84 ) ) [3] => Array ( [id] => 1503 [alt] => Apartament Tatrzański Willa Tatiana folk drewniany rzeźbiony aneks kuchenny [title] => Apartament_Tatrzański_Willa_Tatiana_folk [caption] => [description] => [mime_type] => image/jpeg [url] => https://willatatiana.pl/wp-content/uploads/2016/11/Apartament_Tatrzański_Willa_Tatiana_folk_Zakopane_04.jpg [width] => 1000 [height] => 660 [sizes] => Array ( [thumbnail] => https://willatatiana.pl/wp-content/uploads/2016/11/Apartament_Tatrzański_Willa_Tatiana_folk_Zakopane_04-150x150.jpg [thumbnail-width] => 150 [thumbnail-height] => 150 [medium] => https://willatatiana.pl/wp-content/uploads/2016/11/Apartament_Tatrzański_Willa_Tatiana_folk_Zakopane_04-300x198.jpg [medium-width] => 300 [medium-height] => 198 [medium_large] => https://willatatiana.pl/wp-content/uploads/2016/11/Apartament_Tatrzański_Willa_Tatiana_folk_Zakopane_04-768x507.jpg [medium_large-width] => 620 [medium_large-height] => 409 [large] => https://willatatiana.pl/wp-content/uploads/2016/11/Apartament_Tatrzański_Willa_Tatiana_folk_Zakopane_04.jpg [large-width] => 620 [large-height] => 409 [1536x1536] => https://willatatiana.pl/wp-content/uploads/2016/11/Apartament_Tatrzański_Willa_Tatiana_folk_Zakopane_04.jpg [1536x1536-width] => 1000 [1536x1536-height] => 660 [2048x2048] => https://willatatiana.pl/wp-content/uploads/2016/11/Apartament_Tatrzański_Willa_Tatiana_folk_Zakopane_04.jpg [2048x2048-width] => 1000 [2048x2048-height] => 660 [slider-image] => https://willatatiana.pl/wp-content/uploads/2016/11/Apartament_Tatrzański_Willa_Tatiana_folk_Zakopane_04-1000x430.jpg [slider-image-width] => 1000 [slider-image-height] => 430 [slider-image-thumb] => https://willatatiana.pl/wp-content/uploads/2016/11/Apartament_Tatrzański_Willa_Tatiana_folk_Zakopane_04-625x215.jpg [slider-image-thumb-width] => 625 [slider-image-thumb-height] => 215 [slider-apartamenty] => https://willatatiana.pl/wp-content/uploads/2016/11/Apartament_Tatrzański_Willa_Tatiana_folk_Zakopane_04-1000x240.jpg [slider-apartamenty-width] => 1000 [slider-apartamenty-height] => 240 [slider-apartamenty-thumb] => https://willatatiana.pl/wp-content/uploads/2016/11/Apartament_Tatrzański_Willa_Tatiana_folk_Zakopane_04-625x120.jpg [slider-apartamenty-thumb-width] => 625 [slider-apartamenty-thumb-height] => 120 [apartament-image] => https://willatatiana.pl/wp-content/uploads/2016/11/Apartament_Tatrzański_Willa_Tatiana_folk_Zakopane_04-290x177.jpg [apartament-image-width] => 290 [apartament-image-height] => 177 [apartament-gallery-image] => https://willatatiana.pl/wp-content/uploads/2016/11/Apartament_Tatrzański_Willa_Tatiana_folk_Zakopane_04-905x523.jpg [apartament-gallery-image-width] => 905 [apartament-gallery-image-height] => 523 [apartament-gallery-image-thumb] => https://willatatiana.pl/wp-content/uploads/2016/11/Apartament_Tatrzański_Willa_Tatiana_folk_Zakopane_04-150x84.jpg [apartament-gallery-image-thumb-width] => 150 [apartament-gallery-image-thumb-height] => 84 ) ) [4] => Array ( [id] => 1504 [alt] => Apartament Tatrzański Willa Tatiana folk [title] => Apartament_Tatrzański_Willa_Tatiana_folk [caption] => [description] => [mime_type] => image/jpeg [url] => https://willatatiana.pl/wp-content/uploads/2016/11/Apartament_Tatrzański_Willa_Tatiana_folk_Zakopane_05.jpg [width] => 1000 [height] => 667 [sizes] => Array ( [thumbnail] => https://willatatiana.pl/wp-content/uploads/2016/11/Apartament_Tatrzański_Willa_Tatiana_folk_Zakopane_05-150x150.jpg [thumbnail-width] => 150 [thumbnail-height] => 150 [medium] => https://willatatiana.pl/wp-content/uploads/2016/11/Apartament_Tatrzański_Willa_Tatiana_folk_Zakopane_05-300x200.jpg [medium-width] => 300 [medium-height] => 200 [medium_large] => https://willatatiana.pl/wp-content/uploads/2016/11/Apartament_Tatrzański_Willa_Tatiana_folk_Zakopane_05-768x512.jpg [medium_large-width] => 620 [medium_large-height] => 413 [large] => https://willatatiana.pl/wp-content/uploads/2016/11/Apartament_Tatrzański_Willa_Tatiana_folk_Zakopane_05.jpg [large-width] => 620 [large-height] => 414 [1536x1536] => https://willatatiana.pl/wp-content/uploads/2016/11/Apartament_Tatrzański_Willa_Tatiana_folk_Zakopane_05.jpg [1536x1536-width] => 1000 [1536x1536-height] => 667 [2048x2048] => https://willatatiana.pl/wp-content/uploads/2016/11/Apartament_Tatrzański_Willa_Tatiana_folk_Zakopane_05.jpg [2048x2048-width] => 1000 [2048x2048-height] => 667 [slider-image] => https://willatatiana.pl/wp-content/uploads/2016/11/Apartament_Tatrzański_Willa_Tatiana_folk_Zakopane_05-1000x430.jpg [slider-image-width] => 1000 [slider-image-height] => 430 [slider-image-thumb] => https://willatatiana.pl/wp-content/uploads/2016/11/Apartament_Tatrzański_Willa_Tatiana_folk_Zakopane_05-625x215.jpg [slider-image-thumb-width] => 625 [slider-image-thumb-height] => 215 [slider-apartamenty] => https://willatatiana.pl/wp-content/uploads/2016/11/Apartament_Tatrzański_Willa_Tatiana_folk_Zakopane_05-1000x240.jpg [slider-apartamenty-width] => 1000 [slider-apartamenty-height] => 240 [slider-apartamenty-thumb] => https://willatatiana.pl/wp-content/uploads/2016/11/Apartament_Tatrzański_Willa_Tatiana_folk_Zakopane_05-625x120.jpg [slider-apartamenty-thumb-width] => 625 [slider-apartamenty-thumb-height] => 120 [apartament-image] => https://willatatiana.pl/wp-content/uploads/2016/11/Apartament_Tatrzański_Willa_Tatiana_folk_Zakopane_05-290x177.jpg [apartament-image-width] => 290 [apartament-image-height] => 177 [apartament-gallery-image] => https://willatatiana.pl/wp-content/uploads/2016/11/Apartament_Tatrzański_Willa_Tatiana_folk_Zakopane_05-905x523.jpg [apartament-gallery-image-width] => 905 [apartament-gallery-image-height] => 523 [apartament-gallery-image-thumb] => https://willatatiana.pl/wp-content/uploads/2016/11/Apartament_Tatrzański_Willa_Tatiana_folk_Zakopane_05-150x84.jpg [apartament-gallery-image-thumb-width] => 150 [apartament-gallery-image-thumb-height] => 84 ) ) [5] => Array ( [id] => 1505 [alt] => Apartament Tatrzański Willa Tatiana folk drewniane rzeźbione balustrady [title] => Apartament_Tatrzański_Willa_Tatiana_folk [caption] => [description] => [mime_type] => image/jpeg [url] => https://willatatiana.pl/wp-content/uploads/2016/11/Apartament_Tatrzański_Willa_Tatiana_folk_Zakopane_06.jpg [width] => 1000 [height] => 667 [sizes] => Array ( [thumbnail] => https://willatatiana.pl/wp-content/uploads/2016/11/Apartament_Tatrzański_Willa_Tatiana_folk_Zakopane_06-150x150.jpg [thumbnail-width] => 150 [thumbnail-height] => 150 [medium] => https://willatatiana.pl/wp-content/uploads/2016/11/Apartament_Tatrzański_Willa_Tatiana_folk_Zakopane_06-300x200.jpg [medium-width] => 300 [medium-height] => 200 [medium_large] => https://willatatiana.pl/wp-content/uploads/2016/11/Apartament_Tatrzański_Willa_Tatiana_folk_Zakopane_06-768x512.jpg [medium_large-width] => 620 [medium_large-height] => 413 [large] => https://willatatiana.pl/wp-content/uploads/2016/11/Apartament_Tatrzański_Willa_Tatiana_folk_Zakopane_06.jpg [large-width] => 620 [large-height] => 414 [1536x1536] => https://willatatiana.pl/wp-content/uploads/2016/11/Apartament_Tatrzański_Willa_Tatiana_folk_Zakopane_06.jpg [1536x1536-width] => 1000 [1536x1536-height] => 667 [2048x2048] => https://willatatiana.pl/wp-content/uploads/2016/11/Apartament_Tatrzański_Willa_Tatiana_folk_Zakopane_06.jpg [2048x2048-width] => 1000 [2048x2048-height] => 667 [slider-image] => https://willatatiana.pl/wp-content/uploads/2016/11/Apartament_Tatrzański_Willa_Tatiana_folk_Zakopane_06-1000x430.jpg [slider-image-width] => 1000 [slider-image-height] => 430 [slider-image-thumb] => https://willatatiana.pl/wp-content/uploads/2016/11/Apartament_Tatrzański_Willa_Tatiana_folk_Zakopane_06-625x215.jpg [slider-image-thumb-width] => 625 [slider-image-thumb-height] => 215 [slider-apartamenty] => https://willatatiana.pl/wp-content/uploads/2016/11/Apartament_Tatrzański_Willa_Tatiana_folk_Zakopane_06-1000x240.jpg [slider-apartamenty-width] => 1000 [slider-apartamenty-height] => 240 [slider-apartamenty-thumb] => https://willatatiana.pl/wp-content/uploads/2016/11/Apartament_Tatrzański_Willa_Tatiana_folk_Zakopane_06-625x120.jpg [slider-apartamenty-thumb-width] => 625 [slider-apartamenty-thumb-height] => 120 [apartament-image] => https://willatatiana.pl/wp-content/uploads/2016/11/Apartament_Tatrzański_Willa_Tatiana_folk_Zakopane_06-290x177.jpg [apartament-image-width] => 290 [apartament-image-height] => 177 [apartament-gallery-image] => https://willatatiana.pl/wp-content/uploads/2016/11/Apartament_Tatrzański_Willa_Tatiana_folk_Zakopane_06-905x523.jpg [apartament-gallery-image-width] => 905 [apartament-gallery-image-height] => 523 [apartament-gallery-image-thumb] => https://willatatiana.pl/wp-content/uploads/2016/11/Apartament_Tatrzański_Willa_Tatiana_folk_Zakopane_06-150x84.jpg [apartament-gallery-image-thumb-width] => 150 [apartament-gallery-image-thumb-height] => 84 ) ) [6] => Array ( [id] => 1506 [alt] => Apartament Tatrzański Willa Tatiana folk salon z akcentem drewnianym [title] => Apartament_Tatrzański_Willa_Tatiana_folk [caption] => [description] => [mime_type] => image/jpeg [url] => https://willatatiana.pl/wp-content/uploads/2016/11/Apartament_Tatrzański_Willa_Tatiana_folk_Zakopane_07.jpg [width] => 1000 [height] => 667 [sizes] => Array ( [thumbnail] => https://willatatiana.pl/wp-content/uploads/2016/11/Apartament_Tatrzański_Willa_Tatiana_folk_Zakopane_07-150x150.jpg [thumbnail-width] => 150 [thumbnail-height] => 150 [medium] => https://willatatiana.pl/wp-content/uploads/2016/11/Apartament_Tatrzański_Willa_Tatiana_folk_Zakopane_07-300x200.jpg [medium-width] => 300 [medium-height] => 200 [medium_large] => https://willatatiana.pl/wp-content/uploads/2016/11/Apartament_Tatrzański_Willa_Tatiana_folk_Zakopane_07-768x512.jpg [medium_large-width] => 620 [medium_large-height] => 413 [large] => https://willatatiana.pl/wp-content/uploads/2016/11/Apartament_Tatrzański_Willa_Tatiana_folk_Zakopane_07.jpg [large-width] => 620 [large-height] => 414 [1536x1536] => https://willatatiana.pl/wp-content/uploads/2016/11/Apartament_Tatrzański_Willa_Tatiana_folk_Zakopane_07.jpg [1536x1536-width] => 1000 [1536x1536-height] => 667 [2048x2048] => https://willatatiana.pl/wp-content/uploads/2016/11/Apartament_Tatrzański_Willa_Tatiana_folk_Zakopane_07.jpg [2048x2048-width] => 1000 [2048x2048-height] => 667 [slider-image] => https://willatatiana.pl/wp-content/uploads/2016/11/Apartament_Tatrzański_Willa_Tatiana_folk_Zakopane_07-1000x430.jpg [slider-image-width] => 1000 [slider-image-height] => 430 [slider-image-thumb] => https://willatatiana.pl/wp-content/uploads/2016/11/Apartament_Tatrzański_Willa_Tatiana_folk_Zakopane_07-625x215.jpg [slider-image-thumb-width] => 625 [slider-image-thumb-height] => 215 [slider-apartamenty] => https://willatatiana.pl/wp-content/uploads/2016/11/Apartament_Tatrzański_Willa_Tatiana_folk_Zakopane_07-1000x240.jpg [slider-apartamenty-width] => 1000 [slider-apartamenty-height] => 240 [slider-apartamenty-thumb] => https://willatatiana.pl/wp-content/uploads/2016/11/Apartament_Tatrzański_Willa_Tatiana_folk_Zakopane_07-625x120.jpg [slider-apartamenty-thumb-width] => 625 [slider-apartamenty-thumb-height] => 120 [apartament-image] => https://willatatiana.pl/wp-content/uploads/2016/11/Apartament_Tatrzański_Willa_Tatiana_folk_Zakopane_07-290x177.jpg [apartament-image-width] => 290 [apartament-image-height] => 177 [apartament-gallery-image] => https://willatatiana.pl/wp-content/uploads/2016/11/Apartament_Tatrzański_Willa_Tatiana_folk_Zakopane_07-905x523.jpg [apartament-gallery-image-width] => 905 [apartament-gallery-image-height] => 523 [apartament-gallery-image-thumb] => https://willatatiana.pl/wp-content/uploads/2016/11/Apartament_Tatrzański_Willa_Tatiana_folk_Zakopane_07-150x84.jpg [apartament-gallery-image-thumb-width] => 150 [apartament-gallery-image-thumb-height] => 84 ) ) [7] => Array ( [id] => 1507 [alt] => Apartament Tatrzański Willa Tatiana folk pokój z akcentem drewnianym [title] => Apartament_Tatrzański_Willa_Tatiana_folk [caption] => [description] => [mime_type] => image/jpeg [url] => https://willatatiana.pl/wp-content/uploads/2016/11/Apartament_Tatrzański_Willa_Tatiana_folk_Zakopane_08.jpg [width] => 1000 [height] => 667 [sizes] => Array ( [thumbnail] => https://willatatiana.pl/wp-content/uploads/2016/11/Apartament_Tatrzański_Willa_Tatiana_folk_Zakopane_08-150x150.jpg [thumbnail-width] => 150 [thumbnail-height] => 150 [medium] => https://willatatiana.pl/wp-content/uploads/2016/11/Apartament_Tatrzański_Willa_Tatiana_folk_Zakopane_08-300x200.jpg [medium-width] => 300 [medium-height] => 200 [medium_large] => https://willatatiana.pl/wp-content/uploads/2016/11/Apartament_Tatrzański_Willa_Tatiana_folk_Zakopane_08-768x512.jpg [medium_large-width] => 620 [medium_large-height] => 413 [large] => https://willatatiana.pl/wp-content/uploads/2016/11/Apartament_Tatrzański_Willa_Tatiana_folk_Zakopane_08.jpg [large-width] => 620 [large-height] => 414 [1536x1536] => https://willatatiana.pl/wp-content/uploads/2016/11/Apartament_Tatrzański_Willa_Tatiana_folk_Zakopane_08.jpg [1536x1536-width] => 1000 [1536x1536-height] => 667 [2048x2048] => https://willatatiana.pl/wp-content/uploads/2016/11/Apartament_Tatrzański_Willa_Tatiana_folk_Zakopane_08.jpg [2048x2048-width] => 1000 [2048x2048-height] => 667 [slider-image] => https://willatatiana.pl/wp-content/uploads/2016/11/Apartament_Tatrzański_Willa_Tatiana_folk_Zakopane_08-1000x430.jpg [slider-image-width] => 1000 [slider-image-height] => 430 [slider-image-thumb] => https://willatatiana.pl/wp-content/uploads/2016/11/Apartament_Tatrzański_Willa_Tatiana_folk_Zakopane_08-625x215.jpg [slider-image-thumb-width] => 625 [slider-image-thumb-height] => 215 [slider-apartamenty] => https://willatatiana.pl/wp-content/uploads/2016/11/Apartament_Tatrzański_Willa_Tatiana_folk_Zakopane_08-1000x240.jpg [slider-apartamenty-width] => 1000 [slider-apartamenty-height] => 240 [slider-apartamenty-thumb] => https://willatatiana.pl/wp-content/uploads/2016/11/Apartament_Tatrzański_Willa_Tatiana_folk_Zakopane_08-625x120.jpg [slider-apartamenty-thumb-width] => 625 [slider-apartamenty-thumb-height] => 120 [apartament-image] => https://willatatiana.pl/wp-content/uploads/2016/11/Apartament_Tatrzański_Willa_Tatiana_folk_Zakopane_08-290x177.jpg [apartament-image-width] => 290 [apartament-image-height] => 177 [apartament-gallery-image] => https://willatatiana.pl/wp-content/uploads/2016/11/Apartament_Tatrzański_Willa_Tatiana_folk_Zakopane_08-905x523.jpg [apartament-gallery-image-width] => 905 [apartament-gallery-image-height] => 523 [apartament-gallery-image-thumb] => https://willatatiana.pl/wp-content/uploads/2016/11/Apartament_Tatrzański_Willa_Tatiana_folk_Zakopane_08-150x84.jpg [apartament-gallery-image-thumb-width] => 150 [apartament-gallery-image-thumb-height] => 84 ) ) [8] => Array ( [id] => 1508 [alt] => Apartament Tatrzański Willa Tatiana folk [title] => Apartament_Tatrzański_Willa_Tatiana_folk [caption] => [description] => [mime_type] => image/jpeg [url] => https://willatatiana.pl/wp-content/uploads/2016/11/Apartament_Tatrzański_Willa_Tatiana_folk_Zakopane_11.jpg [width] => 1000 [height] => 663 [sizes] => Array ( [thumbnail] => https://willatatiana.pl/wp-content/uploads/2016/11/Apartament_Tatrzański_Willa_Tatiana_folk_Zakopane_11-150x150.jpg [thumbnail-width] => 150 [thumbnail-height] => 150 [medium] => https://willatatiana.pl/wp-content/uploads/2016/11/Apartament_Tatrzański_Willa_Tatiana_folk_Zakopane_11-300x199.jpg [medium-width] => 300 [medium-height] => 199 [medium_large] => https://willatatiana.pl/wp-content/uploads/2016/11/Apartament_Tatrzański_Willa_Tatiana_folk_Zakopane_11-768x509.jpg [medium_large-width] => 620 [medium_large-height] => 411 [large] => https://willatatiana.pl/wp-content/uploads/2016/11/Apartament_Tatrzański_Willa_Tatiana_folk_Zakopane_11.jpg [large-width] => 620 [large-height] => 411 [1536x1536] => https://willatatiana.pl/wp-content/uploads/2016/11/Apartament_Tatrzański_Willa_Tatiana_folk_Zakopane_11.jpg [1536x1536-width] => 1000 [1536x1536-height] => 663 [2048x2048] => https://willatatiana.pl/wp-content/uploads/2016/11/Apartament_Tatrzański_Willa_Tatiana_folk_Zakopane_11.jpg [2048x2048-width] => 1000 [2048x2048-height] => 663 [slider-image] => https://willatatiana.pl/wp-content/uploads/2016/11/Apartament_Tatrzański_Willa_Tatiana_folk_Zakopane_11-1000x430.jpg [slider-image-width] => 1000 [slider-image-height] => 430 [slider-image-thumb] => https://willatatiana.pl/wp-content/uploads/2016/11/Apartament_Tatrzański_Willa_Tatiana_folk_Zakopane_11-625x215.jpg [slider-image-thumb-width] => 625 [slider-image-thumb-height] => 215 [slider-apartamenty] => https://willatatiana.pl/wp-content/uploads/2016/11/Apartament_Tatrzański_Willa_Tatiana_folk_Zakopane_11-1000x240.jpg [slider-apartamenty-width] => 1000 [slider-apartamenty-height] => 240 [slider-apartamenty-thumb] => https://willatatiana.pl/wp-content/uploads/2016/11/Apartament_Tatrzański_Willa_Tatiana_folk_Zakopane_11-625x120.jpg [slider-apartamenty-thumb-width] => 625 [slider-apartamenty-thumb-height] => 120 [apartament-image] => https://willatatiana.pl/wp-content/uploads/2016/11/Apartament_Tatrzański_Willa_Tatiana_folk_Zakopane_11-290x177.jpg [apartament-image-width] => 290 [apartament-image-height] => 177 [apartament-gallery-image] => https://willatatiana.pl/wp-content/uploads/2016/11/Apartament_Tatrzański_Willa_Tatiana_folk_Zakopane_11-905x523.jpg [apartament-gallery-image-width] => 905 [apartament-gallery-image-height] => 523 [apartament-gallery-image-thumb] => https://willatatiana.pl/wp-content/uploads/2016/11/Apartament_Tatrzański_Willa_Tatiana_folk_Zakopane_11-150x84.jpg [apartament-gallery-image-thumb-width] => 150 [apartament-gallery-image-thumb-height] => 84 ) ) [9] => Array ( [id] => 1509 [alt] => Apartament Tatrzański Willa Tatiana folk drewniana sypialnia [title] => Apartament_Tatrzański_Willa_Tatiana_folk [caption] => [description] => [mime_type] => image/jpeg [url] => https://willatatiana.pl/wp-content/uploads/2016/11/Apartament_Tatrzański_Willa_Tatiana_folk_Zakopane_12.jpg [width] => 1000 [height] => 667 [sizes] => Array ( [thumbnail] => https://willatatiana.pl/wp-content/uploads/2016/11/Apartament_Tatrzański_Willa_Tatiana_folk_Zakopane_12-150x150.jpg [thumbnail-width] => 150 [thumbnail-height] => 150 [medium] => https://willatatiana.pl/wp-content/uploads/2016/11/Apartament_Tatrzański_Willa_Tatiana_folk_Zakopane_12-300x200.jpg [medium-width] => 300 [medium-height] => 200 [medium_large] => https://willatatiana.pl/wp-content/uploads/2016/11/Apartament_Tatrzański_Willa_Tatiana_folk_Zakopane_12-768x512.jpg [medium_large-width] => 620 [medium_large-height] => 413 [large] => https://willatatiana.pl/wp-content/uploads/2016/11/Apartament_Tatrzański_Willa_Tatiana_folk_Zakopane_12.jpg [large-width] => 620 [large-height] => 414 [1536x1536] => https://willatatiana.pl/wp-content/uploads/2016/11/Apartament_Tatrzański_Willa_Tatiana_folk_Zakopane_12.jpg [1536x1536-width] => 1000 [1536x1536-height] => 667 [2048x2048] => https://willatatiana.pl/wp-content/uploads/2016/11/Apartament_Tatrzański_Willa_Tatiana_folk_Zakopane_12.jpg [2048x2048-width] => 1000 [2048x2048-height] => 667 [slider-image] => https://willatatiana.pl/wp-content/uploads/2016/11/Apartament_Tatrzański_Willa_Tatiana_folk_Zakopane_12-1000x430.jpg [slider-image-width] => 1000 [slider-image-height] => 430 [slider-image-thumb] => https://willatatiana.pl/wp-content/uploads/2016/11/Apartament_Tatrzański_Willa_Tatiana_folk_Zakopane_12-625x215.jpg [slider-image-thumb-width] => 625 [slider-image-thumb-height] => 215 [slider-apartamenty] => https://willatatiana.pl/wp-content/uploads/2016/11/Apartament_Tatrzański_Willa_Tatiana_folk_Zakopane_12-1000x240.jpg [slider-apartamenty-width] => 1000 [slider-apartamenty-height] => 240 [slider-apartamenty-thumb] => https://willatatiana.pl/wp-content/uploads/2016/11/Apartament_Tatrzański_Willa_Tatiana_folk_Zakopane_12-625x120.jpg [slider-apartamenty-thumb-width] => 625 [slider-apartamenty-thumb-height] => 120 [apartament-image] => https://willatatiana.pl/wp-content/uploads/2016/11/Apartament_Tatrzański_Willa_Tatiana_folk_Zakopane_12-290x177.jpg [apartament-image-width] => 290 [apartament-image-height] => 177 [apartament-gallery-image] => https://willatatiana.pl/wp-content/uploads/2016/11/Apartament_Tatrzański_Willa_Tatiana_folk_Zakopane_12-905x523.jpg [apartament-gallery-image-width] => 905 [apartament-gallery-image-height] => 523 [apartament-gallery-image-thumb] => https://willatatiana.pl/wp-content/uploads/2016/11/Apartament_Tatrzański_Willa_Tatiana_folk_Zakopane_12-150x84.jpg [apartament-gallery-image-thumb-width] => 150 [apartament-gallery-image-thumb-height] => 84 ) ) [10] => Array ( [id] => 1510 [alt] => Apartament Tatrzański Willa Tatiana folk drewniana sypialnia [title] => Apartament_Tatrzański_Willa_Tatiana_folk [caption] => [description] => [mime_type] => image/jpeg [url] => https://willatatiana.pl/wp-content/uploads/2016/11/Apartament_Tatrzański_Willa_Tatiana_folk_Zakopane_13.jpg [width] => 1000 [height] => 655 [sizes] => Array ( [thumbnail] => https://willatatiana.pl/wp-content/uploads/2016/11/Apartament_Tatrzański_Willa_Tatiana_folk_Zakopane_13-150x150.jpg [thumbnail-width] => 150 [thumbnail-height] => 150 [medium] => https://willatatiana.pl/wp-content/uploads/2016/11/Apartament_Tatrzański_Willa_Tatiana_folk_Zakopane_13-300x197.jpg [medium-width] => 300 [medium-height] => 197 [medium_large] => https://willatatiana.pl/wp-content/uploads/2016/11/Apartament_Tatrzański_Willa_Tatiana_folk_Zakopane_13-768x503.jpg [medium_large-width] => 620 [medium_large-height] => 406 [large] => https://willatatiana.pl/wp-content/uploads/2016/11/Apartament_Tatrzański_Willa_Tatiana_folk_Zakopane_13.jpg [large-width] => 620 [large-height] => 406 [1536x1536] => https://willatatiana.pl/wp-content/uploads/2016/11/Apartament_Tatrzański_Willa_Tatiana_folk_Zakopane_13.jpg [1536x1536-width] => 1000 [1536x1536-height] => 655 [2048x2048] => https://willatatiana.pl/wp-content/uploads/2016/11/Apartament_Tatrzański_Willa_Tatiana_folk_Zakopane_13.jpg [2048x2048-width] => 1000 [2048x2048-height] => 655 [slider-image] => https://willatatiana.pl/wp-content/uploads/2016/11/Apartament_Tatrzański_Willa_Tatiana_folk_Zakopane_13-1000x430.jpg [slider-image-width] => 1000 [slider-image-height] => 430 [slider-image-thumb] => https://willatatiana.pl/wp-content/uploads/2016/11/Apartament_Tatrzański_Willa_Tatiana_folk_Zakopane_13-625x215.jpg [slider-image-thumb-width] => 625 [slider-image-thumb-height] => 215 [slider-apartamenty] => https://willatatiana.pl/wp-content/uploads/2016/11/Apartament_Tatrzański_Willa_Tatiana_folk_Zakopane_13-1000x240.jpg [slider-apartamenty-width] => 1000 [slider-apartamenty-height] => 240 [slider-apartamenty-thumb] => https://willatatiana.pl/wp-content/uploads/2016/11/Apartament_Tatrzański_Willa_Tatiana_folk_Zakopane_13-625x120.jpg [slider-apartamenty-thumb-width] => 625 [slider-apartamenty-thumb-height] => 120 [apartament-image] => https://willatatiana.pl/wp-content/uploads/2016/11/Apartament_Tatrzański_Willa_Tatiana_folk_Zakopane_13-290x177.jpg [apartament-image-width] => 290 [apartament-image-height] => 177 [apartament-gallery-image] => https://willatatiana.pl/wp-content/uploads/2016/11/Apartament_Tatrzański_Willa_Tatiana_folk_Zakopane_13-905x523.jpg [apartament-gallery-image-width] => 905 [apartament-gallery-image-height] => 523 [apartament-gallery-image-thumb] => https://willatatiana.pl/wp-content/uploads/2016/11/Apartament_Tatrzański_Willa_Tatiana_folk_Zakopane_13-150x84.jpg [apartament-gallery-image-thumb-width] => 150 [apartament-gallery-image-thumb-height] => 84 ) ) [11] => Array ( [id] => 1511 [alt] => Apartament Tatrzański Willa Tatiana folk sypialnia z akcentem drewnianym [title] => Apartament_Tatrzański_Willa_Tatiana_folk [caption] => [description] => [mime_type] => image/jpeg [url] => https://willatatiana.pl/wp-content/uploads/2016/11/Apartament_Tatrzański_Willa_Tatiana_folk_Zakopane_14.jpg [width] => 1000 [height] => 667 [sizes] => Array ( [thumbnail] => https://willatatiana.pl/wp-content/uploads/2016/11/Apartament_Tatrzański_Willa_Tatiana_folk_Zakopane_14-150x150.jpg [thumbnail-width] => 150 [thumbnail-height] => 150 [medium] => https://willatatiana.pl/wp-content/uploads/2016/11/Apartament_Tatrzański_Willa_Tatiana_folk_Zakopane_14-300x200.jpg [medium-width] => 300 [medium-height] => 200 [medium_large] => https://willatatiana.pl/wp-content/uploads/2016/11/Apartament_Tatrzański_Willa_Tatiana_folk_Zakopane_14-768x512.jpg [medium_large-width] => 620 [medium_large-height] => 413 [large] => https://willatatiana.pl/wp-content/uploads/2016/11/Apartament_Tatrzański_Willa_Tatiana_folk_Zakopane_14.jpg [large-width] => 620 [large-height] => 414 [1536x1536] => https://willatatiana.pl/wp-content/uploads/2016/11/Apartament_Tatrzański_Willa_Tatiana_folk_Zakopane_14.jpg [1536x1536-width] => 1000 [1536x1536-height] => 667 [2048x2048] => https://willatatiana.pl/wp-content/uploads/2016/11/Apartament_Tatrzański_Willa_Tatiana_folk_Zakopane_14.jpg [2048x2048-width] => 1000 [2048x2048-height] => 667 [slider-image] => https://willatatiana.pl/wp-content/uploads/2016/11/Apartament_Tatrzański_Willa_Tatiana_folk_Zakopane_14-1000x430.jpg [slider-image-width] => 1000 [slider-image-height] => 430 [slider-image-thumb] => https://willatatiana.pl/wp-content/uploads/2016/11/Apartament_Tatrzański_Willa_Tatiana_folk_Zakopane_14-625x215.jpg [slider-image-thumb-width] => 625 [slider-image-thumb-height] => 215 [slider-apartamenty] => https://willatatiana.pl/wp-content/uploads/2016/11/Apartament_Tatrzański_Willa_Tatiana_folk_Zakopane_14-1000x240.jpg [slider-apartamenty-width] => 1000 [slider-apartamenty-height] => 240 [slider-apartamenty-thumb] => https://willatatiana.pl/wp-content/uploads/2016/11/Apartament_Tatrzański_Willa_Tatiana_folk_Zakopane_14-625x120.jpg [slider-apartamenty-thumb-width] => 625 [slider-apartamenty-thumb-height] => 120 [apartament-image] => https://willatatiana.pl/wp-content/uploads/2016/11/Apartament_Tatrzański_Willa_Tatiana_folk_Zakopane_14-290x177.jpg [apartament-image-width] => 290 [apartament-image-height] => 177 [apartament-gallery-image] => https://willatatiana.pl/wp-content/uploads/2016/11/Apartament_Tatrzański_Willa_Tatiana_folk_Zakopane_14-905x523.jpg [apartament-gallery-image-width] => 905 [apartament-gallery-image-height] => 523 [apartament-gallery-image-thumb] => https://willatatiana.pl/wp-content/uploads/2016/11/Apartament_Tatrzański_Willa_Tatiana_folk_Zakopane_14-150x84.jpg [apartament-gallery-image-thumb-width] => 150 [apartament-gallery-image-thumb-height] => 84 ) ) [12] => Array ( [id] => 1512 [alt] => Apartament Tatrzański Willa Tatiana folk sypialnia z akcentem drewnianym [title] => Apartament_Tatrzański_Willa_Tatiana_folk [caption] => [description] => [mime_type] => image/jpeg [url] => https://willatatiana.pl/wp-content/uploads/2016/11/Apartament_Tatrzański_Willa_Tatiana_folk_Zakopane_15.jpg [width] => 1000 [height] => 667 [sizes] => Array ( [thumbnail] => https://willatatiana.pl/wp-content/uploads/2016/11/Apartament_Tatrzański_Willa_Tatiana_folk_Zakopane_15-150x150.jpg [thumbnail-width] => 150 [thumbnail-height] => 150 [medium] => https://willatatiana.pl/wp-content/uploads/2016/11/Apartament_Tatrzański_Willa_Tatiana_folk_Zakopane_15-300x200.jpg [medium-width] => 300 [medium-height] => 200 [medium_large] => https://willatatiana.pl/wp-content/uploads/2016/11/Apartament_Tatrzański_Willa_Tatiana_folk_Zakopane_15-768x512.jpg [medium_large-width] => 620 [medium_large-height] => 413 [large] => https://willatatiana.pl/wp-content/uploads/2016/11/Apartament_Tatrzański_Willa_Tatiana_folk_Zakopane_15.jpg [large-width] => 620 [large-height] => 414 [1536x1536] => https://willatatiana.pl/wp-content/uploads/2016/11/Apartament_Tatrzański_Willa_Tatiana_folk_Zakopane_15.jpg [1536x1536-width] => 1000 [1536x1536-height] => 667 [2048x2048] => https://willatatiana.pl/wp-content/uploads/2016/11/Apartament_Tatrzański_Willa_Tatiana_folk_Zakopane_15.jpg [2048x2048-width] => 1000 [2048x2048-height] => 667 [slider-image] => https://willatatiana.pl/wp-content/uploads/2016/11/Apartament_Tatrzański_Willa_Tatiana_folk_Zakopane_15-1000x430.jpg [slider-image-width] => 1000 [slider-image-height] => 430 [slider-image-thumb] => https://willatatiana.pl/wp-content/uploads/2016/11/Apartament_Tatrzański_Willa_Tatiana_folk_Zakopane_15-625x215.jpg [slider-image-thumb-width] => 625 [slider-image-thumb-height] => 215 [slider-apartamenty] => https://willatatiana.pl/wp-content/uploads/2016/11/Apartament_Tatrzański_Willa_Tatiana_folk_Zakopane_15-1000x240.jpg [slider-apartamenty-width] => 1000 [slider-apartamenty-height] => 240 [slider-apartamenty-thumb] => https://willatatiana.pl/wp-content/uploads/2016/11/Apartament_Tatrzański_Willa_Tatiana_folk_Zakopane_15-625x120.jpg [slider-apartamenty-thumb-width] => 625 [slider-apartamenty-thumb-height] => 120 [apartament-image] => https://willatatiana.pl/wp-content/uploads/2016/11/Apartament_Tatrzański_Willa_Tatiana_folk_Zakopane_15-290x177.jpg [apartament-image-width] => 290 [apartament-image-height] => 177 [apartament-gallery-image] => https://willatatiana.pl/wp-content/uploads/2016/11/Apartament_Tatrzański_Willa_Tatiana_folk_Zakopane_15-905x523.jpg [apartament-gallery-image-width] => 905 [apartament-gallery-image-height] => 523 [apartament-gallery-image-thumb] => https://willatatiana.pl/wp-content/uploads/2016/11/Apartament_Tatrzański_Willa_Tatiana_folk_Zakopane_15-150x84.jpg [apartament-gallery-image-thumb-width] => 150 [apartament-gallery-image-thumb-height] => 84 ) ) [13] => Array ( [id] => 1513 [alt] => Apartament Tatrzański Willa Tatiana folk łazienka z akcentem drewnianym [title] => Apartament_Tatrzański_Willa_Tatiana_folk [caption] => [description] => [mime_type] => image/jpeg [url] => https://willatatiana.pl/wp-content/uploads/2016/11/Apartament_Tatrzański_Willa_Tatiana_folk_Zakopane_16.jpg [width] => 1000 [height] => 638 [sizes] => Array ( [thumbnail] => https://willatatiana.pl/wp-content/uploads/2016/11/Apartament_Tatrzański_Willa_Tatiana_folk_Zakopane_16-150x150.jpg [thumbnail-width] => 150 [thumbnail-height] => 150 [medium] => https://willatatiana.pl/wp-content/uploads/2016/11/Apartament_Tatrzański_Willa_Tatiana_folk_Zakopane_16-300x191.jpg [medium-width] => 300 [medium-height] => 191 [medium_large] => https://willatatiana.pl/wp-content/uploads/2016/11/Apartament_Tatrzański_Willa_Tatiana_folk_Zakopane_16-768x490.jpg [medium_large-width] => 620 [medium_large-height] => 396 [large] => https://willatatiana.pl/wp-content/uploads/2016/11/Apartament_Tatrzański_Willa_Tatiana_folk_Zakopane_16.jpg [large-width] => 620 [large-height] => 396 [1536x1536] => https://willatatiana.pl/wp-content/uploads/2016/11/Apartament_Tatrzański_Willa_Tatiana_folk_Zakopane_16.jpg [1536x1536-width] => 1000 [1536x1536-height] => 638 [2048x2048] => https://willatatiana.pl/wp-content/uploads/2016/11/Apartament_Tatrzański_Willa_Tatiana_folk_Zakopane_16.jpg [2048x2048-width] => 1000 [2048x2048-height] => 638 [slider-image] => https://willatatiana.pl/wp-content/uploads/2016/11/Apartament_Tatrzański_Willa_Tatiana_folk_Zakopane_16-1000x430.jpg [slider-image-width] => 1000 [slider-image-height] => 430 [slider-image-thumb] => https://willatatiana.pl/wp-content/uploads/2016/11/Apartament_Tatrzański_Willa_Tatiana_folk_Zakopane_16-625x215.jpg [slider-image-thumb-width] => 625 [slider-image-thumb-height] => 215 [slider-apartamenty] => https://willatatiana.pl/wp-content/uploads/2016/11/Apartament_Tatrzański_Willa_Tatiana_folk_Zakopane_16-1000x240.jpg [slider-apartamenty-width] => 1000 [slider-apartamenty-height] => 240 [slider-apartamenty-thumb] => https://willatatiana.pl/wp-content/uploads/2016/11/Apartament_Tatrzański_Willa_Tatiana_folk_Zakopane_16-625x120.jpg [slider-apartamenty-thumb-width] => 625 [slider-apartamenty-thumb-height] => 120 [apartament-image] => https://willatatiana.pl/wp-content/uploads/2016/11/Apartament_Tatrzański_Willa_Tatiana_folk_Zakopane_16-290x177.jpg [apartament-image-width] => 290 [apartament-image-height] => 177 [apartament-gallery-image] => https://willatatiana.pl/wp-content/uploads/2016/11/Apartament_Tatrzański_Willa_Tatiana_folk_Zakopane_16-905x523.jpg [apartament-gallery-image-width] => 905 [apartament-gallery-image-height] => 523 [apartament-gallery-image-thumb] => https://willatatiana.pl/wp-content/uploads/2016/11/Apartament_Tatrzański_Willa_Tatiana_folk_Zakopane_16-150x84.jpg [apartament-gallery-image-thumb-width] => 150 [apartament-gallery-image-thumb-height] => 84 ) ) [14] => Array ( [id] => 1514 [alt] => Apartament Tatrzański Willa Tatiana folk [title] => Apartament_Tatrzański_Willa_Tatiana_folk [caption] => [description] => [mime_type] => image/jpeg [url] => https://willatatiana.pl/wp-content/uploads/2016/11/Apartament_Tatrzański_Willa_Tatiana_folk_Zakopane_17.jpg [width] => 1000 [height] => 667 [sizes] => Array ( [thumbnail] => https://willatatiana.pl/wp-content/uploads/2016/11/Apartament_Tatrzański_Willa_Tatiana_folk_Zakopane_17-150x150.jpg [thumbnail-width] => 150 [thumbnail-height] => 150 [medium] => https://willatatiana.pl/wp-content/uploads/2016/11/Apartament_Tatrzański_Willa_Tatiana_folk_Zakopane_17-300x200.jpg [medium-width] => 300 [medium-height] => 200 [medium_large] => https://willatatiana.pl/wp-content/uploads/2016/11/Apartament_Tatrzański_Willa_Tatiana_folk_Zakopane_17-768x512.jpg [medium_large-width] => 620 [medium_large-height] => 413 [large] => https://willatatiana.pl/wp-content/uploads/2016/11/Apartament_Tatrzański_Willa_Tatiana_folk_Zakopane_17.jpg [large-width] => 620 [large-height] => 414 [1536x1536] => https://willatatiana.pl/wp-content/uploads/2016/11/Apartament_Tatrzański_Willa_Tatiana_folk_Zakopane_17.jpg [1536x1536-width] => 1000 [1536x1536-height] => 667 [2048x2048] => https://willatatiana.pl/wp-content/uploads/2016/11/Apartament_Tatrzański_Willa_Tatiana_folk_Zakopane_17.jpg [2048x2048-width] => 1000 [2048x2048-height] => 667 [slider-image] => https://willatatiana.pl/wp-content/uploads/2016/11/Apartament_Tatrzański_Willa_Tatiana_folk_Zakopane_17-1000x430.jpg [slider-image-width] => 1000 [slider-image-height] => 430 [slider-image-thumb] => https://willatatiana.pl/wp-content/uploads/2016/11/Apartament_Tatrzański_Willa_Tatiana_folk_Zakopane_17-625x215.jpg [slider-image-thumb-width] => 625 [slider-image-thumb-height] => 215 [slider-apartamenty] => https://willatatiana.pl/wp-content/uploads/2016/11/Apartament_Tatrzański_Willa_Tatiana_folk_Zakopane_17-1000x240.jpg [slider-apartamenty-width] => 1000 [slider-apartamenty-height] => 240 [slider-apartamenty-thumb] => https://willatatiana.pl/wp-content/uploads/2016/11/Apartament_Tatrzański_Willa_Tatiana_folk_Zakopane_17-625x120.jpg [slider-apartamenty-thumb-width] => 625 [slider-apartamenty-thumb-height] => 120 [apartament-image] => https://willatatiana.pl/wp-content/uploads/2016/11/Apartament_Tatrzański_Willa_Tatiana_folk_Zakopane_17-290x177.jpg [apartament-image-width] => 290 [apartament-image-height] => 177 [apartament-gallery-image] => https://willatatiana.pl/wp-content/uploads/2016/11/Apartament_Tatrzański_Willa_Tatiana_folk_Zakopane_17-905x523.jpg [apartament-gallery-image-width] => 905 [apartament-gallery-image-height] => 523 [apartament-gallery-image-thumb] => https://willatatiana.pl/wp-content/uploads/2016/11/Apartament_Tatrzański_Willa_Tatiana_folk_Zakopane_17-150x84.jpg [apartament-gallery-image-thumb-width] => 150 [apartament-gallery-image-thumb-height] => 84 ) ) ) aaas

It is a quintessence of highlander woodwork tradition found in the Podhale region. Handmade carvings combine the centuries-old tradition passed from generation to generation with modern forms of highlander ornamentation. Characteristic vivid colours of the region, blacksmithing craftsmanship and the beauty of the wood make up the decoration and unique atmosphere of the apartment.

see and book

6

Array ( [0] => Array ( [id] => 1477 [alt] => Apartament Syberyjski Willa Tatiana folk drewniany salon [title] => Apartament Syberyjski Willa Tatiana folk [caption] => [description] => [mime_type] => image/jpeg [url] => https://willatatiana.pl/wp-content/uploads/2016/11/Apartament_Syberyjski_Willa_Tatiana_folk_Zakopane_01.jpg [width] => 1000 [height] => 648 [sizes] => Array ( [thumbnail] => https://willatatiana.pl/wp-content/uploads/2016/11/Apartament_Syberyjski_Willa_Tatiana_folk_Zakopane_01-150x150.jpg [thumbnail-width] => 150 [thumbnail-height] => 150 [medium] => https://willatatiana.pl/wp-content/uploads/2016/11/Apartament_Syberyjski_Willa_Tatiana_folk_Zakopane_01-300x194.jpg [medium-width] => 300 [medium-height] => 194 [medium_large] => https://willatatiana.pl/wp-content/uploads/2016/11/Apartament_Syberyjski_Willa_Tatiana_folk_Zakopane_01-768x498.jpg [medium_large-width] => 620 [medium_large-height] => 402 [large] => https://willatatiana.pl/wp-content/uploads/2016/11/Apartament_Syberyjski_Willa_Tatiana_folk_Zakopane_01.jpg [large-width] => 620 [large-height] => 402 [1536x1536] => https://willatatiana.pl/wp-content/uploads/2016/11/Apartament_Syberyjski_Willa_Tatiana_folk_Zakopane_01.jpg [1536x1536-width] => 1000 [1536x1536-height] => 648 [2048x2048] => https://willatatiana.pl/wp-content/uploads/2016/11/Apartament_Syberyjski_Willa_Tatiana_folk_Zakopane_01.jpg [2048x2048-width] => 1000 [2048x2048-height] => 648 [slider-image] => https://willatatiana.pl/wp-content/uploads/2016/11/Apartament_Syberyjski_Willa_Tatiana_folk_Zakopane_01-1000x430.jpg [slider-image-width] => 1000 [slider-image-height] => 430 [slider-image-thumb] => https://willatatiana.pl/wp-content/uploads/2016/11/Apartament_Syberyjski_Willa_Tatiana_folk_Zakopane_01-625x215.jpg [slider-image-thumb-width] => 625 [slider-image-thumb-height] => 215 [slider-apartamenty] => https://willatatiana.pl/wp-content/uploads/2016/11/Apartament_Syberyjski_Willa_Tatiana_folk_Zakopane_01-1000x240.jpg [slider-apartamenty-width] => 1000 [slider-apartamenty-height] => 240 [slider-apartamenty-thumb] => https://willatatiana.pl/wp-content/uploads/2016/11/Apartament_Syberyjski_Willa_Tatiana_folk_Zakopane_01-625x120.jpg [slider-apartamenty-thumb-width] => 625 [slider-apartamenty-thumb-height] => 120 [apartament-image] => https://willatatiana.pl/wp-content/uploads/2016/11/Apartament_Syberyjski_Willa_Tatiana_folk_Zakopane_01-290x177.jpg [apartament-image-width] => 290 [apartament-image-height] => 177 [apartament-gallery-image] => https://willatatiana.pl/wp-content/uploads/2016/11/Apartament_Syberyjski_Willa_Tatiana_folk_Zakopane_01-905x523.jpg [apartament-gallery-image-width] => 905 [apartament-gallery-image-height] => 523 [apartament-gallery-image-thumb] => https://willatatiana.pl/wp-content/uploads/2016/11/Apartament_Syberyjski_Willa_Tatiana_folk_Zakopane_01-150x84.jpg [apartament-gallery-image-thumb-width] => 150 [apartament-gallery-image-thumb-height] => 84 ) ) [1] => Array ( [id] => 1478 [alt] => Apartament Syberyjski Willa Tatiana folk drewniany pokój [title] => Apartament Syberyjski Willa Tatiana folk [caption] => [description] => [mime_type] => image/jpeg [url] => https://willatatiana.pl/wp-content/uploads/2016/11/Apartament_Syberyjski_Willa_Tatiana_folk_Zakopane_02.jpg [width] => 1000 [height] => 658 [sizes] => Array ( [thumbnail] => https://willatatiana.pl/wp-content/uploads/2016/11/Apartament_Syberyjski_Willa_Tatiana_folk_Zakopane_02-150x150.jpg [thumbnail-width] => 150 [thumbnail-height] => 150 [medium] => https://willatatiana.pl/wp-content/uploads/2016/11/Apartament_Syberyjski_Willa_Tatiana_folk_Zakopane_02-300x197.jpg [medium-width] => 300 [medium-height] => 197 [medium_large] => https://willatatiana.pl/wp-content/uploads/2016/11/Apartament_Syberyjski_Willa_Tatiana_folk_Zakopane_02-768x505.jpg [medium_large-width] => 620 [medium_large-height] => 408 [large] => https://willatatiana.pl/wp-content/uploads/2016/11/Apartament_Syberyjski_Willa_Tatiana_folk_Zakopane_02.jpg [large-width] => 620 [large-height] => 408 [1536x1536] => https://willatatiana.pl/wp-content/uploads/2016/11/Apartament_Syberyjski_Willa_Tatiana_folk_Zakopane_02.jpg [1536x1536-width] => 1000 [1536x1536-height] => 658 [2048x2048] => https://willatatiana.pl/wp-content/uploads/2016/11/Apartament_Syberyjski_Willa_Tatiana_folk_Zakopane_02.jpg [2048x2048-width] => 1000 [2048x2048-height] => 658 [slider-image] => https://willatatiana.pl/wp-content/uploads/2016/11/Apartament_Syberyjski_Willa_Tatiana_folk_Zakopane_02-1000x430.jpg [slider-image-width] => 1000 [slider-image-height] => 430 [slider-image-thumb] => https://willatatiana.pl/wp-content/uploads/2016/11/Apartament_Syberyjski_Willa_Tatiana_folk_Zakopane_02-625x215.jpg [slider-image-thumb-width] => 625 [slider-image-thumb-height] => 215 [slider-apartamenty] => https://willatatiana.pl/wp-content/uploads/2016/11/Apartament_Syberyjski_Willa_Tatiana_folk_Zakopane_02-1000x240.jpg [slider-apartamenty-width] => 1000 [slider-apartamenty-height] => 240 [slider-apartamenty-thumb] => https://willatatiana.pl/wp-content/uploads/2016/11/Apartament_Syberyjski_Willa_Tatiana_folk_Zakopane_02-625x120.jpg [slider-apartamenty-thumb-width] => 625 [slider-apartamenty-thumb-height] => 120 [apartament-image] => https://willatatiana.pl/wp-content/uploads/2016/11/Apartament_Syberyjski_Willa_Tatiana_folk_Zakopane_02-290x177.jpg [apartament-image-width] => 290 [apartament-image-height] => 177 [apartament-gallery-image] => https://willatatiana.pl/wp-content/uploads/2016/11/Apartament_Syberyjski_Willa_Tatiana_folk_Zakopane_02-905x523.jpg [apartament-gallery-image-width] => 905 [apartament-gallery-image-height] => 523 [apartament-gallery-image-thumb] => https://willatatiana.pl/wp-content/uploads/2016/11/Apartament_Syberyjski_Willa_Tatiana_folk_Zakopane_02-150x84.jpg [apartament-gallery-image-thumb-width] => 150 [apartament-gallery-image-thumb-height] => 84 ) ) [2] => Array ( [id] => 1479 [alt] => Apartament Syberyjski Willa Tatiana folk drewniana kuchnia z jadalnią [title] => Apartament Syberyjski Willa Tatiana folk [caption] => [description] => [mime_type] => image/jpeg [url] => https://willatatiana.pl/wp-content/uploads/2016/11/Apartament_Syberyjski_Willa_Tatiana_folk_Zakopane_03.jpg [width] => 1000 [height] => 667 [sizes] => Array ( [thumbnail] => https://willatatiana.pl/wp-content/uploads/2016/11/Apartament_Syberyjski_Willa_Tatiana_folk_Zakopane_03-150x150.jpg [thumbnail-width] => 150 [thumbnail-height] => 150 [medium] => https://willatatiana.pl/wp-content/uploads/2016/11/Apartament_Syberyjski_Willa_Tatiana_folk_Zakopane_03-300x200.jpg [medium-width] => 300 [medium-height] => 200 [medium_large] => https://willatatiana.pl/wp-content/uploads/2016/11/Apartament_Syberyjski_Willa_Tatiana_folk_Zakopane_03-768x512.jpg [medium_large-width] => 620 [medium_large-height] => 413 [large] => https://willatatiana.pl/wp-content/uploads/2016/11/Apartament_Syberyjski_Willa_Tatiana_folk_Zakopane_03.jpg [large-width] => 620 [large-height] => 414 [1536x1536] => https://willatatiana.pl/wp-content/uploads/2016/11/Apartament_Syberyjski_Willa_Tatiana_folk_Zakopane_03.jpg [1536x1536-width] => 1000 [1536x1536-height] => 667 [2048x2048] => https://willatatiana.pl/wp-content/uploads/2016/11/Apartament_Syberyjski_Willa_Tatiana_folk_Zakopane_03.jpg [2048x2048-width] => 1000 [2048x2048-height] => 667 [slider-image] => https://willatatiana.pl/wp-content/uploads/2016/11/Apartament_Syberyjski_Willa_Tatiana_folk_Zakopane_03-1000x430.jpg [slider-image-width] => 1000 [slider-image-height] => 430 [slider-image-thumb] => https://willatatiana.pl/wp-content/uploads/2016/11/Apartament_Syberyjski_Willa_Tatiana_folk_Zakopane_03-625x215.jpg [slider-image-thumb-width] => 625 [slider-image-thumb-height] => 215 [slider-apartamenty] => https://willatatiana.pl/wp-content/uploads/2016/11/Apartament_Syberyjski_Willa_Tatiana_folk_Zakopane_03-1000x240.jpg [slider-apartamenty-width] => 1000 [slider-apartamenty-height] => 240 [slider-apartamenty-thumb] => https://willatatiana.pl/wp-content/uploads/2016/11/Apartament_Syberyjski_Willa_Tatiana_folk_Zakopane_03-625x120.jpg [slider-apartamenty-thumb-width] => 625 [slider-apartamenty-thumb-height] => 120 [apartament-image] => https://willatatiana.pl/wp-content/uploads/2016/11/Apartament_Syberyjski_Willa_Tatiana_folk_Zakopane_03-290x177.jpg [apartament-image-width] => 290 [apartament-image-height] => 177 [apartament-gallery-image] => https://willatatiana.pl/wp-content/uploads/2016/11/Apartament_Syberyjski_Willa_Tatiana_folk_Zakopane_03-905x523.jpg [apartament-gallery-image-width] => 905 [apartament-gallery-image-height] => 523 [apartament-gallery-image-thumb] => https://willatatiana.pl/wp-content/uploads/2016/11/Apartament_Syberyjski_Willa_Tatiana_folk_Zakopane_03-150x84.jpg [apartament-gallery-image-thumb-width] => 150 [apartament-gallery-image-thumb-height] => 84 ) ) [3] => Array ( [id] => 1480 [alt] => Apartament Syberyjski Willa Tatiana folk drewniana kuchnia [title] => Apartament Syberyjski Willa Tatiana folk [caption] => [description] => [mime_type] => image/jpeg [url] => https://willatatiana.pl/wp-content/uploads/2016/11/Apartament_Syberyjski_Willa_Tatiana_folk_Zakopane_04.jpg [width] => 1000 [height] => 667 [sizes] => Array ( [thumbnail] => https://willatatiana.pl/wp-content/uploads/2016/11/Apartament_Syberyjski_Willa_Tatiana_folk_Zakopane_04-150x150.jpg [thumbnail-width] => 150 [thumbnail-height] => 150 [medium] => https://willatatiana.pl/wp-content/uploads/2016/11/Apartament_Syberyjski_Willa_Tatiana_folk_Zakopane_04-300x200.jpg [medium-width] => 300 [medium-height] => 200 [medium_large] => https://willatatiana.pl/wp-content/uploads/2016/11/Apartament_Syberyjski_Willa_Tatiana_folk_Zakopane_04-768x512.jpg [medium_large-width] => 620 [medium_large-height] => 413 [large] => https://willatatiana.pl/wp-content/uploads/2016/11/Apartament_Syberyjski_Willa_Tatiana_folk_Zakopane_04.jpg [large-width] => 620 [large-height] => 414 [1536x1536] => https://willatatiana.pl/wp-content/uploads/2016/11/Apartament_Syberyjski_Willa_Tatiana_folk_Zakopane_04.jpg [1536x1536-width] => 1000 [1536x1536-height] => 667 [2048x2048] => https://willatatiana.pl/wp-content/uploads/2016/11/Apartament_Syberyjski_Willa_Tatiana_folk_Zakopane_04.jpg [2048x2048-width] => 1000 [2048x2048-height] => 667 [slider-image] => https://willatatiana.pl/wp-content/uploads/2016/11/Apartament_Syberyjski_Willa_Tatiana_folk_Zakopane_04-1000x430.jpg [slider-image-width] => 1000 [slider-image-height] => 430 [slider-image-thumb] => https://willatatiana.pl/wp-content/uploads/2016/11/Apartament_Syberyjski_Willa_Tatiana_folk_Zakopane_04-625x215.jpg [slider-image-thumb-width] => 625 [slider-image-thumb-height] => 215 [slider-apartamenty] => https://willatatiana.pl/wp-content/uploads/2016/11/Apartament_Syberyjski_Willa_Tatiana_folk_Zakopane_04-1000x240.jpg [slider-apartamenty-width] => 1000 [slider-apartamenty-height] => 240 [slider-apartamenty-thumb] => https://willatatiana.pl/wp-content/uploads/2016/11/Apartament_Syberyjski_Willa_Tatiana_folk_Zakopane_04-625x120.jpg [slider-apartamenty-thumb-width] => 625 [slider-apartamenty-thumb-height] => 120 [apartament-image] => https://willatatiana.pl/wp-content/uploads/2016/11/Apartament_Syberyjski_Willa_Tatiana_folk_Zakopane_04-290x177.jpg [apartament-image-width] => 290 [apartament-image-height] => 177 [apartament-gallery-image] => https://willatatiana.pl/wp-content/uploads/2016/11/Apartament_Syberyjski_Willa_Tatiana_folk_Zakopane_04-905x523.jpg [apartament-gallery-image-width] => 905 [apartament-gallery-image-height] => 523 [apartament-gallery-image-thumb] => https://willatatiana.pl/wp-content/uploads/2016/11/Apartament_Syberyjski_Willa_Tatiana_folk_Zakopane_04-150x84.jpg [apartament-gallery-image-thumb-width] => 150 [apartament-gallery-image-thumb-height] => 84 ) ) [4] => Array ( [id] => 1481 [alt] => Apartament Syberyjski Willa Tatiana folk łóżko w kształcie sań [title] => Apartament Syberyjski Willa Tatiana folk [caption] => [description] => [mime_type] => image/jpeg [url] => https://willatatiana.pl/wp-content/uploads/2016/11/Apartament_Syberyjski_Willa_Tatiana_folk_Zakopane_05.jpg [width] => 1000 [height] => 667 [sizes] => Array ( [thumbnail] => https://willatatiana.pl/wp-content/uploads/2016/11/Apartament_Syberyjski_Willa_Tatiana_folk_Zakopane_05-150x150.jpg [thumbnail-width] => 150 [thumbnail-height] => 150 [medium] => https://willatatiana.pl/wp-content/uploads/2016/11/Apartament_Syberyjski_Willa_Tatiana_folk_Zakopane_05-300x200.jpg [medium-width] => 300 [medium-height] => 200 [medium_large] => https://willatatiana.pl/wp-content/uploads/2016/11/Apartament_Syberyjski_Willa_Tatiana_folk_Zakopane_05-768x512.jpg [medium_large-width] => 620 [medium_large-height] => 413 [large] => https://willatatiana.pl/wp-content/uploads/2016/11/Apartament_Syberyjski_Willa_Tatiana_folk_Zakopane_05.jpg [large-width] => 620 [large-height] => 414 [1536x1536] => https://willatatiana.pl/wp-content/uploads/2016/11/Apartament_Syberyjski_Willa_Tatiana_folk_Zakopane_05.jpg [1536x1536-width] => 1000 [1536x1536-height] => 667 [2048x2048] => https://willatatiana.pl/wp-content/uploads/2016/11/Apartament_Syberyjski_Willa_Tatiana_folk_Zakopane_05.jpg [2048x2048-width] => 1000 [2048x2048-height] => 667 [slider-image] => https://willatatiana.pl/wp-content/uploads/2016/11/Apartament_Syberyjski_Willa_Tatiana_folk_Zakopane_05-1000x430.jpg [slider-image-width] => 1000 [slider-image-height] => 430 [slider-image-thumb] => https://willatatiana.pl/wp-content/uploads/2016/11/Apartament_Syberyjski_Willa_Tatiana_folk_Zakopane_05-625x215.jpg [slider-image-thumb-width] => 625 [slider-image-thumb-height] => 215 [slider-apartamenty] => https://willatatiana.pl/wp-content/uploads/2016/11/Apartament_Syberyjski_Willa_Tatiana_folk_Zakopane_05-1000x240.jpg [slider-apartamenty-width] => 1000 [slider-apartamenty-height] => 240 [slider-apartamenty-thumb] => https://willatatiana.pl/wp-content/uploads/2016/11/Apartament_Syberyjski_Willa_Tatiana_folk_Zakopane_05-625x120.jpg [slider-apartamenty-thumb-width] => 625 [slider-apartamenty-thumb-height] => 120 [apartament-image] => https://willatatiana.pl/wp-content/uploads/2016/11/Apartament_Syberyjski_Willa_Tatiana_folk_Zakopane_05-290x177.jpg [apartament-image-width] => 290 [apartament-image-height] => 177 [apartament-gallery-image] => https://willatatiana.pl/wp-content/uploads/2016/11/Apartament_Syberyjski_Willa_Tatiana_folk_Zakopane_05-905x523.jpg [apartament-gallery-image-width] => 905 [apartament-gallery-image-height] => 523 [apartament-gallery-image-thumb] => https://willatatiana.pl/wp-content/uploads/2016/11/Apartament_Syberyjski_Willa_Tatiana_folk_Zakopane_05-150x84.jpg [apartament-gallery-image-thumb-width] => 150 [apartament-gallery-image-thumb-height] => 84 ) ) [5] => Array ( [id] => 1482 [alt] => Apartament Syberyjski Willa Tatiana folk drewniana sypialnia z łóżkiem w kształcie sań [title] => Apartament Syberyjski Willa Tatiana folk [caption] => [description] => [mime_type] => image/jpeg [url] => https://willatatiana.pl/wp-content/uploads/2016/11/Apartament_Syberyjski_Willa_Tatiana_folk_Zakopane_06.jpg [width] => 1000 [height] => 667 [sizes] => Array ( [thumbnail] => https://willatatiana.pl/wp-content/uploads/2016/11/Apartament_Syberyjski_Willa_Tatiana_folk_Zakopane_06-150x150.jpg [thumbnail-width] => 150 [thumbnail-height] => 150 [medium] => https://willatatiana.pl/wp-content/uploads/2016/11/Apartament_Syberyjski_Willa_Tatiana_folk_Zakopane_06-300x200.jpg [medium-width] => 300 [medium-height] => 200 [medium_large] => https://willatatiana.pl/wp-content/uploads/2016/11/Apartament_Syberyjski_Willa_Tatiana_folk_Zakopane_06-768x512.jpg [medium_large-width] => 620 [medium_large-height] => 413 [large] => https://willatatiana.pl/wp-content/uploads/2016/11/Apartament_Syberyjski_Willa_Tatiana_folk_Zakopane_06.jpg [large-width] => 620 [large-height] => 414 [1536x1536] => https://willatatiana.pl/wp-content/uploads/2016/11/Apartament_Syberyjski_Willa_Tatiana_folk_Zakopane_06.jpg [1536x1536-width] => 1000 [1536x1536-height] => 667 [2048x2048] => https://willatatiana.pl/wp-content/uploads/2016/11/Apartament_Syberyjski_Willa_Tatiana_folk_Zakopane_06.jpg [2048x2048-width] => 1000 [2048x2048-height] => 667 [slider-image] => https://willatatiana.pl/wp-content/uploads/2016/11/Apartament_Syberyjski_Willa_Tatiana_folk_Zakopane_06-1000x430.jpg [slider-image-width] => 1000 [slider-image-height] => 430 [slider-image-thumb] => https://willatatiana.pl/wp-content/uploads/2016/11/Apartament_Syberyjski_Willa_Tatiana_folk_Zakopane_06-625x215.jpg [slider-image-thumb-width] => 625 [slider-image-thumb-height] => 215 [slider-apartamenty] => https://willatatiana.pl/wp-content/uploads/2016/11/Apartament_Syberyjski_Willa_Tatiana_folk_Zakopane_06-1000x240.jpg [slider-apartamenty-width] => 1000 [slider-apartamenty-height] => 240 [slider-apartamenty-thumb] => https://willatatiana.pl/wp-content/uploads/2016/11/Apartament_Syberyjski_Willa_Tatiana_folk_Zakopane_06-625x120.jpg [slider-apartamenty-thumb-width] => 625 [slider-apartamenty-thumb-height] => 120 [apartament-image] => https://willatatiana.pl/wp-content/uploads/2016/11/Apartament_Syberyjski_Willa_Tatiana_folk_Zakopane_06-290x177.jpg [apartament-image-width] => 290 [apartament-image-height] => 177 [apartament-gallery-image] => https://willatatiana.pl/wp-content/uploads/2016/11/Apartament_Syberyjski_Willa_Tatiana_folk_Zakopane_06-905x523.jpg [apartament-gallery-image-width] => 905 [apartament-gallery-image-height] => 523 [apartament-gallery-image-thumb] => https://willatatiana.pl/wp-content/uploads/2016/11/Apartament_Syberyjski_Willa_Tatiana_folk_Zakopane_06-150x84.jpg [apartament-gallery-image-thumb-width] => 150 [apartament-gallery-image-thumb-height] => 84 ) ) [6] => Array ( [id] => 1483 [alt] => Apartament Syberyjski Willa Tatiana folk drewniana sypialnia [title] => Apartament Syberyjski Willa Tatiana folk [caption] => [description] => [mime_type] => image/jpeg [url] => https://willatatiana.pl/wp-content/uploads/2016/11/Apartament_Syberyjski_Willa_Tatiana_folk_Zakopane_07.jpg [width] => 1000 [height] => 667 [sizes] => Array ( [thumbnail] => https://willatatiana.pl/wp-content/uploads/2016/11/Apartament_Syberyjski_Willa_Tatiana_folk_Zakopane_07-150x150.jpg [thumbnail-width] => 150 [thumbnail-height] => 150 [medium] => https://willatatiana.pl/wp-content/uploads/2016/11/Apartament_Syberyjski_Willa_Tatiana_folk_Zakopane_07-300x200.jpg [medium-width] => 300 [medium-height] => 200 [medium_large] => https://willatatiana.pl/wp-content/uploads/2016/11/Apartament_Syberyjski_Willa_Tatiana_folk_Zakopane_07-768x512.jpg [medium_large-width] => 620 [medium_large-height] => 413 [large] => https://willatatiana.pl/wp-content/uploads/2016/11/Apartament_Syberyjski_Willa_Tatiana_folk_Zakopane_07.jpg [large-width] => 620 [large-height] => 414 [1536x1536] => https://willatatiana.pl/wp-content/uploads/2016/11/Apartament_Syberyjski_Willa_Tatiana_folk_Zakopane_07.jpg [1536x1536-width] => 1000 [1536x1536-height] => 667 [2048x2048] => https://willatatiana.pl/wp-content/uploads/2016/11/Apartament_Syberyjski_Willa_Tatiana_folk_Zakopane_07.jpg [2048x2048-width] => 1000 [2048x2048-height] => 667 [slider-image] => https://willatatiana.pl/wp-content/uploads/2016/11/Apartament_Syberyjski_Willa_Tatiana_folk_Zakopane_07-1000x430.jpg [slider-image-width] => 1000 [slider-image-height] => 430 [slider-image-thumb] => https://willatatiana.pl/wp-content/uploads/2016/11/Apartament_Syberyjski_Willa_Tatiana_folk_Zakopane_07-625x215.jpg [slider-image-thumb-width] => 625 [slider-image-thumb-height] => 215 [slider-apartamenty] => https://willatatiana.pl/wp-content/uploads/2016/11/Apartament_Syberyjski_Willa_Tatiana_folk_Zakopane_07-1000x240.jpg [slider-apartamenty-width] => 1000 [slider-apartamenty-height] => 240 [slider-apartamenty-thumb] => https://willatatiana.pl/wp-content/uploads/2016/11/Apartament_Syberyjski_Willa_Tatiana_folk_Zakopane_07-625x120.jpg [slider-apartamenty-thumb-width] => 625 [slider-apartamenty-thumb-height] => 120 [apartament-image] => https://willatatiana.pl/wp-content/uploads/2016/11/Apartament_Syberyjski_Willa_Tatiana_folk_Zakopane_07-290x177.jpg [apartament-image-width] => 290 [apartament-image-height] => 177 [apartament-gallery-image] => https://willatatiana.pl/wp-content/uploads/2016/11/Apartament_Syberyjski_Willa_Tatiana_folk_Zakopane_07-905x523.jpg [apartament-gallery-image-width] => 905 [apartament-gallery-image-height] => 523 [apartament-gallery-image-thumb] => https://willatatiana.pl/wp-content/uploads/2016/11/Apartament_Syberyjski_Willa_Tatiana_folk_Zakopane_07-150x84.jpg [apartament-gallery-image-thumb-width] => 150 [apartament-gallery-image-thumb-height] => 84 ) ) [7] => Array ( [id] => 1484 [alt] => Apartament Syberyjski Willa Tatiana folk sypialnia z akcentem drewnianym [title] => Apartament Syberyjski Willa Tatiana folk [caption] => [description] => [mime_type] => image/jpeg [url] => https://willatatiana.pl/wp-content/uploads/2016/11/Apartament_Syberyjski_Willa_Tatiana_folk_Zakopane_08.jpg [width] => 1000 [height] => 621 [sizes] => Array ( [thumbnail] => https://willatatiana.pl/wp-content/uploads/2016/11/Apartament_Syberyjski_Willa_Tatiana_folk_Zakopane_08-150x150.jpg [thumbnail-width] => 150 [thumbnail-height] => 150 [medium] => https://willatatiana.pl/wp-content/uploads/2016/11/Apartament_Syberyjski_Willa_Tatiana_folk_Zakopane_08-300x186.jpg [medium-width] => 300 [medium-height] => 186 [medium_large] => https://willatatiana.pl/wp-content/uploads/2016/11/Apartament_Syberyjski_Willa_Tatiana_folk_Zakopane_08-768x477.jpg [medium_large-width] => 620 [medium_large-height] => 385 [large] => https://willatatiana.pl/wp-content/uploads/2016/11/Apartament_Syberyjski_Willa_Tatiana_folk_Zakopane_08.jpg [large-width] => 620 [large-height] => 385 [1536x1536] => https://willatatiana.pl/wp-content/uploads/2016/11/Apartament_Syberyjski_Willa_Tatiana_folk_Zakopane_08.jpg [1536x1536-width] => 1000 [1536x1536-height] => 621 [2048x2048] => https://willatatiana.pl/wp-content/uploads/2016/11/Apartament_Syberyjski_Willa_Tatiana_folk_Zakopane_08.jpg [2048x2048-width] => 1000 [2048x2048-height] => 621 [slider-image] => https://willatatiana.pl/wp-content/uploads/2016/11/Apartament_Syberyjski_Willa_Tatiana_folk_Zakopane_08-1000x430.jpg [slider-image-width] => 1000 [slider-image-height] => 430 [slider-image-thumb] => https://willatatiana.pl/wp-content/uploads/2016/11/Apartament_Syberyjski_Willa_Tatiana_folk_Zakopane_08-625x215.jpg [slider-image-thumb-width] => 625 [slider-image-thumb-height] => 215 [slider-apartamenty] => https://willatatiana.pl/wp-content/uploads/2016/11/Apartament_Syberyjski_Willa_Tatiana_folk_Zakopane_08-1000x240.jpg [slider-apartamenty-width] => 1000 [slider-apartamenty-height] => 240 [slider-apartamenty-thumb] => https://willatatiana.pl/wp-content/uploads/2016/11/Apartament_Syberyjski_Willa_Tatiana_folk_Zakopane_08-625x120.jpg [slider-apartamenty-thumb-width] => 625 [slider-apartamenty-thumb-height] => 120 [apartament-image] => https://willatatiana.pl/wp-content/uploads/2016/11/Apartament_Syberyjski_Willa_Tatiana_folk_Zakopane_08-290x177.jpg [apartament-image-width] => 290 [apartament-image-height] => 177 [apartament-gallery-image] => https://willatatiana.pl/wp-content/uploads/2016/11/Apartament_Syberyjski_Willa_Tatiana_folk_Zakopane_08-905x523.jpg [apartament-gallery-image-width] => 905 [apartament-gallery-image-height] => 523 [apartament-gallery-image-thumb] => https://willatatiana.pl/wp-content/uploads/2016/11/Apartament_Syberyjski_Willa_Tatiana_folk_Zakopane_08-150x84.jpg [apartament-gallery-image-thumb-width] => 150 [apartament-gallery-image-thumb-height] => 84 ) ) [8] => Array ( [id] => 1485 [alt] => Apartament Syberyjski Willa Tatiana folk drewniana sypialnia [title] => Apartament Syberyjski Willa Tatiana folk [caption] => [description] => [mime_type] => image/jpeg [url] => https://willatatiana.pl/wp-content/uploads/2016/11/Apartament_Syberyjski_Willa_Tatiana_folk_Zakopane_09.jpg [width] => 1000 [height] => 667 [sizes] => Array ( [thumbnail] => https://willatatiana.pl/wp-content/uploads/2016/11/Apartament_Syberyjski_Willa_Tatiana_folk_Zakopane_09-150x150.jpg [thumbnail-width] => 150 [thumbnail-height] => 150 [medium] => https://willatatiana.pl/wp-content/uploads/2016/11/Apartament_Syberyjski_Willa_Tatiana_folk_Zakopane_09-300x200.jpg [medium-width] => 300 [medium-height] => 200 [medium_large] => https://willatatiana.pl/wp-content/uploads/2016/11/Apartament_Syberyjski_Willa_Tatiana_folk_Zakopane_09-768x512.jpg [medium_large-width] => 620 [medium_large-height] => 413 [large] => https://willatatiana.pl/wp-content/uploads/2016/11/Apartament_Syberyjski_Willa_Tatiana_folk_Zakopane_09.jpg [large-width] => 620 [large-height] => 414 [1536x1536] => https://willatatiana.pl/wp-content/uploads/2016/11/Apartament_Syberyjski_Willa_Tatiana_folk_Zakopane_09.jpg [1536x1536-width] => 1000 [1536x1536-height] => 667 [2048x2048] => https://willatatiana.pl/wp-content/uploads/2016/11/Apartament_Syberyjski_Willa_Tatiana_folk_Zakopane_09.jpg [2048x2048-width] => 1000 [2048x2048-height] => 667 [slider-image] => https://willatatiana.pl/wp-content/uploads/2016/11/Apartament_Syberyjski_Willa_Tatiana_folk_Zakopane_09-1000x430.jpg [slider-image-width] => 1000 [slider-image-height] => 430 [slider-image-thumb] => https://willatatiana.pl/wp-content/uploads/2016/11/Apartament_Syberyjski_Willa_Tatiana_folk_Zakopane_09-625x215.jpg [slider-image-thumb-width] => 625 [slider-image-thumb-height] => 215 [slider-apartamenty] => https://willatatiana.pl/wp-content/uploads/2016/11/Apartament_Syberyjski_Willa_Tatiana_folk_Zakopane_09-1000x240.jpg [slider-apartamenty-width] => 1000 [slider-apartamenty-height] => 240 [slider-apartamenty-thumb] => https://willatatiana.pl/wp-content/uploads/2016/11/Apartament_Syberyjski_Willa_Tatiana_folk_Zakopane_09-625x120.jpg [slider-apartamenty-thumb-width] => 625 [slider-apartamenty-thumb-height] => 120 [apartament-image] => https://willatatiana.pl/wp-content/uploads/2016/11/Apartament_Syberyjski_Willa_Tatiana_folk_Zakopane_09-290x177.jpg [apartament-image-width] => 290 [apartament-image-height] => 177 [apartament-gallery-image] => https://willatatiana.pl/wp-content/uploads/2016/11/Apartament_Syberyjski_Willa_Tatiana_folk_Zakopane_09-905x523.jpg [apartament-gallery-image-width] => 905 [apartament-gallery-image-height] => 523 [apartament-gallery-image-thumb] => https://willatatiana.pl/wp-content/uploads/2016/11/Apartament_Syberyjski_Willa_Tatiana_folk_Zakopane_09-150x84.jpg [apartament-gallery-image-thumb-width] => 150 [apartament-gallery-image-thumb-height] => 84 ) ) [9] => Array ( [id] => 1486 [alt] => Apartament Syberyjski Willa Tatiana folk sypialnia z akcentami drewnianymi [title] => Apartament Syberyjski Willa Tatiana folk [caption] => [description] => [mime_type] => image/jpeg [url] => https://willatatiana.pl/wp-content/uploads/2016/11/Apartament_Syberyjski_Willa_Tatiana_folk_Zakopane_10.jpg [width] => 1000 [height] => 667 [sizes] => Array ( [thumbnail] => https://willatatiana.pl/wp-content/uploads/2016/11/Apartament_Syberyjski_Willa_Tatiana_folk_Zakopane_10-150x150.jpg [thumbnail-width] => 150 [thumbnail-height] => 150 [medium] => https://willatatiana.pl/wp-content/uploads/2016/11/Apartament_Syberyjski_Willa_Tatiana_folk_Zakopane_10-300x200.jpg [medium-width] => 300 [medium-height] => 200 [medium_large] => https://willatatiana.pl/wp-content/uploads/2016/11/Apartament_Syberyjski_Willa_Tatiana_folk_Zakopane_10-768x512.jpg [medium_large-width] => 620 [medium_large-height] => 413 [large] => https://willatatiana.pl/wp-content/uploads/2016/11/Apartament_Syberyjski_Willa_Tatiana_folk_Zakopane_10.jpg [large-width] => 620 [large-height] => 414 [1536x1536] => https://willatatiana.pl/wp-content/uploads/2016/11/Apartament_Syberyjski_Willa_Tatiana_folk_Zakopane_10.jpg [1536x1536-width] => 1000 [1536x1536-height] => 667 [2048x2048] => https://willatatiana.pl/wp-content/uploads/2016/11/Apartament_Syberyjski_Willa_Tatiana_folk_Zakopane_10.jpg [2048x2048-width] => 1000 [2048x2048-height] => 667 [slider-image] => https://willatatiana.pl/wp-content/uploads/2016/11/Apartament_Syberyjski_Willa_Tatiana_folk_Zakopane_10-1000x430.jpg [slider-image-width] => 1000 [slider-image-height] => 430 [slider-image-thumb] => https://willatatiana.pl/wp-content/uploads/2016/11/Apartament_Syberyjski_Willa_Tatiana_folk_Zakopane_10-625x215.jpg [slider-image-thumb-width] => 625 [slider-image-thumb-height] => 215 [slider-apartamenty] => https://willatatiana.pl/wp-content/uploads/2016/11/Apartament_Syberyjski_Willa_Tatiana_folk_Zakopane_10-1000x240.jpg [slider-apartamenty-width] => 1000 [slider-apartamenty-height] => 240 [slider-apartamenty-thumb] => https://willatatiana.pl/wp-content/uploads/2016/11/Apartament_Syberyjski_Willa_Tatiana_folk_Zakopane_10-625x120.jpg [slider-apartamenty-thumb-width] => 625 [slider-apartamenty-thumb-height] => 120 [apartament-image] => https://willatatiana.pl/wp-content/uploads/2016/11/Apartament_Syberyjski_Willa_Tatiana_folk_Zakopane_10-290x177.jpg [apartament-image-width] => 290 [apartament-image-height] => 177 [apartament-gallery-image] => https://willatatiana.pl/wp-content/uploads/2016/11/Apartament_Syberyjski_Willa_Tatiana_folk_Zakopane_10-905x523.jpg [apartament-gallery-image-width] => 905 [apartament-gallery-image-height] => 523 [apartament-gallery-image-thumb] => https://willatatiana.pl/wp-content/uploads/2016/11/Apartament_Syberyjski_Willa_Tatiana_folk_Zakopane_10-150x84.jpg [apartament-gallery-image-thumb-width] => 150 [apartament-gallery-image-thumb-height] => 84 ) ) [10] => Array ( [id] => 1487 [alt] => Apartament Syberyjski Willa Tatiana folk sypialnia z akcentami drewnianymi [title] => Apartament Syberyjski Willa Tatiana folk [caption] => [description] => [mime_type] => image/jpeg [url] => https://willatatiana.pl/wp-content/uploads/2016/11/Apartament_Syberyjski_Willa_Tatiana_folk_Zakopane_11.jpg [width] => 1000 [height] => 667 [sizes] => Array ( [thumbnail] => https://willatatiana.pl/wp-content/uploads/2016/11/Apartament_Syberyjski_Willa_Tatiana_folk_Zakopane_11-150x150.jpg [thumbnail-width] => 150 [thumbnail-height] => 150 [medium] => https://willatatiana.pl/wp-content/uploads/2016/11/Apartament_Syberyjski_Willa_Tatiana_folk_Zakopane_11-300x200.jpg [medium-width] => 300 [medium-height] => 200 [medium_large] => https://willatatiana.pl/wp-content/uploads/2016/11/Apartament_Syberyjski_Willa_Tatiana_folk_Zakopane_11-768x512.jpg [medium_large-width] => 620 [medium_large-height] => 413 [large] => https://willatatiana.pl/wp-content/uploads/2016/11/Apartament_Syberyjski_Willa_Tatiana_folk_Zakopane_11.jpg [large-width] => 620 [large-height] => 414 [1536x1536] => https://willatatiana.pl/wp-content/uploads/2016/11/Apartament_Syberyjski_Willa_Tatiana_folk_Zakopane_11.jpg [1536x1536-width] => 1000 [1536x1536-height] => 667 [2048x2048] => https://willatatiana.pl/wp-content/uploads/2016/11/Apartament_Syberyjski_Willa_Tatiana_folk_Zakopane_11.jpg [2048x2048-width] => 1000 [2048x2048-height] => 667 [slider-image] => https://willatatiana.pl/wp-content/uploads/2016/11/Apartament_Syberyjski_Willa_Tatiana_folk_Zakopane_11-1000x430.jpg [slider-image-width] => 1000 [slider-image-height] => 430 [slider-image-thumb] => https://willatatiana.pl/wp-content/uploads/2016/11/Apartament_Syberyjski_Willa_Tatiana_folk_Zakopane_11-625x215.jpg [slider-image-thumb-width] => 625 [slider-image-thumb-height] => 215 [slider-apartamenty] => https://willatatiana.pl/wp-content/uploads/2016/11/Apartament_Syberyjski_Willa_Tatiana_folk_Zakopane_11-1000x240.jpg [slider-apartamenty-width] => 1000 [slider-apartamenty-height] => 240 [slider-apartamenty-thumb] => https://willatatiana.pl/wp-content/uploads/2016/11/Apartament_Syberyjski_Willa_Tatiana_folk_Zakopane_11-625x120.jpg [slider-apartamenty-thumb-width] => 625 [slider-apartamenty-thumb-height] => 120 [apartament-image] => https://willatatiana.pl/wp-content/uploads/2016/11/Apartament_Syberyjski_Willa_Tatiana_folk_Zakopane_11-290x177.jpg [apartament-image-width] => 290 [apartament-image-height] => 177 [apartament-gallery-image] => https://willatatiana.pl/wp-content/uploads/2016/11/Apartament_Syberyjski_Willa_Tatiana_folk_Zakopane_11-905x523.jpg [apartament-gallery-image-width] => 905 [apartament-gallery-image-height] => 523 [apartament-gallery-image-thumb] => https://willatatiana.pl/wp-content/uploads/2016/11/Apartament_Syberyjski_Willa_Tatiana_folk_Zakopane_11-150x84.jpg [apartament-gallery-image-thumb-width] => 150 [apartament-gallery-image-thumb-height] => 84 ) ) [11] => Array ( [id] => 1488 [alt] => Apartament Syberyjski Willa Tatiana folk kamienne umywalki [title] => Apartament Syberyjski Willa Tatiana folk [caption] => [description] => [mime_type] => image/jpeg [url] => https://willatatiana.pl/wp-content/uploads/2016/11/Apartament_Syberyjski_Willa_Tatiana_folk_Zakopane_12.jpg [width] => 1000 [height] => 667 [sizes] => Array ( [thumbnail] => https://willatatiana.pl/wp-content/uploads/2016/11/Apartament_Syberyjski_Willa_Tatiana_folk_Zakopane_12-150x150.jpg [thumbnail-width] => 150 [thumbnail-height] => 150 [medium] => https://willatatiana.pl/wp-content/uploads/2016/11/Apartament_Syberyjski_Willa_Tatiana_folk_Zakopane_12-300x200.jpg [medium-width] => 300 [medium-height] => 200 [medium_large] => https://willatatiana.pl/wp-content/uploads/2016/11/Apartament_Syberyjski_Willa_Tatiana_folk_Zakopane_12-768x512.jpg [medium_large-width] => 620 [medium_large-height] => 413 [large] => https://willatatiana.pl/wp-content/uploads/2016/11/Apartament_Syberyjski_Willa_Tatiana_folk_Zakopane_12.jpg [large-width] => 620 [large-height] => 414 [1536x1536] => https://willatatiana.pl/wp-content/uploads/2016/11/Apartament_Syberyjski_Willa_Tatiana_folk_Zakopane_12.jpg [1536x1536-width] => 1000 [1536x1536-height] => 667 [2048x2048] => https://willatatiana.pl/wp-content/uploads/2016/11/Apartament_Syberyjski_Willa_Tatiana_folk_Zakopane_12.jpg [2048x2048-width] => 1000 [2048x2048-height] => 667 [slider-image] => https://willatatiana.pl/wp-content/uploads/2016/11/Apartament_Syberyjski_Willa_Tatiana_folk_Zakopane_12-1000x430.jpg [slider-image-width] => 1000 [slider-image-height] => 430 [slider-image-thumb] => https://willatatiana.pl/wp-content/uploads/2016/11/Apartament_Syberyjski_Willa_Tatiana_folk_Zakopane_12-625x215.jpg [slider-image-thumb-width] => 625 [slider-image-thumb-height] => 215 [slider-apartamenty] => https://willatatiana.pl/wp-content/uploads/2016/11/Apartament_Syberyjski_Willa_Tatiana_folk_Zakopane_12-1000x240.jpg [slider-apartamenty-width] => 1000 [slider-apartamenty-height] => 240 [slider-apartamenty-thumb] => https://willatatiana.pl/wp-content/uploads/2016/11/Apartament_Syberyjski_Willa_Tatiana_folk_Zakopane_12-625x120.jpg [slider-apartamenty-thumb-width] => 625 [slider-apartamenty-thumb-height] => 120 [apartament-image] => https://willatatiana.pl/wp-content/uploads/2016/11/Apartament_Syberyjski_Willa_Tatiana_folk_Zakopane_12-290x177.jpg [apartament-image-width] => 290 [apartament-image-height] => 177 [apartament-gallery-image] => https://willatatiana.pl/wp-content/uploads/2016/11/Apartament_Syberyjski_Willa_Tatiana_folk_Zakopane_12-905x523.jpg [apartament-gallery-image-width] => 905 [apartament-gallery-image-height] => 523 [apartament-gallery-image-thumb] => https://willatatiana.pl/wp-content/uploads/2016/11/Apartament_Syberyjski_Willa_Tatiana_folk_Zakopane_12-150x84.jpg [apartament-gallery-image-thumb-width] => 150 [apartament-gallery-image-thumb-height] => 84 ) ) [12] => Array ( [id] => 1489 [alt] => Apartament Syberyjski Willa Tatiana folk łazienka z kamienia [title] => Apartament Syberyjski Willa Tatiana folk [caption] => [description] => [mime_type] => image/jpeg [url] => https://willatatiana.pl/wp-content/uploads/2016/11/Apartament_Syberyjski_Willa_Tatiana_folk_Zakopane_13.jpg [width] => 1000 [height] => 667 [sizes] => Array ( [thumbnail] => https://willatatiana.pl/wp-content/uploads/2016/11/Apartament_Syberyjski_Willa_Tatiana_folk_Zakopane_13-150x150.jpg [thumbnail-width] => 150 [thumbnail-height] => 150 [medium] => https://willatatiana.pl/wp-content/uploads/2016/11/Apartament_Syberyjski_Willa_Tatiana_folk_Zakopane_13-300x200.jpg [medium-width] => 300 [medium-height] => 200 [medium_large] => https://willatatiana.pl/wp-content/uploads/2016/11/Apartament_Syberyjski_Willa_Tatiana_folk_Zakopane_13-768x512.jpg [medium_large-width] => 620 [medium_large-height] => 413 [large] => https://willatatiana.pl/wp-content/uploads/2016/11/Apartament_Syberyjski_Willa_Tatiana_folk_Zakopane_13.jpg [large-width] => 620 [large-height] => 414 [1536x1536] => https://willatatiana.pl/wp-content/uploads/2016/11/Apartament_Syberyjski_Willa_Tatiana_folk_Zakopane_13.jpg [1536x1536-width] => 1000 [1536x1536-height] => 667 [2048x2048] => https://willatatiana.pl/wp-content/uploads/2016/11/Apartament_Syberyjski_Willa_Tatiana_folk_Zakopane_13.jpg [2048x2048-width] => 1000 [2048x2048-height] => 667 [slider-image] => https://willatatiana.pl/wp-content/uploads/2016/11/Apartament_Syberyjski_Willa_Tatiana_folk_Zakopane_13-1000x430.jpg [slider-image-width] => 1000 [slider-image-height] => 430 [slider-image-thumb] => https://willatatiana.pl/wp-content/uploads/2016/11/Apartament_Syberyjski_Willa_Tatiana_folk_Zakopane_13-625x215.jpg [slider-image-thumb-width] => 625 [slider-image-thumb-height] => 215 [slider-apartamenty] => https://willatatiana.pl/wp-content/uploads/2016/11/Apartament_Syberyjski_Willa_Tatiana_folk_Zakopane_13-1000x240.jpg [slider-apartamenty-width] => 1000 [slider-apartamenty-height] => 240 [slider-apartamenty-thumb] => https://willatatiana.pl/wp-content/uploads/2016/11/Apartament_Syberyjski_Willa_Tatiana_folk_Zakopane_13-625x120.jpg [slider-apartamenty-thumb-width] => 625 [slider-apartamenty-thumb-height] => 120 [apartament-image] => https://willatatiana.pl/wp-content/uploads/2016/11/Apartament_Syberyjski_Willa_Tatiana_folk_Zakopane_13-290x177.jpg [apartament-image-width] => 290 [apartament-image-height] => 177 [apartament-gallery-image] => https://willatatiana.pl/wp-content/uploads/2016/11/Apartament_Syberyjski_Willa_Tatiana_folk_Zakopane_13-905x523.jpg [apartament-gallery-image-width] => 905 [apartament-gallery-image-height] => 523 [apartament-gallery-image-thumb] => https://willatatiana.pl/wp-content/uploads/2016/11/Apartament_Syberyjski_Willa_Tatiana_folk_Zakopane_13-150x84.jpg [apartament-gallery-image-thumb-width] => 150 [apartament-gallery-image-thumb-height] => 84 ) ) ) aaas

A unique suite whose design was inspired by the elements of Siberian houses décor. A special attraction to guests is a fairy sleigh which turns sleep into an unforgettable experience. "Horses unharnessed and the cold winter is coming soon." Original icons, paintings and the décor create an atmosphere in which everyone will feel different than at home. A bedroom with bunk beds as if directly taken from a cottage in a Polish village by the Baikal lake. Natural grey colour of the wood which beautifully accentuates the nature of the apartment was achieved due to lack of sunlight.

see and book

4

Array ( [0] => Array ( [id] => 1463 [alt] => Apartament Karpacki Willa Tatiana folk drewniany pokój [title] => Apartament Karpacki Willa Tatiana folk [caption] => [description] => [mime_type] => image/jpeg [url] => https://willatatiana.pl/wp-content/uploads/2016/11/Apartament_Karpacki_Willa_Tatiana_folk_Zakopane_01.jpg [width] => 1000 [height] => 656 [sizes] => Array ( [thumbnail] => https://willatatiana.pl/wp-content/uploads/2016/11/Apartament_Karpacki_Willa_Tatiana_folk_Zakopane_01-150x150.jpg [thumbnail-width] => 150 [thumbnail-height] => 150 [medium] => https://willatatiana.pl/wp-content/uploads/2016/11/Apartament_Karpacki_Willa_Tatiana_folk_Zakopane_01-300x197.jpg [medium-width] => 300 [medium-height] => 197 [medium_large] => https://willatatiana.pl/wp-content/uploads/2016/11/Apartament_Karpacki_Willa_Tatiana_folk_Zakopane_01-768x504.jpg [medium_large-width] => 620 [medium_large-height] => 407 [large] => https://willatatiana.pl/wp-content/uploads/2016/11/Apartament_Karpacki_Willa_Tatiana_folk_Zakopane_01.jpg [large-width] => 620 [large-height] => 407 [1536x1536] => https://willatatiana.pl/wp-content/uploads/2016/11/Apartament_Karpacki_Willa_Tatiana_folk_Zakopane_01.jpg [1536x1536-width] => 1000 [1536x1536-height] => 656 [2048x2048] => https://willatatiana.pl/wp-content/uploads/2016/11/Apartament_Karpacki_Willa_Tatiana_folk_Zakopane_01.jpg [2048x2048-width] => 1000 [2048x2048-height] => 656 [slider-image] => https://willatatiana.pl/wp-content/uploads/2016/11/Apartament_Karpacki_Willa_Tatiana_folk_Zakopane_01-1000x430.jpg [slider-image-width] => 1000 [slider-image-height] => 430 [slider-image-thumb] => https://willatatiana.pl/wp-content/uploads/2016/11/Apartament_Karpacki_Willa_Tatiana_folk_Zakopane_01-625x215.jpg [slider-image-thumb-width] => 625 [slider-image-thumb-height] => 215 [slider-apartamenty] => https://willatatiana.pl/wp-content/uploads/2016/11/Apartament_Karpacki_Willa_Tatiana_folk_Zakopane_01-1000x240.jpg [slider-apartamenty-width] => 1000 [slider-apartamenty-height] => 240 [slider-apartamenty-thumb] => https://willatatiana.pl/wp-content/uploads/2016/11/Apartament_Karpacki_Willa_Tatiana_folk_Zakopane_01-625x120.jpg [slider-apartamenty-thumb-width] => 625 [slider-apartamenty-thumb-height] => 120 [apartament-image] => https://willatatiana.pl/wp-content/uploads/2016/11/Apartament_Karpacki_Willa_Tatiana_folk_Zakopane_01-290x177.jpg [apartament-image-width] => 290 [apartament-image-height] => 177 [apartament-gallery-image] => https://willatatiana.pl/wp-content/uploads/2016/11/Apartament_Karpacki_Willa_Tatiana_folk_Zakopane_01-905x523.jpg [apartament-gallery-image-width] => 905 [apartament-gallery-image-height] => 523 [apartament-gallery-image-thumb] => https://willatatiana.pl/wp-content/uploads/2016/11/Apartament_Karpacki_Willa_Tatiana_folk_Zakopane_01-150x84.jpg [apartament-gallery-image-thumb-width] => 150 [apartament-gallery-image-thumb-height] => 84 ) ) [1] => Array ( [id] => 1464 [alt] => Apartament Karpacki Willa Tatiana folk drewniany pokój [title] => Apartament Karpacki Willa Tatiana folk [caption] => [description] => [mime_type] => image/jpeg [url] => https://willatatiana.pl/wp-content/uploads/2016/11/Apartament_Karpacki_Willa_Tatiana_folk_Zakopane_02.jpg [width] => 1000 [height] => 628 [sizes] => Array ( [thumbnail] => https://willatatiana.pl/wp-content/uploads/2016/11/Apartament_Karpacki_Willa_Tatiana_folk_Zakopane_02-150x150.jpg [thumbnail-width] => 150 [thumbnail-height] => 150 [medium] => https://willatatiana.pl/wp-content/uploads/2016/11/Apartament_Karpacki_Willa_Tatiana_folk_Zakopane_02-300x188.jpg [medium-width] => 300 [medium-height] => 188 [medium_large] => https://willatatiana.pl/wp-content/uploads/2016/11/Apartament_Karpacki_Willa_Tatiana_folk_Zakopane_02-768x482.jpg [medium_large-width] => 620 [medium_large-height] => 389 [large] => https://willatatiana.pl/wp-content/uploads/2016/11/Apartament_Karpacki_Willa_Tatiana_folk_Zakopane_02.jpg [large-width] => 620 [large-height] => 389 [1536x1536] => https://willatatiana.pl/wp-content/uploads/2016/11/Apartament_Karpacki_Willa_Tatiana_folk_Zakopane_02.jpg [1536x1536-width] => 1000 [1536x1536-height] => 628 [2048x2048] => https://willatatiana.pl/wp-content/uploads/2016/11/Apartament_Karpacki_Willa_Tatiana_folk_Zakopane_02.jpg [2048x2048-width] => 1000 [2048x2048-height] => 628 [slider-image] => https://willatatiana.pl/wp-content/uploads/2016/11/Apartament_Karpacki_Willa_Tatiana_folk_Zakopane_02-1000x430.jpg [slider-image-width] => 1000 [slider-image-height] => 430 [slider-image-thumb] => https://willatatiana.pl/wp-content/uploads/2016/11/Apartament_Karpacki_Willa_Tatiana_folk_Zakopane_02-625x215.jpg [slider-image-thumb-width] => 625 [slider-image-thumb-height] => 215 [slider-apartamenty] => https://willatatiana.pl/wp-content/uploads/2016/11/Apartament_Karpacki_Willa_Tatiana_folk_Zakopane_02-1000x240.jpg [slider-apartamenty-width] => 1000 [slider-apartamenty-height] => 240 [slider-apartamenty-thumb] => https://willatatiana.pl/wp-content/uploads/2016/11/Apartament_Karpacki_Willa_Tatiana_folk_Zakopane_02-625x120.jpg [slider-apartamenty-thumb-width] => 625 [slider-apartamenty-thumb-height] => 120 [apartament-image] => https://willatatiana.pl/wp-content/uploads/2016/11/Apartament_Karpacki_Willa_Tatiana_folk_Zakopane_02-290x177.jpg [apartament-image-width] => 290 [apartament-image-height] => 177 [apartament-gallery-image] => https://willatatiana.pl/wp-content/uploads/2016/11/Apartament_Karpacki_Willa_Tatiana_folk_Zakopane_02-905x523.jpg [apartament-gallery-image-width] => 905 [apartament-gallery-image-height] => 523 [apartament-gallery-image-thumb] => https://willatatiana.pl/wp-content/uploads/2016/11/Apartament_Karpacki_Willa_Tatiana_folk_Zakopane_02-150x84.jpg [apartament-gallery-image-thumb-width] => 150 [apartament-gallery-image-thumb-height] => 84 ) ) [2] => Array ( [id] => 1466 [alt] => Apartament Karpacki Willa Tatiana folk drewniany salon [title] => Apartament Karpacki Willa Tatiana folk [caption] => [description] => [mime_type] => image/jpeg [url] => https://willatatiana.pl/wp-content/uploads/2016/11/Apartament_Karpacki_Willa_Tatiana_folk_Zakopane_03.jpg [width] => 1000 [height] => 671 [sizes] => Array ( [thumbnail] => https://willatatiana.pl/wp-content/uploads/2016/11/Apartament_Karpacki_Willa_Tatiana_folk_Zakopane_03-150x150.jpg [thumbnail-width] => 150 [thumbnail-height] => 150 [medium] => https://willatatiana.pl/wp-content/uploads/2016/11/Apartament_Karpacki_Willa_Tatiana_folk_Zakopane_03-300x201.jpg [medium-width] => 300 [medium-height] => 201 [medium_large] => https://willatatiana.pl/wp-content/uploads/2016/11/Apartament_Karpacki_Willa_Tatiana_folk_Zakopane_03-768x515.jpg [medium_large-width] => 620 [medium_large-height] => 416 [large] => https://willatatiana.pl/wp-content/uploads/2016/11/Apartament_Karpacki_Willa_Tatiana_folk_Zakopane_03.jpg [large-width] => 620 [large-height] => 416 [1536x1536] => https://willatatiana.pl/wp-content/uploads/2016/11/Apartament_Karpacki_Willa_Tatiana_folk_Zakopane_03.jpg [1536x1536-width] => 1000 [1536x1536-height] => 671 [2048x2048] => https://willatatiana.pl/wp-content/uploads/2016/11/Apartament_Karpacki_Willa_Tatiana_folk_Zakopane_03.jpg [2048x2048-width] => 1000 [2048x2048-height] => 671 [slider-image] => https://willatatiana.pl/wp-content/uploads/2016/11/Apartament_Karpacki_Willa_Tatiana_folk_Zakopane_03-1000x430.jpg [slider-image-width] => 1000 [slider-image-height] => 430 [slider-image-thumb] => https://willatatiana.pl/wp-content/uploads/2016/11/Apartament_Karpacki_Willa_Tatiana_folk_Zakopane_03-625x215.jpg [slider-image-thumb-width] => 625 [slider-image-thumb-height] => 215 [slider-apartamenty] => https://willatatiana.pl/wp-content/uploads/2016/11/Apartament_Karpacki_Willa_Tatiana_folk_Zakopane_03-1000x240.jpg [slider-apartamenty-width] => 1000 [slider-apartamenty-height] => 240 [slider-apartamenty-thumb] => https://willatatiana.pl/wp-content/uploads/2016/11/Apartament_Karpacki_Willa_Tatiana_folk_Zakopane_03-625x120.jpg [slider-apartamenty-thumb-width] => 625 [slider-apartamenty-thumb-height] => 120 [apartament-image] => https://willatatiana.pl/wp-content/uploads/2016/11/Apartament_Karpacki_Willa_Tatiana_folk_Zakopane_03-290x177.jpg [apartament-image-width] => 290 [apartament-image-height] => 177 [apartament-gallery-image] => https://willatatiana.pl/wp-content/uploads/2016/11/Apartament_Karpacki_Willa_Tatiana_folk_Zakopane_03-905x523.jpg [apartament-gallery-image-width] => 905 [apartament-gallery-image-height] => 523 [apartament-gallery-image-thumb] => https://willatatiana.pl/wp-content/uploads/2016/11/Apartament_Karpacki_Willa_Tatiana_folk_Zakopane_03-150x84.jpg [apartament-gallery-image-thumb-width] => 150 [apartament-gallery-image-thumb-height] => 84 ) ) [3] => Array ( [id] => 1467 [alt] => Apartament Karpacki Willa Tatiana folk drewniana jadalnia [title] => Apartament Karpacki Willa Tatiana folk [caption] => [description] => [mime_type] => image/jpeg [url] => https://willatatiana.pl/wp-content/uploads/2016/11/Apartament_Karpacki_Willa_Tatiana_folk_Zakopane_04.jpg [width] => 1000 [height] => 650 [sizes] => Array ( [thumbnail] => https://willatatiana.pl/wp-content/uploads/2016/11/Apartament_Karpacki_Willa_Tatiana_folk_Zakopane_04-150x150.jpg [thumbnail-width] => 150 [thumbnail-height] => 150 [medium] => https://willatatiana.pl/wp-content/uploads/2016/11/Apartament_Karpacki_Willa_Tatiana_folk_Zakopane_04-300x195.jpg [medium-width] => 300 [medium-height] => 195 [medium_large] => https://willatatiana.pl/wp-content/uploads/2016/11/Apartament_Karpacki_Willa_Tatiana_folk_Zakopane_04-768x499.jpg [medium_large-width] => 620 [medium_large-height] => 403 [large] => https://willatatiana.pl/wp-content/uploads/2016/11/Apartament_Karpacki_Willa_Tatiana_folk_Zakopane_04.jpg [large-width] => 620 [large-height] => 403 [1536x1536] => https://willatatiana.pl/wp-content/uploads/2016/11/Apartament_Karpacki_Willa_Tatiana_folk_Zakopane_04.jpg [1536x1536-width] => 1000 [1536x1536-height] => 650 [2048x2048] => https://willatatiana.pl/wp-content/uploads/2016/11/Apartament_Karpacki_Willa_Tatiana_folk_Zakopane_04.jpg [2048x2048-width] => 1000 [2048x2048-height] => 650 [slider-image] => https://willatatiana.pl/wp-content/uploads/2016/11/Apartament_Karpacki_Willa_Tatiana_folk_Zakopane_04-1000x430.jpg [slider-image-width] => 1000 [slider-image-height] => 430 [slider-image-thumb] => https://willatatiana.pl/wp-content/uploads/2016/11/Apartament_Karpacki_Willa_Tatiana_folk_Zakopane_04-625x215.jpg [slider-image-thumb-width] => 625 [slider-image-thumb-height] => 215 [slider-apartamenty] => https://willatatiana.pl/wp-content/uploads/2016/11/Apartament_Karpacki_Willa_Tatiana_folk_Zakopane_04-1000x240.jpg [slider-apartamenty-width] => 1000 [slider-apartamenty-height] => 240 [slider-apartamenty-thumb] => https://willatatiana.pl/wp-content/uploads/2016/11/Apartament_Karpacki_Willa_Tatiana_folk_Zakopane_04-625x120.jpg [slider-apartamenty-thumb-width] => 625 [slider-apartamenty-thumb-height] => 120 [apartament-image] => https://willatatiana.pl/wp-content/uploads/2016/11/Apartament_Karpacki_Willa_Tatiana_folk_Zakopane_04-290x177.jpg [apartament-image-width] => 290 [apartament-image-height] => 177 [apartament-gallery-image] => https://willatatiana.pl/wp-content/uploads/2016/11/Apartament_Karpacki_Willa_Tatiana_folk_Zakopane_04-905x523.jpg [apartament-gallery-image-width] => 905 [apartament-gallery-image-height] => 523 [apartament-gallery-image-thumb] => https://willatatiana.pl/wp-content/uploads/2016/11/Apartament_Karpacki_Willa_Tatiana_folk_Zakopane_04-150x84.jpg [apartament-gallery-image-thumb-width] => 150 [apartament-gallery-image-thumb-height] => 84 ) ) [4] => Array ( [id] => 1468 [alt] => Apartament Karpacki Willa Tatiana folk drewniana sypialnia z wanną [title] => Apartament Karpacki Willa Tatiana folk [caption] => [description] => [mime_type] => image/jpeg [url] => https://willatatiana.pl/wp-content/uploads/2016/11/Apartament_Karpacki_Willa_Tatiana_folk_Zakopane_05.jpg [width] => 1000 [height] => 667 [sizes] => Array ( [thumbnail] => https://willatatiana.pl/wp-content/uploads/2016/11/Apartament_Karpacki_Willa_Tatiana_folk_Zakopane_05-150x150.jpg [thumbnail-width] => 150 [thumbnail-height] => 150 [medium] => https://willatatiana.pl/wp-content/uploads/2016/11/Apartament_Karpacki_Willa_Tatiana_folk_Zakopane_05-300x200.jpg [medium-width] => 300 [medium-height] => 200 [medium_large] => https://willatatiana.pl/wp-content/uploads/2016/11/Apartament_Karpacki_Willa_Tatiana_folk_Zakopane_05-768x512.jpg [medium_large-width] => 620 [medium_large-height] => 413 [large] => https://willatatiana.pl/wp-content/uploads/2016/11/Apartament_Karpacki_Willa_Tatiana_folk_Zakopane_05.jpg [large-width] => 620 [large-height] => 414 [1536x1536] => https://willatatiana.pl/wp-content/uploads/2016/11/Apartament_Karpacki_Willa_Tatiana_folk_Zakopane_05.jpg [1536x1536-width] => 1000 [1536x1536-height] => 667 [2048x2048] => https://willatatiana.pl/wp-content/uploads/2016/11/Apartament_Karpacki_Willa_Tatiana_folk_Zakopane_05.jpg [2048x2048-width] => 1000 [2048x2048-height] => 667 [slider-image] => https://willatatiana.pl/wp-content/uploads/2016/11/Apartament_Karpacki_Willa_Tatiana_folk_Zakopane_05-1000x430.jpg [slider-image-width] => 1000 [slider-image-height] => 430 [slider-image-thumb] => https://willatatiana.pl/wp-content/uploads/2016/11/Apartament_Karpacki_Willa_Tatiana_folk_Zakopane_05-625x215.jpg [slider-image-thumb-width] => 625 [slider-image-thumb-height] => 215 [slider-apartamenty] => https://willatatiana.pl/wp-content/uploads/2016/11/Apartament_Karpacki_Willa_Tatiana_folk_Zakopane_05-1000x240.jpg [slider-apartamenty-width] => 1000 [slider-apartamenty-height] => 240 [slider-apartamenty-thumb] => https://willatatiana.pl/wp-content/uploads/2016/11/Apartament_Karpacki_Willa_Tatiana_folk_Zakopane_05-625x120.jpg [slider-apartamenty-thumb-width] => 625 [slider-apartamenty-thumb-height] => 120 [apartament-image] => https://willatatiana.pl/wp-content/uploads/2016/11/Apartament_Karpacki_Willa_Tatiana_folk_Zakopane_05-290x177.jpg [apartament-image-width] => 290 [apartament-image-height] => 177 [apartament-gallery-image] => https://willatatiana.pl/wp-content/uploads/2016/11/Apartament_Karpacki_Willa_Tatiana_folk_Zakopane_05-905x523.jpg [apartament-gallery-image-width] => 905 [apartament-gallery-image-height] => 523 [apartament-gallery-image-thumb] => https://willatatiana.pl/wp-content/uploads/2016/11/Apartament_Karpacki_Willa_Tatiana_folk_Zakopane_05-150x84.jpg [apartament-gallery-image-thumb-width] => 150 [apartament-gallery-image-thumb-height] => 84 ) ) [5] => Array ( [id] => 1469 [alt] => Apartament Karpacki Willa Tatiana folk drewniana sypialnia [title] => Apartament Karpacki Willa Tatiana folk [caption] => [description] => [mime_type] => image/jpeg [url] => https://willatatiana.pl/wp-content/uploads/2016/11/Apartament_Karpacki_Willa_Tatiana_folk_Zakopane_06.jpg [width] => 1000 [height] => 667 [sizes] => Array ( [thumbnail] => https://willatatiana.pl/wp-content/uploads/2016/11/Apartament_Karpacki_Willa_Tatiana_folk_Zakopane_06-150x150.jpg [thumbnail-width] => 150 [thumbnail-height] => 150 [medium] => https://willatatiana.pl/wp-content/uploads/2016/11/Apartament_Karpacki_Willa_Tatiana_folk_Zakopane_06-300x200.jpg [medium-width] => 300 [medium-height] => 200 [medium_large] => https://willatatiana.pl/wp-content/uploads/2016/11/Apartament_Karpacki_Willa_Tatiana_folk_Zakopane_06-768x512.jpg [medium_large-width] => 620 [medium_large-height] => 413 [large] => https://willatatiana.pl/wp-content/uploads/2016/11/Apartament_Karpacki_Willa_Tatiana_folk_Zakopane_06.jpg [large-width] => 620 [large-height] => 414 [1536x1536] => https://willatatiana.pl/wp-content/uploads/2016/11/Apartament_Karpacki_Willa_Tatiana_folk_Zakopane_06.jpg [1536x1536-width] => 1000 [1536x1536-height] => 667 [2048x2048] => https://willatatiana.pl/wp-content/uploads/2016/11/Apartament_Karpacki_Willa_Tatiana_folk_Zakopane_06.jpg [2048x2048-width] => 1000 [2048x2048-height] => 667 [slider-image] => https://willatatiana.pl/wp-content/uploads/2016/11/Apartament_Karpacki_Willa_Tatiana_folk_Zakopane_06-1000x430.jpg [slider-image-width] => 1000 [slider-image-height] => 430 [slider-image-thumb] => https://willatatiana.pl/wp-content/uploads/2016/11/Apartament_Karpacki_Willa_Tatiana_folk_Zakopane_06-625x215.jpg [slider-image-thumb-width] => 625 [slider-image-thumb-height] => 215 [slider-apartamenty] => https://willatatiana.pl/wp-content/uploads/2016/11/Apartament_Karpacki_Willa_Tatiana_folk_Zakopane_06-1000x240.jpg [slider-apartamenty-width] => 1000 [slider-apartamenty-height] => 240 [slider-apartamenty-thumb] => https://willatatiana.pl/wp-content/uploads/2016/11/Apartament_Karpacki_Willa_Tatiana_folk_Zakopane_06-625x120.jpg [slider-apartamenty-thumb-width] => 625 [slider-apartamenty-thumb-height] => 120 [apartament-image] => https://willatatiana.pl/wp-content/uploads/2016/11/Apartament_Karpacki_Willa_Tatiana_folk_Zakopane_06-290x177.jpg [apartament-image-width] => 290 [apartament-image-height] => 177 [apartament-gallery-image] => https://willatatiana.pl/wp-content/uploads/2016/11/Apartament_Karpacki_Willa_Tatiana_folk_Zakopane_06-905x523.jpg [apartament-gallery-image-width] => 905 [apartament-gallery-image-height] => 523 [apartament-gallery-image-thumb] => https://willatatiana.pl/wp-content/uploads/2016/11/Apartament_Karpacki_Willa_Tatiana_folk_Zakopane_06-150x84.jpg [apartament-gallery-image-thumb-width] => 150 [apartament-gallery-image-thumb-height] => 84 ) ) [6] => Array ( [id] => 1470 [alt] => Apartament Karpacki Willa Tatiana folk [title] => Apartament Karpacki Willa Tatiana folk [caption] => [description] => [mime_type] => image/jpeg [url] => https://willatatiana.pl/wp-content/uploads/2016/11/Apartament_Karpacki_Willa_Tatiana_folk_Zakopane_07.jpg [width] => 1000 [height] => 667 [sizes] => Array ( [thumbnail] => https://willatatiana.pl/wp-content/uploads/2016/11/Apartament_Karpacki_Willa_Tatiana_folk_Zakopane_07-150x150.jpg [thumbnail-width] => 150 [thumbnail-height] => 150 [medium] => https://willatatiana.pl/wp-content/uploads/2016/11/Apartament_Karpacki_Willa_Tatiana_folk_Zakopane_07-300x200.jpg [medium-width] => 300 [medium-height] => 200 [medium_large] => https://willatatiana.pl/wp-content/uploads/2016/11/Apartament_Karpacki_Willa_Tatiana_folk_Zakopane_07-768x512.jpg [medium_large-width] => 620 [medium_large-height] => 413 [large] => https://willatatiana.pl/wp-content/uploads/2016/11/Apartament_Karpacki_Willa_Tatiana_folk_Zakopane_07.jpg [large-width] => 620 [large-height] => 414 [1536x1536] => https://willatatiana.pl/wp-content/uploads/2016/11/Apartament_Karpacki_Willa_Tatiana_folk_Zakopane_07.jpg [1536x1536-width] => 1000 [1536x1536-height] => 667 [2048x2048] => https://willatatiana.pl/wp-content/uploads/2016/11/Apartament_Karpacki_Willa_Tatiana_folk_Zakopane_07.jpg [2048x2048-width] => 1000 [2048x2048-height] => 667 [slider-image] => https://willatatiana.pl/wp-content/uploads/2016/11/Apartament_Karpacki_Willa_Tatiana_folk_Zakopane_07-1000x430.jpg [slider-image-width] => 1000 [slider-image-height] => 430 [slider-image-thumb] => https://willatatiana.pl/wp-content/uploads/2016/11/Apartament_Karpacki_Willa_Tatiana_folk_Zakopane_07-625x215.jpg [slider-image-thumb-width] => 625 [slider-image-thumb-height] => 215 [slider-apartamenty] => https://willatatiana.pl/wp-content/uploads/2016/11/Apartament_Karpacki_Willa_Tatiana_folk_Zakopane_07-1000x240.jpg [slider-apartamenty-width] => 1000 [slider-apartamenty-height] => 240 [slider-apartamenty-thumb] => https://willatatiana.pl/wp-content/uploads/2016/11/Apartament_Karpacki_Willa_Tatiana_folk_Zakopane_07-625x120.jpg [slider-apartamenty-thumb-width] => 625 [slider-apartamenty-thumb-height] => 120 [apartament-image] => https://willatatiana.pl/wp-content/uploads/2016/11/Apartament_Karpacki_Willa_Tatiana_folk_Zakopane_07-290x177.jpg [apartament-image-width] => 290 [apartament-image-height] => 177 [apartament-gallery-image] => https://willatatiana.pl/wp-content/uploads/2016/11/Apartament_Karpacki_Willa_Tatiana_folk_Zakopane_07-905x523.jpg [apartament-gallery-image-width] => 905 [apartament-gallery-image-height] => 523 [apartament-gallery-image-thumb] => https://willatatiana.pl/wp-content/uploads/2016/11/Apartament_Karpacki_Willa_Tatiana_folk_Zakopane_07-150x84.jpg [apartament-gallery-image-thumb-width] => 150 [apartament-gallery-image-thumb-height] => 84 ) ) [7] => Array ( [id] => 1471 [alt] => Apartament Karpacki Willa Tatiana folk [title] => Apartament Karpacki Willa Tatiana folk [caption] => [description] => [mime_type] => image/jpeg [url] => https://willatatiana.pl/wp-content/uploads/2016/11/Apartament_Karpacki_Willa_Tatiana_folk_Zakopane_08.jpg [width] => 1000 [height] => 673 [sizes] => Array ( [thumbnail] => https://willatatiana.pl/wp-content/uploads/2016/11/Apartament_Karpacki_Willa_Tatiana_folk_Zakopane_08-150x150.jpg [thumbnail-width] => 150 [thumbnail-height] => 150 [medium] => https://willatatiana.pl/wp-content/uploads/2016/11/Apartament_Karpacki_Willa_Tatiana_folk_Zakopane_08-300x202.jpg [medium-width] => 300 [medium-height] => 202 [medium_large] => https://willatatiana.pl/wp-content/uploads/2016/11/Apartament_Karpacki_Willa_Tatiana_folk_Zakopane_08-768x517.jpg [medium_large-width] => 620 [medium_large-height] => 417 [large] => https://willatatiana.pl/wp-content/uploads/2016/11/Apartament_Karpacki_Willa_Tatiana_folk_Zakopane_08.jpg [large-width] => 620 [large-height] => 417 [1536x1536] => https://willatatiana.pl/wp-content/uploads/2016/11/Apartament_Karpacki_Willa_Tatiana_folk_Zakopane_08.jpg [1536x1536-width] => 1000 [1536x1536-height] => 673 [2048x2048] => https://willatatiana.pl/wp-content/uploads/2016/11/Apartament_Karpacki_Willa_Tatiana_folk_Zakopane_08.jpg [2048x2048-width] => 1000 [2048x2048-height] => 673 [slider-image] => https://willatatiana.pl/wp-content/uploads/2016/11/Apartament_Karpacki_Willa_Tatiana_folk_Zakopane_08-1000x430.jpg [slider-image-width] => 1000 [slider-image-height] => 430 [slider-image-thumb] => https://willatatiana.pl/wp-content/uploads/2016/11/Apartament_Karpacki_Willa_Tatiana_folk_Zakopane_08-625x215.jpg [slider-image-thumb-width] => 625 [slider-image-thumb-height] => 215 [slider-apartamenty] => https://willatatiana.pl/wp-content/uploads/2016/11/Apartament_Karpacki_Willa_Tatiana_folk_Zakopane_08-1000x240.jpg [slider-apartamenty-width] => 1000 [slider-apartamenty-height] => 240 [slider-apartamenty-thumb] => https://willatatiana.pl/wp-content/uploads/2016/11/Apartament_Karpacki_Willa_Tatiana_folk_Zakopane_08-625x120.jpg [slider-apartamenty-thumb-width] => 625 [slider-apartamenty-thumb-height] => 120 [apartament-image] => https://willatatiana.pl/wp-content/uploads/2016/11/Apartament_Karpacki_Willa_Tatiana_folk_Zakopane_08-290x177.jpg [apartament-image-width] => 290 [apartament-image-height] => 177 [apartament-gallery-image] => https://willatatiana.pl/wp-content/uploads/2016/11/Apartament_Karpacki_Willa_Tatiana_folk_Zakopane_08-905x523.jpg [apartament-gallery-image-width] => 905 [apartament-gallery-image-height] => 523 [apartament-gallery-image-thumb] => https://willatatiana.pl/wp-content/uploads/2016/11/Apartament_Karpacki_Willa_Tatiana_folk_Zakopane_08-150x84.jpg [apartament-gallery-image-thumb-width] => 150 [apartament-gallery-image-thumb-height] => 84 ) ) [8] => Array ( [id] => 1472 [alt] => Apartament Karpacki Willa Tatiana folk drewniana sypialnia [title] => Apartament Karpacki Willa Tatiana folk [caption] => [description] => [mime_type] => image/jpeg [url] => https://willatatiana.pl/wp-content/uploads/2016/11/Apartament_Karpacki_Willa_Tatiana_folk_Zakopane_09.jpg [width] => 1000 [height] => 667 [sizes] => Array ( [thumbnail] => https://willatatiana.pl/wp-content/uploads/2016/11/Apartament_Karpacki_Willa_Tatiana_folk_Zakopane_09-150x150.jpg [thumbnail-width] => 150 [thumbnail-height] => 150 [medium] => https://willatatiana.pl/wp-content/uploads/2016/11/Apartament_Karpacki_Willa_Tatiana_folk_Zakopane_09-300x200.jpg [medium-width] => 300 [medium-height] => 200 [medium_large] => https://willatatiana.pl/wp-content/uploads/2016/11/Apartament_Karpacki_Willa_Tatiana_folk_Zakopane_09-768x512.jpg [medium_large-width] => 620 [medium_large-height] => 413 [large] => https://willatatiana.pl/wp-content/uploads/2016/11/Apartament_Karpacki_Willa_Tatiana_folk_Zakopane_09.jpg [large-width] => 620 [large-height] => 414 [1536x1536] => https://willatatiana.pl/wp-content/uploads/2016/11/Apartament_Karpacki_Willa_Tatiana_folk_Zakopane_09.jpg [1536x1536-width] => 1000 [1536x1536-height] => 667 [2048x2048] => https://willatatiana.pl/wp-content/uploads/2016/11/Apartament_Karpacki_Willa_Tatiana_folk_Zakopane_09.jpg [2048x2048-width] => 1000 [2048x2048-height] => 667 [slider-image] => https://willatatiana.pl/wp-content/uploads/2016/11/Apartament_Karpacki_Willa_Tatiana_folk_Zakopane_09-1000x430.jpg [slider-image-width] => 1000 [slider-image-height] => 430 [slider-image-thumb] => https://willatatiana.pl/wp-content/uploads/2016/11/Apartament_Karpacki_Willa_Tatiana_folk_Zakopane_09-625x215.jpg [slider-image-thumb-width] => 625 [slider-image-thumb-height] => 215 [slider-apartamenty] => https://willatatiana.pl/wp-content/uploads/2016/11/Apartament_Karpacki_Willa_Tatiana_folk_Zakopane_09-1000x240.jpg [slider-apartamenty-width] => 1000 [slider-apartamenty-height] => 240 [slider-apartamenty-thumb] => https://willatatiana.pl/wp-content/uploads/2016/11/Apartament_Karpacki_Willa_Tatiana_folk_Zakopane_09-625x120.jpg [slider-apartamenty-thumb-width] => 625 [slider-apartamenty-thumb-height] => 120 [apartament-image] => https://willatatiana.pl/wp-content/uploads/2016/11/Apartament_Karpacki_Willa_Tatiana_folk_Zakopane_09-290x177.jpg [apartament-image-width] => 290 [apartament-image-height] => 177 [apartament-gallery-image] => https://willatatiana.pl/wp-content/uploads/2016/11/Apartament_Karpacki_Willa_Tatiana_folk_Zakopane_09-905x523.jpg [apartament-gallery-image-width] => 905 [apartament-gallery-image-height] => 523 [apartament-gallery-image-thumb] => https://willatatiana.pl/wp-content/uploads/2016/11/Apartament_Karpacki_Willa_Tatiana_folk_Zakopane_09-150x84.jpg [apartament-gallery-image-thumb-width] => 150 [apartament-gallery-image-thumb-height] => 84 ) ) [9] => Array ( [id] => 1473 [alt] => Apartament Karpacki Willa Tatiana folk łazienka z kamienia i drewna [title] => Apartament Karpacki Willa Tatiana folk [caption] => [description] => [mime_type] => image/jpeg [url] => https://willatatiana.pl/wp-content/uploads/2016/11/Apartament_Karpacki_Willa_Tatiana_folk_Zakopane_10.jpg [width] => 1000 [height] => 667 [sizes] => Array ( [thumbnail] => https://willatatiana.pl/wp-content/uploads/2016/11/Apartament_Karpacki_Willa_Tatiana_folk_Zakopane_10-150x150.jpg [thumbnail-width] => 150 [thumbnail-height] => 150 [medium] => https://willatatiana.pl/wp-content/uploads/2016/11/Apartament_Karpacki_Willa_Tatiana_folk_Zakopane_10-300x200.jpg [medium-width] => 300 [medium-height] => 200 [medium_large] => https://willatatiana.pl/wp-content/uploads/2016/11/Apartament_Karpacki_Willa_Tatiana_folk_Zakopane_10-768x512.jpg [medium_large-width] => 620 [medium_large-height] => 413 [large] => https://willatatiana.pl/wp-content/uploads/2016/11/Apartament_Karpacki_Willa_Tatiana_folk_Zakopane_10.jpg [large-width] => 620 [large-height] => 414 [1536x1536] => https://willatatiana.pl/wp-content/uploads/2016/11/Apartament_Karpacki_Willa_Tatiana_folk_Zakopane_10.jpg [1536x1536-width] => 1000 [1536x1536-height] => 667 [2048x2048] => https://willatatiana.pl/wp-content/uploads/2016/11/Apartament_Karpacki_Willa_Tatiana_folk_Zakopane_10.jpg [2048x2048-width] => 1000 [2048x2048-height] => 667 [slider-image] => https://willatatiana.pl/wp-content/uploads/2016/11/Apartament_Karpacki_Willa_Tatiana_folk_Zakopane_10-1000x430.jpg [slider-image-width] => 1000 [slider-image-height] => 430 [slider-image-thumb] => https://willatatiana.pl/wp-content/uploads/2016/11/Apartament_Karpacki_Willa_Tatiana_folk_Zakopane_10-625x215.jpg [slider-image-thumb-width] => 625 [slider-image-thumb-height] => 215 [slider-apartamenty] => https://willatatiana.pl/wp-content/uploads/2016/11/Apartament_Karpacki_Willa_Tatiana_folk_Zakopane_10-1000x240.jpg [slider-apartamenty-width] => 1000 [slider-apartamenty-height] => 240 [slider-apartamenty-thumb] => https://willatatiana.pl/wp-content/uploads/2016/11/Apartament_Karpacki_Willa_Tatiana_folk_Zakopane_10-625x120.jpg [slider-apartamenty-thumb-width] => 625 [slider-apartamenty-thumb-height] => 120 [apartament-image] => https://willatatiana.pl/wp-content/uploads/2016/11/Apartament_Karpacki_Willa_Tatiana_folk_Zakopane_10-290x177.jpg [apartament-image-width] => 290 [apartament-image-height] => 177 [apartament-gallery-image] => https://willatatiana.pl/wp-content/uploads/2016/11/Apartament_Karpacki_Willa_Tatiana_folk_Zakopane_10-905x523.jpg [apartament-gallery-image-width] => 905 [apartament-gallery-image-height] => 523 [apartament-gallery-image-thumb] => https://willatatiana.pl/wp-content/uploads/2016/11/Apartament_Karpacki_Willa_Tatiana_folk_Zakopane_10-150x84.jpg [apartament-gallery-image-thumb-width] => 150 [apartament-gallery-image-thumb-height] => 84 ) ) [10] => Array ( [id] => 1474 [alt] => Apartament Karpacki Willa Tatiana folk drewniana łazienka [title] => Apartament Karpacki Willa Tatiana folk [caption] => [description] => [mime_type] => image/jpeg [url] => https://willatatiana.pl/wp-content/uploads/2016/11/Apartament_Karpacki_Willa_Tatiana_folk_Zakopane_11.jpg [width] => 1000 [height] => 667 [sizes] => Array ( [thumbnail] => https://willatatiana.pl/wp-content/uploads/2016/11/Apartament_Karpacki_Willa_Tatiana_folk_Zakopane_11-150x150.jpg [thumbnail-width] => 150 [thumbnail-height] => 150 [medium] => https://willatatiana.pl/wp-content/uploads/2016/11/Apartament_Karpacki_Willa_Tatiana_folk_Zakopane_11-300x200.jpg [medium-width] => 300 [medium-height] => 200 [medium_large] => https://willatatiana.pl/wp-content/uploads/2016/11/Apartament_Karpacki_Willa_Tatiana_folk_Zakopane_11-768x512.jpg [medium_large-width] => 620 [medium_large-height] => 413 [large] => https://willatatiana.pl/wp-content/uploads/2016/11/Apartament_Karpacki_Willa_Tatiana_folk_Zakopane_11.jpg [large-width] => 620 [large-height] => 414 [1536x1536] => https://willatatiana.pl/wp-content/uploads/2016/11/Apartament_Karpacki_Willa_Tatiana_folk_Zakopane_11.jpg [1536x1536-width] => 1000 [1536x1536-height] => 667 [2048x2048] => https://willatatiana.pl/wp-content/uploads/2016/11/Apartament_Karpacki_Willa_Tatiana_folk_Zakopane_11.jpg [2048x2048-width] => 1000 [2048x2048-height] => 667 [slider-image] => https://willatatiana.pl/wp-content/uploads/2016/11/Apartament_Karpacki_Willa_Tatiana_folk_Zakopane_11-1000x430.jpg [slider-image-width] => 1000 [slider-image-height] => 430 [slider-image-thumb] => https://willatatiana.pl/wp-content/uploads/2016/11/Apartament_Karpacki_Willa_Tatiana_folk_Zakopane_11-625x215.jpg [slider-image-thumb-width] => 625 [slider-image-thumb-height] => 215 [slider-apartamenty] => https://willatatiana.pl/wp-content/uploads/2016/11/Apartament_Karpacki_Willa_Tatiana_folk_Zakopane_11-1000x240.jpg [slider-apartamenty-width] => 1000 [slider-apartamenty-height] => 240 [slider-apartamenty-thumb] => https://willatatiana.pl/wp-content/uploads/2016/11/Apartament_Karpacki_Willa_Tatiana_folk_Zakopane_11-625x120.jpg [slider-apartamenty-thumb-width] => 625 [slider-apartamenty-thumb-height] => 120 [apartament-image] => https://willatatiana.pl/wp-content/uploads/2016/11/Apartament_Karpacki_Willa_Tatiana_folk_Zakopane_11-290x177.jpg [apartament-image-width] => 290 [apartament-image-height] => 177 [apartament-gallery-image] => https://willatatiana.pl/wp-content/uploads/2016/11/Apartament_Karpacki_Willa_Tatiana_folk_Zakopane_11-905x523.jpg [apartament-gallery-image-width] => 905 [apartament-gallery-image-height] => 523 [apartament-gallery-image-thumb] => https://willatatiana.pl/wp-content/uploads/2016/11/Apartament_Karpacki_Willa_Tatiana_folk_Zakopane_11-150x84.jpg [apartament-gallery-image-thumb-width] => 150 [apartament-gallery-image-thumb-height] => 84 ) ) [11] => Array ( [id] => 1475 [alt] => Apartament Karpacki Willa Tatiana folk łazienka z kamienia [title] => Apartament Karpacki Willa Tatiana folk [caption] => [description] => [mime_type] => image/jpeg [url] => https://willatatiana.pl/wp-content/uploads/2016/11/Apartament_Karpacki_Willa_Tatiana_folk_Zakopane_12.jpg [width] => 1000 [height] => 667 [sizes] => Array ( [thumbnail] => https://willatatiana.pl/wp-content/uploads/2016/11/Apartament_Karpacki_Willa_Tatiana_folk_Zakopane_12-150x150.jpg [thumbnail-width] => 150 [thumbnail-height] => 150 [medium] => https://willatatiana.pl/wp-content/uploads/2016/11/Apartament_Karpacki_Willa_Tatiana_folk_Zakopane_12-300x200.jpg [medium-width] => 300 [medium-height] => 200 [medium_large] => https://willatatiana.pl/wp-content/uploads/2016/11/Apartament_Karpacki_Willa_Tatiana_folk_Zakopane_12-768x512.jpg [medium_large-width] => 620 [medium_large-height] => 413 [large] => https://willatatiana.pl/wp-content/uploads/2016/11/Apartament_Karpacki_Willa_Tatiana_folk_Zakopane_12.jpg [large-width] => 620 [large-height] => 414 [1536x1536] => https://willatatiana.pl/wp-content/uploads/2016/11/Apartament_Karpacki_Willa_Tatiana_folk_Zakopane_12.jpg [1536x1536-width] => 1000 [1536x1536-height] => 667 [2048x2048] => https://willatatiana.pl/wp-content/uploads/2016/11/Apartament_Karpacki_Willa_Tatiana_folk_Zakopane_12.jpg [2048x2048-width] => 1000 [2048x2048-height] => 667 [slider-image] => https://willatatiana.pl/wp-content/uploads/2016/11/Apartament_Karpacki_Willa_Tatiana_folk_Zakopane_12-1000x430.jpg [slider-image-width] => 1000 [slider-image-height] => 430 [slider-image-thumb] => https://willatatiana.pl/wp-content/uploads/2016/11/Apartament_Karpacki_Willa_Tatiana_folk_Zakopane_12-625x215.jpg [slider-image-thumb-width] => 625 [slider-image-thumb-height] => 215 [slider-apartamenty] => https://willatatiana.pl/wp-content/uploads/2016/11/Apartament_Karpacki_Willa_Tatiana_folk_Zakopane_12-1000x240.jpg [slider-apartamenty-width] => 1000 [slider-apartamenty-height] => 240 [slider-apartamenty-thumb] => https://willatatiana.pl/wp-content/uploads/2016/11/Apartament_Karpacki_Willa_Tatiana_folk_Zakopane_12-625x120.jpg [slider-apartamenty-thumb-width] => 625 [slider-apartamenty-thumb-height] => 120 [apartament-image] => https://willatatiana.pl/wp-content/uploads/2016/11/Apartament_Karpacki_Willa_Tatiana_folk_Zakopane_12-290x177.jpg [apartament-image-width] => 290 [apartament-image-height] => 177 [apartament-gallery-image] => https://willatatiana.pl/wp-content/uploads/2016/11/Apartament_Karpacki_Willa_Tatiana_folk_Zakopane_12-905x523.jpg [apartament-gallery-image-width] => 905 [apartament-gallery-image-height] => 523 [apartament-gallery-image-thumb] => https://willatatiana.pl/wp-content/uploads/2016/11/Apartament_Karpacki_Willa_Tatiana_folk_Zakopane_12-150x84.jpg [apartament-gallery-image-thumb-width] => 150 [apartament-gallery-image-thumb-height] => 84 ) ) [12] => Array ( [id] => 1476 [alt] => Apartament Karpacki Willa Tatiana folk łazienka z kamienia i drewna [title] => Apartament Karpacki Willa Tatiana folk [caption] => [description] => [mime_type] => image/jpeg [url] => https://willatatiana.pl/wp-content/uploads/2016/11/Apartament_Karpacki_Willa_Tatiana_folk_Zakopane_13.jpg [width] => 1000 [height] => 667 [sizes] => Array ( [thumbnail] => https://willatatiana.pl/wp-content/uploads/2016/11/Apartament_Karpacki_Willa_Tatiana_folk_Zakopane_13-150x150.jpg [thumbnail-width] => 150 [thumbnail-height] => 150 [medium] => https://willatatiana.pl/wp-content/uploads/2016/11/Apartament_Karpacki_Willa_Tatiana_folk_Zakopane_13-300x200.jpg [medium-width] => 300 [medium-height] => 200 [medium_large] => https://willatatiana.pl/wp-content/uploads/2016/11/Apartament_Karpacki_Willa_Tatiana_folk_Zakopane_13-768x512.jpg [medium_large-width] => 620 [medium_large-height] => 413 [large] => https://willatatiana.pl/wp-content/uploads/2016/11/Apartament_Karpacki_Willa_Tatiana_folk_Zakopane_13.jpg [large-width] => 620 [large-height] => 414 [1536x1536] => https://willatatiana.pl/wp-content/uploads/2016/11/Apartament_Karpacki_Willa_Tatiana_folk_Zakopane_13.jpg [1536x1536-width] => 1000 [1536x1536-height] => 667 [2048x2048] => https://willatatiana.pl/wp-content/uploads/2016/11/Apartament_Karpacki_Willa_Tatiana_folk_Zakopane_13.jpg [2048x2048-width] => 1000 [2048x2048-height] => 667 [slider-image] => https://willatatiana.pl/wp-content/uploads/2016/11/Apartament_Karpacki_Willa_Tatiana_folk_Zakopane_13-1000x430.jpg [slider-image-width] => 1000 [slider-image-height] => 430 [slider-image-thumb] => https://willatatiana.pl/wp-content/uploads/2016/11/Apartament_Karpacki_Willa_Tatiana_folk_Zakopane_13-625x215.jpg [slider-image-thumb-width] => 625 [slider-image-thumb-height] => 215 [slider-apartamenty] => https://willatatiana.pl/wp-content/uploads/2016/11/Apartament_Karpacki_Willa_Tatiana_folk_Zakopane_13-1000x240.jpg [slider-apartamenty-width] => 1000 [slider-apartamenty-height] => 240 [slider-apartamenty-thumb] => https://willatatiana.pl/wp-content/uploads/2016/11/Apartament_Karpacki_Willa_Tatiana_folk_Zakopane_13-625x120.jpg [slider-apartamenty-thumb-width] => 625 [slider-apartamenty-thumb-height] => 120 [apartament-image] => https://willatatiana.pl/wp-content/uploads/2016/11/Apartament_Karpacki_Willa_Tatiana_folk_Zakopane_13-290x177.jpg [apartament-image-width] => 290 [apartament-image-height] => 177 [apartament-gallery-image] => https://willatatiana.pl/wp-content/uploads/2016/11/Apartament_Karpacki_Willa_Tatiana_folk_Zakopane_13-905x523.jpg [apartament-gallery-image-width] => 905 [apartament-gallery-image-height] => 523 [apartament-gallery-image-thumb] => https://willatatiana.pl/wp-content/uploads/2016/11/Apartament_Karpacki_Willa_Tatiana_folk_Zakopane_13-150x84.jpg [apartament-gallery-image-thumb-width] => 150 [apartament-gallery-image-thumb-height] => 84 ) ) ) aaas

The interior of the suite features many elements made of wood from a 120-year-old barn… and its hue is due to the rays of the Sun which over time has given it such a noble colour … Natural stone, unique furniture which gained a second life in the new place… Antique 100-year-old stained-glass windows, atmospheric old paintings and decorative elements as well as warm colours of the interior give the suite a unique character and atmosphere…