Tatra Apartment
It is a quintessence of highlander woodwork tradition found in the Podhale region. Handmade carvings combine the centuries-old tradition passed from generation to generation with modern forms of highlander ornamentation. Characteristic vivid colours of the region, blacksmithing craftsmanship and the beauty of the wood make up the decoration and unique atmosphere of the apartment.
a two-level apartment of approx. 55 m2, equipped with two additional sleeping places. The apartment accommodates up to 4 people, the two levels keep the night and the day zones separate.
the apartment consists of: two bedrooms, two bathrooms, two living rooms and a kitchenette,
the kitchenette has a fridge with a freezer, electric cooker hob, Nespresso coffee machine with a starter kit, electric kettle, dishwasher, microwave oven, toaster, and all necessary kitchenware (glass, plates, cutlery, pots), ironing facilities,
additional place to sleep in the form of a folding corner sofa in the living room (the living room has a sliding door),
air conditioning,
the apartment has a balcony,
the apartment is located on the second floor,
free WI-FI access,
free car park available on site (one parking space per apartment).
Additional information
breakfast catering (extra charge),
satellite TV in the apartment,
free cots and high chairs for children as well as baby baths (available on Customer's request),
free sledges in the winter season,
individual ski storage for the apartment,
sauna and salt graduation house (extra charge) in the neighbouring Villa TATIANA lux (a 5-minute walk).
The apartment is equipped with
a set of high quality toiletries (shampoo and hair conditioner, soap), towels, hair dryer, bed linen, slippers.
Important information
non-smokers only,
pets are not allowed,
organizing events and parties is prohibited.
Facilities and equipment
Nespresso coffee machine with a starter kit
Sauna (extra charge – available in Villa Lux)
Salt graduation house (extra charge – available in Villa Lux)
In order to acquire information concerning price and availability of the apartment, please determine the dates of your stay and then confirm them by clicking the "check" button
Online booking without brokers
guarantee of the best price | current availability of the apartments
See the layout of the apartment:
level 1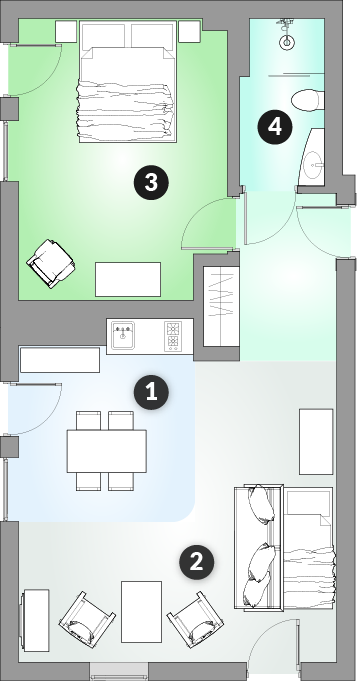 level 1
Living room (1)
The cosy living room features a large corner sofa which can be used as an extra bed. The room is equipped with a TV set pulled-out of a special chassis. The living room has a balcony with chairs and a coffee table.
---
Kitchen
with dining room (2)
Fully equipped kitchenette combined with a dining area with a table and chairs for 5 people.
---
Bathroom (3)
Modern bathroom has standard equipment, a large mirror and a spacious shower cabin.
level 2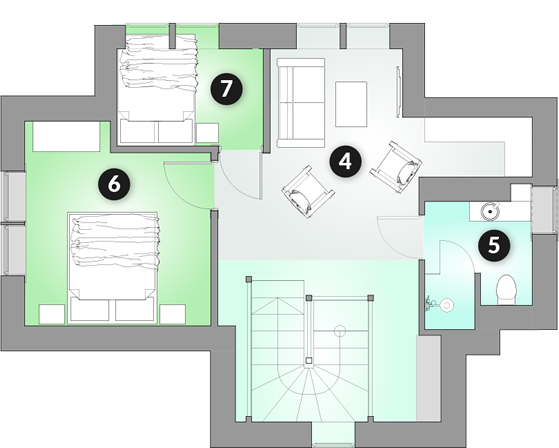 level 2
Living room (4)
A small chamber lounge with a comfortable sofa, coffee table and TV set make up the first room on the second level of the apartment. The room has built-in wardrobes to store the Guests' belongings.
---
Bathroom (5)
The second bathroom located upstairs is supplied with standard equipment, including a spacious shower cabin. A large window lets in natural light and its matt glass ensures privacy.
---
Bedroom I (6)
The main bedroom has a large double bed with a 180×200 mattress and two bedside tables with two independent lamps. A spacious wooden chest of drawers is also at guests' disposal.
---
Bedroom II (7)
Right next to it there is a smaller cosy bedroom with one slanted wall. The bedroom has a comfortable bed with a 140 x 200 mattress, a bedside table and a lamp.
See reviews Willa Tatiana folk
Neighbourhood of Villa Tatiana
500 m – grocery store
300 m - park and children's playground
300 m – ice skating rink in winter
1,1 km - Aqua Park
1,4 km – market under Gubałówka
1,5 km – railway station
The nearest airports
31,4 km - Poprad-Tatry Airport
88,1 km - Kraków-Balice Airport
The most popular attractions
500 m – Krupówki
500 m – Museum of Kornel Makuszyński
800 m - Municipal Art Gallery in Zakopane
900 m - Szymanowski Museum
600 m – Gigant ski lift
900 m – Nosal ski lift
900 m - Wielka Krokiew ski jump
1 km – Białego Valley
1,6 km - Gubałówka funicular
1,8 km - Szymoszkowa lift
1,8 km – Cemetery on Peksowy Brzyzek
2,1 km – Villa Koliba
2,5 km - Kasprowy Wierch ski lift
2,7 km - Pardałówka ski lift
2,8 km - Gubałówka
4,1 km - Harenda ski lift
5,1 km – Strążyńska Valley
5,7 km - Cabanówka ski lift
6,4 km - Kasprowy Wierch
7 km – Kościeliska Valley
11,4 km - Ku Dolinie ski lift
12,9 km - Morskie Oko
14,9 km – Chochołowska Valley
15,3 km - Bania Thermal Bath
See similar apartments
see and book

2+1

Array ( [0] => Array ( [id] => 1492 [alt] => Apartament Alpejski Willa Tatiana folk [title] => Apartament_Alpejski_Willa_Tatiana_folk [caption] => [description] => [mime_type] => image/jpeg [url] => https://willatatiana.pl/wp-content/uploads/2016/11/Apartament_Alpejski_Willa_Tatiana_folk_Zakopane_02.jpg [width] => 1000 [height] => 667 [sizes] => Array ( [thumbnail] => https://willatatiana.pl/wp-content/uploads/2016/11/Apartament_Alpejski_Willa_Tatiana_folk_Zakopane_02-150x150.jpg [thumbnail-width] => 150 [thumbnail-height] => 150 [medium] => https://willatatiana.pl/wp-content/uploads/2016/11/Apartament_Alpejski_Willa_Tatiana_folk_Zakopane_02-300x200.jpg [medium-width] => 300 [medium-height] => 200 [medium_large] => https://willatatiana.pl/wp-content/uploads/2016/11/Apartament_Alpejski_Willa_Tatiana_folk_Zakopane_02-768x512.jpg [medium_large-width] => 620 [medium_large-height] => 413 [large] => https://willatatiana.pl/wp-content/uploads/2016/11/Apartament_Alpejski_Willa_Tatiana_folk_Zakopane_02.jpg [large-width] => 620 [large-height] => 414 [1536x1536] => https://willatatiana.pl/wp-content/uploads/2016/11/Apartament_Alpejski_Willa_Tatiana_folk_Zakopane_02.jpg [1536x1536-width] => 1000 [1536x1536-height] => 667 [2048x2048] => https://willatatiana.pl/wp-content/uploads/2016/11/Apartament_Alpejski_Willa_Tatiana_folk_Zakopane_02.jpg [2048x2048-width] => 1000 [2048x2048-height] => 667 [slider-image] => https://willatatiana.pl/wp-content/uploads/2016/11/Apartament_Alpejski_Willa_Tatiana_folk_Zakopane_02-1000x430.jpg [slider-image-width] => 1000 [slider-image-height] => 430 [slider-image-thumb] => https://willatatiana.pl/wp-content/uploads/2016/11/Apartament_Alpejski_Willa_Tatiana_folk_Zakopane_02-625x215.jpg [slider-image-thumb-width] => 625 [slider-image-thumb-height] => 215 [slider-apartamenty] => https://willatatiana.pl/wp-content/uploads/2016/11/Apartament_Alpejski_Willa_Tatiana_folk_Zakopane_02-1000x240.jpg [slider-apartamenty-width] => 1000 [slider-apartamenty-height] => 240 [slider-apartamenty-thumb] => https://willatatiana.pl/wp-content/uploads/2016/11/Apartament_Alpejski_Willa_Tatiana_folk_Zakopane_02-625x120.jpg [slider-apartamenty-thumb-width] => 625 [slider-apartamenty-thumb-height] => 120 [apartament-image] => https://willatatiana.pl/wp-content/uploads/2016/11/Apartament_Alpejski_Willa_Tatiana_folk_Zakopane_02-290x177.jpg [apartament-image-width] => 290 [apartament-image-height] => 177 [apartament-gallery-image] => https://willatatiana.pl/wp-content/uploads/2016/11/Apartament_Alpejski_Willa_Tatiana_folk_Zakopane_02-905x523.jpg [apartament-gallery-image-width] => 905 [apartament-gallery-image-height] => 523 [apartament-gallery-image-thumb] => https://willatatiana.pl/wp-content/uploads/2016/11/Apartament_Alpejski_Willa_Tatiana_folk_Zakopane_02-150x84.jpg [apartament-gallery-image-thumb-width] => 150 [apartament-gallery-image-thumb-height] => 84 ) ) [1] => Array ( [id] => 1493 [alt] => Apartament Alpejski Willa Tatiana folk drewniany pokój [title] => Apartament_Alpejski_Willa_Tatiana_folk [caption] => [description] => [mime_type] => image/jpeg [url] => https://willatatiana.pl/wp-content/uploads/2016/11/Apartament_Alpejski_Willa_Tatiana_folk_Zakopane_03.jpg [width] => 1000 [height] => 667 [sizes] => Array ( [thumbnail] => https://willatatiana.pl/wp-content/uploads/2016/11/Apartament_Alpejski_Willa_Tatiana_folk_Zakopane_03-150x150.jpg [thumbnail-width] => 150 [thumbnail-height] => 150 [medium] => https://willatatiana.pl/wp-content/uploads/2016/11/Apartament_Alpejski_Willa_Tatiana_folk_Zakopane_03-300x200.jpg [medium-width] => 300 [medium-height] => 200 [medium_large] => https://willatatiana.pl/wp-content/uploads/2016/11/Apartament_Alpejski_Willa_Tatiana_folk_Zakopane_03-768x512.jpg [medium_large-width] => 620 [medium_large-height] => 413 [large] => https://willatatiana.pl/wp-content/uploads/2016/11/Apartament_Alpejski_Willa_Tatiana_folk_Zakopane_03.jpg [large-width] => 620 [large-height] => 414 [1536x1536] => https://willatatiana.pl/wp-content/uploads/2016/11/Apartament_Alpejski_Willa_Tatiana_folk_Zakopane_03.jpg [1536x1536-width] => 1000 [1536x1536-height] => 667 [2048x2048] => https://willatatiana.pl/wp-content/uploads/2016/11/Apartament_Alpejski_Willa_Tatiana_folk_Zakopane_03.jpg [2048x2048-width] => 1000 [2048x2048-height] => 667 [slider-image] => https://willatatiana.pl/wp-content/uploads/2016/11/Apartament_Alpejski_Willa_Tatiana_folk_Zakopane_03-1000x430.jpg [slider-image-width] => 1000 [slider-image-height] => 430 [slider-image-thumb] => https://willatatiana.pl/wp-content/uploads/2016/11/Apartament_Alpejski_Willa_Tatiana_folk_Zakopane_03-625x215.jpg [slider-image-thumb-width] => 625 [slider-image-thumb-height] => 215 [slider-apartamenty] => https://willatatiana.pl/wp-content/uploads/2016/11/Apartament_Alpejski_Willa_Tatiana_folk_Zakopane_03-1000x240.jpg [slider-apartamenty-width] => 1000 [slider-apartamenty-height] => 240 [slider-apartamenty-thumb] => https://willatatiana.pl/wp-content/uploads/2016/11/Apartament_Alpejski_Willa_Tatiana_folk_Zakopane_03-625x120.jpg [slider-apartamenty-thumb-width] => 625 [slider-apartamenty-thumb-height] => 120 [apartament-image] => https://willatatiana.pl/wp-content/uploads/2016/11/Apartament_Alpejski_Willa_Tatiana_folk_Zakopane_03-290x177.jpg [apartament-image-width] => 290 [apartament-image-height] => 177 [apartament-gallery-image] => https://willatatiana.pl/wp-content/uploads/2016/11/Apartament_Alpejski_Willa_Tatiana_folk_Zakopane_03-905x523.jpg [apartament-gallery-image-width] => 905 [apartament-gallery-image-height] => 523 [apartament-gallery-image-thumb] => https://willatatiana.pl/wp-content/uploads/2016/11/Apartament_Alpejski_Willa_Tatiana_folk_Zakopane_03-150x84.jpg [apartament-gallery-image-thumb-width] => 150 [apartament-gallery-image-thumb-height] => 84 ) ) [2] => Array ( [id] => 1494 [alt] => Apartament Alpejski Willa Tatiana folk drewniana kuchnia [title] => Apartament_Alpejski_Willa_Tatiana_folk [caption] => [description] => [mime_type] => image/jpeg [url] => https://willatatiana.pl/wp-content/uploads/2016/11/Apartament_Alpejski_Willa_Tatiana_folk_Zakopane_04.jpg [width] => 1000 [height] => 667 [sizes] => Array ( [thumbnail] => https://willatatiana.pl/wp-content/uploads/2016/11/Apartament_Alpejski_Willa_Tatiana_folk_Zakopane_04-150x150.jpg [thumbnail-width] => 150 [thumbnail-height] => 150 [medium] => https://willatatiana.pl/wp-content/uploads/2016/11/Apartament_Alpejski_Willa_Tatiana_folk_Zakopane_04-300x200.jpg [medium-width] => 300 [medium-height] => 200 [medium_large] => https://willatatiana.pl/wp-content/uploads/2016/11/Apartament_Alpejski_Willa_Tatiana_folk_Zakopane_04-768x512.jpg [medium_large-width] => 620 [medium_large-height] => 413 [large] => https://willatatiana.pl/wp-content/uploads/2016/11/Apartament_Alpejski_Willa_Tatiana_folk_Zakopane_04.jpg [large-width] => 620 [large-height] => 414 [1536x1536] => https://willatatiana.pl/wp-content/uploads/2016/11/Apartament_Alpejski_Willa_Tatiana_folk_Zakopane_04.jpg [1536x1536-width] => 1000 [1536x1536-height] => 667 [2048x2048] => https://willatatiana.pl/wp-content/uploads/2016/11/Apartament_Alpejski_Willa_Tatiana_folk_Zakopane_04.jpg [2048x2048-width] => 1000 [2048x2048-height] => 667 [slider-image] => https://willatatiana.pl/wp-content/uploads/2016/11/Apartament_Alpejski_Willa_Tatiana_folk_Zakopane_04-1000x430.jpg [slider-image-width] => 1000 [slider-image-height] => 430 [slider-image-thumb] => https://willatatiana.pl/wp-content/uploads/2016/11/Apartament_Alpejski_Willa_Tatiana_folk_Zakopane_04-625x215.jpg [slider-image-thumb-width] => 625 [slider-image-thumb-height] => 215 [slider-apartamenty] => https://willatatiana.pl/wp-content/uploads/2016/11/Apartament_Alpejski_Willa_Tatiana_folk_Zakopane_04-1000x240.jpg [slider-apartamenty-width] => 1000 [slider-apartamenty-height] => 240 [slider-apartamenty-thumb] => https://willatatiana.pl/wp-content/uploads/2016/11/Apartament_Alpejski_Willa_Tatiana_folk_Zakopane_04-625x120.jpg [slider-apartamenty-thumb-width] => 625 [slider-apartamenty-thumb-height] => 120 [apartament-image] => https://willatatiana.pl/wp-content/uploads/2016/11/Apartament_Alpejski_Willa_Tatiana_folk_Zakopane_04-290x177.jpg [apartament-image-width] => 290 [apartament-image-height] => 177 [apartament-gallery-image] => https://willatatiana.pl/wp-content/uploads/2016/11/Apartament_Alpejski_Willa_Tatiana_folk_Zakopane_04-905x523.jpg [apartament-gallery-image-width] => 905 [apartament-gallery-image-height] => 523 [apartament-gallery-image-thumb] => https://willatatiana.pl/wp-content/uploads/2016/11/Apartament_Alpejski_Willa_Tatiana_folk_Zakopane_04-150x84.jpg [apartament-gallery-image-thumb-width] => 150 [apartament-gallery-image-thumb-height] => 84 ) ) [3] => Array ( [id] => 1495 [alt] => Apartament Alpejski Willa Tatiana folk drewniany pokój [title] => Apartament_Alpejski_Willa_Tatiana_folk [caption] => [description] => [mime_type] => image/jpeg [url] => https://willatatiana.pl/wp-content/uploads/2016/11/Apartament_Alpejski_Willa_Tatiana_folk_Zakopane_05.jpg [width] => 1000 [height] => 663 [sizes] => Array ( [thumbnail] => https://willatatiana.pl/wp-content/uploads/2016/11/Apartament_Alpejski_Willa_Tatiana_folk_Zakopane_05-150x150.jpg [thumbnail-width] => 150 [thumbnail-height] => 150 [medium] => https://willatatiana.pl/wp-content/uploads/2016/11/Apartament_Alpejski_Willa_Tatiana_folk_Zakopane_05-300x199.jpg [medium-width] => 300 [medium-height] => 199 [medium_large] => https://willatatiana.pl/wp-content/uploads/2016/11/Apartament_Alpejski_Willa_Tatiana_folk_Zakopane_05-768x509.jpg [medium_large-width] => 620 [medium_large-height] => 411 [large] => https://willatatiana.pl/wp-content/uploads/2016/11/Apartament_Alpejski_Willa_Tatiana_folk_Zakopane_05.jpg [large-width] => 620 [large-height] => 411 [1536x1536] => https://willatatiana.pl/wp-content/uploads/2016/11/Apartament_Alpejski_Willa_Tatiana_folk_Zakopane_05.jpg [1536x1536-width] => 1000 [1536x1536-height] => 663 [2048x2048] => https://willatatiana.pl/wp-content/uploads/2016/11/Apartament_Alpejski_Willa_Tatiana_folk_Zakopane_05.jpg [2048x2048-width] => 1000 [2048x2048-height] => 663 [slider-image] => https://willatatiana.pl/wp-content/uploads/2016/11/Apartament_Alpejski_Willa_Tatiana_folk_Zakopane_05-1000x430.jpg [slider-image-width] => 1000 [slider-image-height] => 430 [slider-image-thumb] => https://willatatiana.pl/wp-content/uploads/2016/11/Apartament_Alpejski_Willa_Tatiana_folk_Zakopane_05-625x215.jpg [slider-image-thumb-width] => 625 [slider-image-thumb-height] => 215 [slider-apartamenty] => https://willatatiana.pl/wp-content/uploads/2016/11/Apartament_Alpejski_Willa_Tatiana_folk_Zakopane_05-1000x240.jpg [slider-apartamenty-width] => 1000 [slider-apartamenty-height] => 240 [slider-apartamenty-thumb] => https://willatatiana.pl/wp-content/uploads/2016/11/Apartament_Alpejski_Willa_Tatiana_folk_Zakopane_05-625x120.jpg [slider-apartamenty-thumb-width] => 625 [slider-apartamenty-thumb-height] => 120 [apartament-image] => https://willatatiana.pl/wp-content/uploads/2016/11/Apartament_Alpejski_Willa_Tatiana_folk_Zakopane_05-290x177.jpg [apartament-image-width] => 290 [apartament-image-height] => 177 [apartament-gallery-image] => https://willatatiana.pl/wp-content/uploads/2016/11/Apartament_Alpejski_Willa_Tatiana_folk_Zakopane_05-905x523.jpg [apartament-gallery-image-width] => 905 [apartament-gallery-image-height] => 523 [apartament-gallery-image-thumb] => https://willatatiana.pl/wp-content/uploads/2016/11/Apartament_Alpejski_Willa_Tatiana_folk_Zakopane_05-150x84.jpg [apartament-gallery-image-thumb-width] => 150 [apartament-gallery-image-thumb-height] => 84 ) ) [4] => Array ( [id] => 1496 [alt] => Apartament Alpejski Willa Tatiana folk drewniana sypialnia [title] => Apartament_Alpejski_Willa_Tatiana_folk [caption] => [description] => [mime_type] => image/jpeg [url] => https://willatatiana.pl/wp-content/uploads/2016/11/Apartament_Alpejski_Willa_Tatiana_folk_Zakopane_06.jpg [width] => 1000 [height] => 667 [sizes] => Array ( [thumbnail] => https://willatatiana.pl/wp-content/uploads/2016/11/Apartament_Alpejski_Willa_Tatiana_folk_Zakopane_06-150x150.jpg [thumbnail-width] => 150 [thumbnail-height] => 150 [medium] => https://willatatiana.pl/wp-content/uploads/2016/11/Apartament_Alpejski_Willa_Tatiana_folk_Zakopane_06-300x200.jpg [medium-width] => 300 [medium-height] => 200 [medium_large] => https://willatatiana.pl/wp-content/uploads/2016/11/Apartament_Alpejski_Willa_Tatiana_folk_Zakopane_06-768x512.jpg [medium_large-width] => 620 [medium_large-height] => 413 [large] => https://willatatiana.pl/wp-content/uploads/2016/11/Apartament_Alpejski_Willa_Tatiana_folk_Zakopane_06.jpg [large-width] => 620 [large-height] => 414 [1536x1536] => https://willatatiana.pl/wp-content/uploads/2016/11/Apartament_Alpejski_Willa_Tatiana_folk_Zakopane_06.jpg [1536x1536-width] => 1000 [1536x1536-height] => 667 [2048x2048] => https://willatatiana.pl/wp-content/uploads/2016/11/Apartament_Alpejski_Willa_Tatiana_folk_Zakopane_06.jpg [2048x2048-width] => 1000 [2048x2048-height] => 667 [slider-image] => https://willatatiana.pl/wp-content/uploads/2016/11/Apartament_Alpejski_Willa_Tatiana_folk_Zakopane_06-1000x430.jpg [slider-image-width] => 1000 [slider-image-height] => 430 [slider-image-thumb] => https://willatatiana.pl/wp-content/uploads/2016/11/Apartament_Alpejski_Willa_Tatiana_folk_Zakopane_06-625x215.jpg [slider-image-thumb-width] => 625 [slider-image-thumb-height] => 215 [slider-apartamenty] => https://willatatiana.pl/wp-content/uploads/2016/11/Apartament_Alpejski_Willa_Tatiana_folk_Zakopane_06-1000x240.jpg [slider-apartamenty-width] => 1000 [slider-apartamenty-height] => 240 [slider-apartamenty-thumb] => https://willatatiana.pl/wp-content/uploads/2016/11/Apartament_Alpejski_Willa_Tatiana_folk_Zakopane_06-625x120.jpg [slider-apartamenty-thumb-width] => 625 [slider-apartamenty-thumb-height] => 120 [apartament-image] => https://willatatiana.pl/wp-content/uploads/2016/11/Apartament_Alpejski_Willa_Tatiana_folk_Zakopane_06-290x177.jpg [apartament-image-width] => 290 [apartament-image-height] => 177 [apartament-gallery-image] => https://willatatiana.pl/wp-content/uploads/2016/11/Apartament_Alpejski_Willa_Tatiana_folk_Zakopane_06-905x523.jpg [apartament-gallery-image-width] => 905 [apartament-gallery-image-height] => 523 [apartament-gallery-image-thumb] => https://willatatiana.pl/wp-content/uploads/2016/11/Apartament_Alpejski_Willa_Tatiana_folk_Zakopane_06-150x84.jpg [apartament-gallery-image-thumb-width] => 150 [apartament-gallery-image-thumb-height] => 84 ) ) [5] => Array ( [id] => 1497 [alt] => Apartament Alpejski Willa Tatiana folk łazienka z kamienia [title] => Apartament_Alpejski_Willa_Tatiana_folk [caption] => [description] => [mime_type] => image/jpeg [url] => https://willatatiana.pl/wp-content/uploads/2016/11/Apartament_Alpejski_Willa_Tatiana_folk_Zakopane_07.jpg [width] => 1000 [height] => 683 [sizes] => Array ( [thumbnail] => https://willatatiana.pl/wp-content/uploads/2016/11/Apartament_Alpejski_Willa_Tatiana_folk_Zakopane_07-150x150.jpg [thumbnail-width] => 150 [thumbnail-height] => 150 [medium] => https://willatatiana.pl/wp-content/uploads/2016/11/Apartament_Alpejski_Willa_Tatiana_folk_Zakopane_07-300x205.jpg [medium-width] => 300 [medium-height] => 205 [medium_large] => https://willatatiana.pl/wp-content/uploads/2016/11/Apartament_Alpejski_Willa_Tatiana_folk_Zakopane_07-768x525.jpg [medium_large-width] => 620 [medium_large-height] => 424 [large] => https://willatatiana.pl/wp-content/uploads/2016/11/Apartament_Alpejski_Willa_Tatiana_folk_Zakopane_07.jpg [large-width] => 620 [large-height] => 423 [1536x1536] => https://willatatiana.pl/wp-content/uploads/2016/11/Apartament_Alpejski_Willa_Tatiana_folk_Zakopane_07.jpg [1536x1536-width] => 1000 [1536x1536-height] => 683 [2048x2048] => https://willatatiana.pl/wp-content/uploads/2016/11/Apartament_Alpejski_Willa_Tatiana_folk_Zakopane_07.jpg [2048x2048-width] => 1000 [2048x2048-height] => 683 [slider-image] => https://willatatiana.pl/wp-content/uploads/2016/11/Apartament_Alpejski_Willa_Tatiana_folk_Zakopane_07-1000x430.jpg [slider-image-width] => 1000 [slider-image-height] => 430 [slider-image-thumb] => https://willatatiana.pl/wp-content/uploads/2016/11/Apartament_Alpejski_Willa_Tatiana_folk_Zakopane_07-625x215.jpg [slider-image-thumb-width] => 625 [slider-image-thumb-height] => 215 [slider-apartamenty] => https://willatatiana.pl/wp-content/uploads/2016/11/Apartament_Alpejski_Willa_Tatiana_folk_Zakopane_07-1000x240.jpg [slider-apartamenty-width] => 1000 [slider-apartamenty-height] => 240 [slider-apartamenty-thumb] => https://willatatiana.pl/wp-content/uploads/2016/11/Apartament_Alpejski_Willa_Tatiana_folk_Zakopane_07-625x120.jpg [slider-apartamenty-thumb-width] => 625 [slider-apartamenty-thumb-height] => 120 [apartament-image] => https://willatatiana.pl/wp-content/uploads/2016/11/Apartament_Alpejski_Willa_Tatiana_folk_Zakopane_07-290x177.jpg [apartament-image-width] => 290 [apartament-image-height] => 177 [apartament-gallery-image] => https://willatatiana.pl/wp-content/uploads/2016/11/Apartament_Alpejski_Willa_Tatiana_folk_Zakopane_07-905x523.jpg [apartament-gallery-image-width] => 905 [apartament-gallery-image-height] => 523 [apartament-gallery-image-thumb] => https://willatatiana.pl/wp-content/uploads/2016/11/Apartament_Alpejski_Willa_Tatiana_folk_Zakopane_07-150x84.jpg [apartament-gallery-image-thumb-width] => 150 [apartament-gallery-image-thumb-height] => 84 ) ) [6] => Array ( [id] => 1498 [alt] => Apartament Alpejski Willa Tatiana folk prysznic z kamienia [title] => Apartament_Alpejski_Willa_Tatiana_folk [caption] => [description] => [mime_type] => image/jpeg [url] => https://willatatiana.pl/wp-content/uploads/2016/11/Apartament_Alpejski_Willa_Tatiana_folk_Zakopane_08.jpg [width] => 667 [height] => 1000 [sizes] => Array ( [thumbnail] => https://willatatiana.pl/wp-content/uploads/2016/11/Apartament_Alpejski_Willa_Tatiana_folk_Zakopane_08-150x150.jpg [thumbnail-width] => 150 [thumbnail-height] => 150 [medium] => https://willatatiana.pl/wp-content/uploads/2016/11/Apartament_Alpejski_Willa_Tatiana_folk_Zakopane_08-200x300.jpg [medium-width] => 200 [medium-height] => 300 [medium_large] => https://willatatiana.pl/wp-content/uploads/2016/11/Apartament_Alpejski_Willa_Tatiana_folk_Zakopane_08.jpg [medium_large-width] => 620 [medium_large-height] => 930 [large] => https://willatatiana.pl/wp-content/uploads/2016/11/Apartament_Alpejski_Willa_Tatiana_folk_Zakopane_08.jpg [large-width] => 620 [large-height] => 930 [1536x1536] => https://willatatiana.pl/wp-content/uploads/2016/11/Apartament_Alpejski_Willa_Tatiana_folk_Zakopane_08.jpg [1536x1536-width] => 667 [1536x1536-height] => 1000 [2048x2048] => https://willatatiana.pl/wp-content/uploads/2016/11/Apartament_Alpejski_Willa_Tatiana_folk_Zakopane_08.jpg [2048x2048-width] => 667 [2048x2048-height] => 1000 [slider-image] => https://willatatiana.pl/wp-content/uploads/2016/11/Apartament_Alpejski_Willa_Tatiana_folk_Zakopane_08-667x430.jpg [slider-image-width] => 667 [slider-image-height] => 430 [slider-image-thumb] => https://willatatiana.pl/wp-content/uploads/2016/11/Apartament_Alpejski_Willa_Tatiana_folk_Zakopane_08-625x215.jpg [slider-image-thumb-width] => 625 [slider-image-thumb-height] => 215 [slider-apartamenty] => https://willatatiana.pl/wp-content/uploads/2016/11/Apartament_Alpejski_Willa_Tatiana_folk_Zakopane_08-667x240.jpg [slider-apartamenty-width] => 667 [slider-apartamenty-height] => 240 [slider-apartamenty-thumb] => https://willatatiana.pl/wp-content/uploads/2016/11/Apartament_Alpejski_Willa_Tatiana_folk_Zakopane_08-625x120.jpg [slider-apartamenty-thumb-width] => 625 [slider-apartamenty-thumb-height] => 120 [apartament-image] => https://willatatiana.pl/wp-content/uploads/2016/11/Apartament_Alpejski_Willa_Tatiana_folk_Zakopane_08-290x177.jpg [apartament-image-width] => 290 [apartament-image-height] => 177 [apartament-gallery-image] => https://willatatiana.pl/wp-content/uploads/2016/11/Apartament_Alpejski_Willa_Tatiana_folk_Zakopane_08-667x523.jpg [apartament-gallery-image-width] => 667 [apartament-gallery-image-height] => 523 [apartament-gallery-image-thumb] => https://willatatiana.pl/wp-content/uploads/2016/11/Apartament_Alpejski_Willa_Tatiana_folk_Zakopane_08-150x84.jpg [apartament-gallery-image-thumb-width] => 150 [apartament-gallery-image-thumb-height] => 84 ) ) ) aaas

The suite is inspired by the Alpine climate and traditional interior design typical of houses in the high Alps. Bright colours of the interior, characteristic accessories and the structure of wood create the charm of this apartment. The Alpine apartment is a perfect combination of tradition and functionality.

see and book

6

Array ( [0] => Array ( [id] => 1477 [alt] => Apartament Syberyjski Willa Tatiana folk drewniany salon [title] => Apartament Syberyjski Willa Tatiana folk [caption] => [description] => [mime_type] => image/jpeg [url] => https://willatatiana.pl/wp-content/uploads/2016/11/Apartament_Syberyjski_Willa_Tatiana_folk_Zakopane_01.jpg [width] => 1000 [height] => 648 [sizes] => Array ( [thumbnail] => https://willatatiana.pl/wp-content/uploads/2016/11/Apartament_Syberyjski_Willa_Tatiana_folk_Zakopane_01-150x150.jpg [thumbnail-width] => 150 [thumbnail-height] => 150 [medium] => https://willatatiana.pl/wp-content/uploads/2016/11/Apartament_Syberyjski_Willa_Tatiana_folk_Zakopane_01-300x194.jpg [medium-width] => 300 [medium-height] => 194 [medium_large] => https://willatatiana.pl/wp-content/uploads/2016/11/Apartament_Syberyjski_Willa_Tatiana_folk_Zakopane_01-768x498.jpg [medium_large-width] => 620 [medium_large-height] => 402 [large] => https://willatatiana.pl/wp-content/uploads/2016/11/Apartament_Syberyjski_Willa_Tatiana_folk_Zakopane_01.jpg [large-width] => 620 [large-height] => 402 [1536x1536] => https://willatatiana.pl/wp-content/uploads/2016/11/Apartament_Syberyjski_Willa_Tatiana_folk_Zakopane_01.jpg [1536x1536-width] => 1000 [1536x1536-height] => 648 [2048x2048] => https://willatatiana.pl/wp-content/uploads/2016/11/Apartament_Syberyjski_Willa_Tatiana_folk_Zakopane_01.jpg [2048x2048-width] => 1000 [2048x2048-height] => 648 [slider-image] => https://willatatiana.pl/wp-content/uploads/2016/11/Apartament_Syberyjski_Willa_Tatiana_folk_Zakopane_01-1000x430.jpg [slider-image-width] => 1000 [slider-image-height] => 430 [slider-image-thumb] => https://willatatiana.pl/wp-content/uploads/2016/11/Apartament_Syberyjski_Willa_Tatiana_folk_Zakopane_01-625x215.jpg [slider-image-thumb-width] => 625 [slider-image-thumb-height] => 215 [slider-apartamenty] => https://willatatiana.pl/wp-content/uploads/2016/11/Apartament_Syberyjski_Willa_Tatiana_folk_Zakopane_01-1000x240.jpg [slider-apartamenty-width] => 1000 [slider-apartamenty-height] => 240 [slider-apartamenty-thumb] => https://willatatiana.pl/wp-content/uploads/2016/11/Apartament_Syberyjski_Willa_Tatiana_folk_Zakopane_01-625x120.jpg [slider-apartamenty-thumb-width] => 625 [slider-apartamenty-thumb-height] => 120 [apartament-image] => https://willatatiana.pl/wp-content/uploads/2016/11/Apartament_Syberyjski_Willa_Tatiana_folk_Zakopane_01-290x177.jpg [apartament-image-width] => 290 [apartament-image-height] => 177 [apartament-gallery-image] => https://willatatiana.pl/wp-content/uploads/2016/11/Apartament_Syberyjski_Willa_Tatiana_folk_Zakopane_01-905x523.jpg [apartament-gallery-image-width] => 905 [apartament-gallery-image-height] => 523 [apartament-gallery-image-thumb] => https://willatatiana.pl/wp-content/uploads/2016/11/Apartament_Syberyjski_Willa_Tatiana_folk_Zakopane_01-150x84.jpg [apartament-gallery-image-thumb-width] => 150 [apartament-gallery-image-thumb-height] => 84 ) ) [1] => Array ( [id] => 1478 [alt] => Apartament Syberyjski Willa Tatiana folk drewniany pokój [title] => Apartament Syberyjski Willa Tatiana folk [caption] => [description] => [mime_type] => image/jpeg [url] => https://willatatiana.pl/wp-content/uploads/2016/11/Apartament_Syberyjski_Willa_Tatiana_folk_Zakopane_02.jpg [width] => 1000 [height] => 658 [sizes] => Array ( [thumbnail] => https://willatatiana.pl/wp-content/uploads/2016/11/Apartament_Syberyjski_Willa_Tatiana_folk_Zakopane_02-150x150.jpg [thumbnail-width] => 150 [thumbnail-height] => 150 [medium] => https://willatatiana.pl/wp-content/uploads/2016/11/Apartament_Syberyjski_Willa_Tatiana_folk_Zakopane_02-300x197.jpg [medium-width] => 300 [medium-height] => 197 [medium_large] => https://willatatiana.pl/wp-content/uploads/2016/11/Apartament_Syberyjski_Willa_Tatiana_folk_Zakopane_02-768x505.jpg [medium_large-width] => 620 [medium_large-height] => 408 [large] => https://willatatiana.pl/wp-content/uploads/2016/11/Apartament_Syberyjski_Willa_Tatiana_folk_Zakopane_02.jpg [large-width] => 620 [large-height] => 408 [1536x1536] => https://willatatiana.pl/wp-content/uploads/2016/11/Apartament_Syberyjski_Willa_Tatiana_folk_Zakopane_02.jpg [1536x1536-width] => 1000 [1536x1536-height] => 658 [2048x2048] => https://willatatiana.pl/wp-content/uploads/2016/11/Apartament_Syberyjski_Willa_Tatiana_folk_Zakopane_02.jpg [2048x2048-width] => 1000 [2048x2048-height] => 658 [slider-image] => https://willatatiana.pl/wp-content/uploads/2016/11/Apartament_Syberyjski_Willa_Tatiana_folk_Zakopane_02-1000x430.jpg [slider-image-width] => 1000 [slider-image-height] => 430 [slider-image-thumb] => https://willatatiana.pl/wp-content/uploads/2016/11/Apartament_Syberyjski_Willa_Tatiana_folk_Zakopane_02-625x215.jpg [slider-image-thumb-width] => 625 [slider-image-thumb-height] => 215 [slider-apartamenty] => https://willatatiana.pl/wp-content/uploads/2016/11/Apartament_Syberyjski_Willa_Tatiana_folk_Zakopane_02-1000x240.jpg [slider-apartamenty-width] => 1000 [slider-apartamenty-height] => 240 [slider-apartamenty-thumb] => https://willatatiana.pl/wp-content/uploads/2016/11/Apartament_Syberyjski_Willa_Tatiana_folk_Zakopane_02-625x120.jpg [slider-apartamenty-thumb-width] => 625 [slider-apartamenty-thumb-height] => 120 [apartament-image] => https://willatatiana.pl/wp-content/uploads/2016/11/Apartament_Syberyjski_Willa_Tatiana_folk_Zakopane_02-290x177.jpg [apartament-image-width] => 290 [apartament-image-height] => 177 [apartament-gallery-image] => https://willatatiana.pl/wp-content/uploads/2016/11/Apartament_Syberyjski_Willa_Tatiana_folk_Zakopane_02-905x523.jpg [apartament-gallery-image-width] => 905 [apartament-gallery-image-height] => 523 [apartament-gallery-image-thumb] => https://willatatiana.pl/wp-content/uploads/2016/11/Apartament_Syberyjski_Willa_Tatiana_folk_Zakopane_02-150x84.jpg [apartament-gallery-image-thumb-width] => 150 [apartament-gallery-image-thumb-height] => 84 ) ) [2] => Array ( [id] => 1479 [alt] => Apartament Syberyjski Willa Tatiana folk drewniana kuchnia z jadalnią [title] => Apartament Syberyjski Willa Tatiana folk [caption] => [description] => [mime_type] => image/jpeg [url] => https://willatatiana.pl/wp-content/uploads/2016/11/Apartament_Syberyjski_Willa_Tatiana_folk_Zakopane_03.jpg [width] => 1000 [height] => 667 [sizes] => Array ( [thumbnail] => https://willatatiana.pl/wp-content/uploads/2016/11/Apartament_Syberyjski_Willa_Tatiana_folk_Zakopane_03-150x150.jpg [thumbnail-width] => 150 [thumbnail-height] => 150 [medium] => https://willatatiana.pl/wp-content/uploads/2016/11/Apartament_Syberyjski_Willa_Tatiana_folk_Zakopane_03-300x200.jpg [medium-width] => 300 [medium-height] => 200 [medium_large] => https://willatatiana.pl/wp-content/uploads/2016/11/Apartament_Syberyjski_Willa_Tatiana_folk_Zakopane_03-768x512.jpg [medium_large-width] => 620 [medium_large-height] => 413 [large] => https://willatatiana.pl/wp-content/uploads/2016/11/Apartament_Syberyjski_Willa_Tatiana_folk_Zakopane_03.jpg [large-width] => 620 [large-height] => 414 [1536x1536] => https://willatatiana.pl/wp-content/uploads/2016/11/Apartament_Syberyjski_Willa_Tatiana_folk_Zakopane_03.jpg [1536x1536-width] => 1000 [1536x1536-height] => 667 [2048x2048] => https://willatatiana.pl/wp-content/uploads/2016/11/Apartament_Syberyjski_Willa_Tatiana_folk_Zakopane_03.jpg [2048x2048-width] => 1000 [2048x2048-height] => 667 [slider-image] => https://willatatiana.pl/wp-content/uploads/2016/11/Apartament_Syberyjski_Willa_Tatiana_folk_Zakopane_03-1000x430.jpg [slider-image-width] => 1000 [slider-image-height] => 430 [slider-image-thumb] => https://willatatiana.pl/wp-content/uploads/2016/11/Apartament_Syberyjski_Willa_Tatiana_folk_Zakopane_03-625x215.jpg [slider-image-thumb-width] => 625 [slider-image-thumb-height] => 215 [slider-apartamenty] => https://willatatiana.pl/wp-content/uploads/2016/11/Apartament_Syberyjski_Willa_Tatiana_folk_Zakopane_03-1000x240.jpg [slider-apartamenty-width] => 1000 [slider-apartamenty-height] => 240 [slider-apartamenty-thumb] => https://willatatiana.pl/wp-content/uploads/2016/11/Apartament_Syberyjski_Willa_Tatiana_folk_Zakopane_03-625x120.jpg [slider-apartamenty-thumb-width] => 625 [slider-apartamenty-thumb-height] => 120 [apartament-image] => https://willatatiana.pl/wp-content/uploads/2016/11/Apartament_Syberyjski_Willa_Tatiana_folk_Zakopane_03-290x177.jpg [apartament-image-width] => 290 [apartament-image-height] => 177 [apartament-gallery-image] => https://willatatiana.pl/wp-content/uploads/2016/11/Apartament_Syberyjski_Willa_Tatiana_folk_Zakopane_03-905x523.jpg [apartament-gallery-image-width] => 905 [apartament-gallery-image-height] => 523 [apartament-gallery-image-thumb] => https://willatatiana.pl/wp-content/uploads/2016/11/Apartament_Syberyjski_Willa_Tatiana_folk_Zakopane_03-150x84.jpg [apartament-gallery-image-thumb-width] => 150 [apartament-gallery-image-thumb-height] => 84 ) ) [3] => Array ( [id] => 1480 [alt] => Apartament Syberyjski Willa Tatiana folk drewniana kuchnia [title] => Apartament Syberyjski Willa Tatiana folk [caption] => [description] => [mime_type] => image/jpeg [url] => https://willatatiana.pl/wp-content/uploads/2016/11/Apartament_Syberyjski_Willa_Tatiana_folk_Zakopane_04.jpg [width] => 1000 [height] => 667 [sizes] => Array ( [thumbnail] => https://willatatiana.pl/wp-content/uploads/2016/11/Apartament_Syberyjski_Willa_Tatiana_folk_Zakopane_04-150x150.jpg [thumbnail-width] => 150 [thumbnail-height] => 150 [medium] => https://willatatiana.pl/wp-content/uploads/2016/11/Apartament_Syberyjski_Willa_Tatiana_folk_Zakopane_04-300x200.jpg [medium-width] => 300 [medium-height] => 200 [medium_large] => https://willatatiana.pl/wp-content/uploads/2016/11/Apartament_Syberyjski_Willa_Tatiana_folk_Zakopane_04-768x512.jpg [medium_large-width] => 620 [medium_large-height] => 413 [large] => https://willatatiana.pl/wp-content/uploads/2016/11/Apartament_Syberyjski_Willa_Tatiana_folk_Zakopane_04.jpg [large-width] => 620 [large-height] => 414 [1536x1536] => https://willatatiana.pl/wp-content/uploads/2016/11/Apartament_Syberyjski_Willa_Tatiana_folk_Zakopane_04.jpg [1536x1536-width] => 1000 [1536x1536-height] => 667 [2048x2048] => https://willatatiana.pl/wp-content/uploads/2016/11/Apartament_Syberyjski_Willa_Tatiana_folk_Zakopane_04.jpg [2048x2048-width] => 1000 [2048x2048-height] => 667 [slider-image] => https://willatatiana.pl/wp-content/uploads/2016/11/Apartament_Syberyjski_Willa_Tatiana_folk_Zakopane_04-1000x430.jpg [slider-image-width] => 1000 [slider-image-height] => 430 [slider-image-thumb] => https://willatatiana.pl/wp-content/uploads/2016/11/Apartament_Syberyjski_Willa_Tatiana_folk_Zakopane_04-625x215.jpg [slider-image-thumb-width] => 625 [slider-image-thumb-height] => 215 [slider-apartamenty] => https://willatatiana.pl/wp-content/uploads/2016/11/Apartament_Syberyjski_Willa_Tatiana_folk_Zakopane_04-1000x240.jpg [slider-apartamenty-width] => 1000 [slider-apartamenty-height] => 240 [slider-apartamenty-thumb] => https://willatatiana.pl/wp-content/uploads/2016/11/Apartament_Syberyjski_Willa_Tatiana_folk_Zakopane_04-625x120.jpg [slider-apartamenty-thumb-width] => 625 [slider-apartamenty-thumb-height] => 120 [apartament-image] => https://willatatiana.pl/wp-content/uploads/2016/11/Apartament_Syberyjski_Willa_Tatiana_folk_Zakopane_04-290x177.jpg [apartament-image-width] => 290 [apartament-image-height] => 177 [apartament-gallery-image] => https://willatatiana.pl/wp-content/uploads/2016/11/Apartament_Syberyjski_Willa_Tatiana_folk_Zakopane_04-905x523.jpg [apartament-gallery-image-width] => 905 [apartament-gallery-image-height] => 523 [apartament-gallery-image-thumb] => https://willatatiana.pl/wp-content/uploads/2016/11/Apartament_Syberyjski_Willa_Tatiana_folk_Zakopane_04-150x84.jpg [apartament-gallery-image-thumb-width] => 150 [apartament-gallery-image-thumb-height] => 84 ) ) [4] => Array ( [id] => 1481 [alt] => Apartament Syberyjski Willa Tatiana folk łóżko w kształcie sań [title] => Apartament Syberyjski Willa Tatiana folk [caption] => [description] => [mime_type] => image/jpeg [url] => https://willatatiana.pl/wp-content/uploads/2016/11/Apartament_Syberyjski_Willa_Tatiana_folk_Zakopane_05.jpg [width] => 1000 [height] => 667 [sizes] => Array ( [thumbnail] => https://willatatiana.pl/wp-content/uploads/2016/11/Apartament_Syberyjski_Willa_Tatiana_folk_Zakopane_05-150x150.jpg [thumbnail-width] => 150 [thumbnail-height] => 150 [medium] => https://willatatiana.pl/wp-content/uploads/2016/11/Apartament_Syberyjski_Willa_Tatiana_folk_Zakopane_05-300x200.jpg [medium-width] => 300 [medium-height] => 200 [medium_large] => https://willatatiana.pl/wp-content/uploads/2016/11/Apartament_Syberyjski_Willa_Tatiana_folk_Zakopane_05-768x512.jpg [medium_large-width] => 620 [medium_large-height] => 413 [large] => https://willatatiana.pl/wp-content/uploads/2016/11/Apartament_Syberyjski_Willa_Tatiana_folk_Zakopane_05.jpg [large-width] => 620 [large-height] => 414 [1536x1536] => https://willatatiana.pl/wp-content/uploads/2016/11/Apartament_Syberyjski_Willa_Tatiana_folk_Zakopane_05.jpg [1536x1536-width] => 1000 [1536x1536-height] => 667 [2048x2048] => https://willatatiana.pl/wp-content/uploads/2016/11/Apartament_Syberyjski_Willa_Tatiana_folk_Zakopane_05.jpg [2048x2048-width] => 1000 [2048x2048-height] => 667 [slider-image] => https://willatatiana.pl/wp-content/uploads/2016/11/Apartament_Syberyjski_Willa_Tatiana_folk_Zakopane_05-1000x430.jpg [slider-image-width] => 1000 [slider-image-height] => 430 [slider-image-thumb] => https://willatatiana.pl/wp-content/uploads/2016/11/Apartament_Syberyjski_Willa_Tatiana_folk_Zakopane_05-625x215.jpg [slider-image-thumb-width] => 625 [slider-image-thumb-height] => 215 [slider-apartamenty] => https://willatatiana.pl/wp-content/uploads/2016/11/Apartament_Syberyjski_Willa_Tatiana_folk_Zakopane_05-1000x240.jpg [slider-apartamenty-width] => 1000 [slider-apartamenty-height] => 240 [slider-apartamenty-thumb] => https://willatatiana.pl/wp-content/uploads/2016/11/Apartament_Syberyjski_Willa_Tatiana_folk_Zakopane_05-625x120.jpg [slider-apartamenty-thumb-width] => 625 [slider-apartamenty-thumb-height] => 120 [apartament-image] => https://willatatiana.pl/wp-content/uploads/2016/11/Apartament_Syberyjski_Willa_Tatiana_folk_Zakopane_05-290x177.jpg [apartament-image-width] => 290 [apartament-image-height] => 177 [apartament-gallery-image] => https://willatatiana.pl/wp-content/uploads/2016/11/Apartament_Syberyjski_Willa_Tatiana_folk_Zakopane_05-905x523.jpg [apartament-gallery-image-width] => 905 [apartament-gallery-image-height] => 523 [apartament-gallery-image-thumb] => https://willatatiana.pl/wp-content/uploads/2016/11/Apartament_Syberyjski_Willa_Tatiana_folk_Zakopane_05-150x84.jpg [apartament-gallery-image-thumb-width] => 150 [apartament-gallery-image-thumb-height] => 84 ) ) [5] => Array ( [id] => 1482 [alt] => Apartament Syberyjski Willa Tatiana folk drewniana sypialnia z łóżkiem w kształcie sań [title] => Apartament Syberyjski Willa Tatiana folk [caption] => [description] => [mime_type] => image/jpeg [url] => https://willatatiana.pl/wp-content/uploads/2016/11/Apartament_Syberyjski_Willa_Tatiana_folk_Zakopane_06.jpg [width] => 1000 [height] => 667 [sizes] => Array ( [thumbnail] => https://willatatiana.pl/wp-content/uploads/2016/11/Apartament_Syberyjski_Willa_Tatiana_folk_Zakopane_06-150x150.jpg [thumbnail-width] => 150 [thumbnail-height] => 150 [medium] => https://willatatiana.pl/wp-content/uploads/2016/11/Apartament_Syberyjski_Willa_Tatiana_folk_Zakopane_06-300x200.jpg [medium-width] => 300 [medium-height] => 200 [medium_large] => https://willatatiana.pl/wp-content/uploads/2016/11/Apartament_Syberyjski_Willa_Tatiana_folk_Zakopane_06-768x512.jpg [medium_large-width] => 620 [medium_large-height] => 413 [large] => https://willatatiana.pl/wp-content/uploads/2016/11/Apartament_Syberyjski_Willa_Tatiana_folk_Zakopane_06.jpg [large-width] => 620 [large-height] => 414 [1536x1536] => https://willatatiana.pl/wp-content/uploads/2016/11/Apartament_Syberyjski_Willa_Tatiana_folk_Zakopane_06.jpg [1536x1536-width] => 1000 [1536x1536-height] => 667 [2048x2048] => https://willatatiana.pl/wp-content/uploads/2016/11/Apartament_Syberyjski_Willa_Tatiana_folk_Zakopane_06.jpg [2048x2048-width] => 1000 [2048x2048-height] => 667 [slider-image] => https://willatatiana.pl/wp-content/uploads/2016/11/Apartament_Syberyjski_Willa_Tatiana_folk_Zakopane_06-1000x430.jpg [slider-image-width] => 1000 [slider-image-height] => 430 [slider-image-thumb] => https://willatatiana.pl/wp-content/uploads/2016/11/Apartament_Syberyjski_Willa_Tatiana_folk_Zakopane_06-625x215.jpg [slider-image-thumb-width] => 625 [slider-image-thumb-height] => 215 [slider-apartamenty] => https://willatatiana.pl/wp-content/uploads/2016/11/Apartament_Syberyjski_Willa_Tatiana_folk_Zakopane_06-1000x240.jpg [slider-apartamenty-width] => 1000 [slider-apartamenty-height] => 240 [slider-apartamenty-thumb] => https://willatatiana.pl/wp-content/uploads/2016/11/Apartament_Syberyjski_Willa_Tatiana_folk_Zakopane_06-625x120.jpg [slider-apartamenty-thumb-width] => 625 [slider-apartamenty-thumb-height] => 120 [apartament-image] => https://willatatiana.pl/wp-content/uploads/2016/11/Apartament_Syberyjski_Willa_Tatiana_folk_Zakopane_06-290x177.jpg [apartament-image-width] => 290 [apartament-image-height] => 177 [apartament-gallery-image] => https://willatatiana.pl/wp-content/uploads/2016/11/Apartament_Syberyjski_Willa_Tatiana_folk_Zakopane_06-905x523.jpg [apartament-gallery-image-width] => 905 [apartament-gallery-image-height] => 523 [apartament-gallery-image-thumb] => https://willatatiana.pl/wp-content/uploads/2016/11/Apartament_Syberyjski_Willa_Tatiana_folk_Zakopane_06-150x84.jpg [apartament-gallery-image-thumb-width] => 150 [apartament-gallery-image-thumb-height] => 84 ) ) [6] => Array ( [id] => 1483 [alt] => Apartament Syberyjski Willa Tatiana folk drewniana sypialnia [title] => Apartament Syberyjski Willa Tatiana folk [caption] => [description] => [mime_type] => image/jpeg [url] => https://willatatiana.pl/wp-content/uploads/2016/11/Apartament_Syberyjski_Willa_Tatiana_folk_Zakopane_07.jpg [width] => 1000 [height] => 667 [sizes] => Array ( [thumbnail] => https://willatatiana.pl/wp-content/uploads/2016/11/Apartament_Syberyjski_Willa_Tatiana_folk_Zakopane_07-150x150.jpg [thumbnail-width] => 150 [thumbnail-height] => 150 [medium] => https://willatatiana.pl/wp-content/uploads/2016/11/Apartament_Syberyjski_Willa_Tatiana_folk_Zakopane_07-300x200.jpg [medium-width] => 300 [medium-height] => 200 [medium_large] => https://willatatiana.pl/wp-content/uploads/2016/11/Apartament_Syberyjski_Willa_Tatiana_folk_Zakopane_07-768x512.jpg [medium_large-width] => 620 [medium_large-height] => 413 [large] => https://willatatiana.pl/wp-content/uploads/2016/11/Apartament_Syberyjski_Willa_Tatiana_folk_Zakopane_07.jpg [large-width] => 620 [large-height] => 414 [1536x1536] => https://willatatiana.pl/wp-content/uploads/2016/11/Apartament_Syberyjski_Willa_Tatiana_folk_Zakopane_07.jpg [1536x1536-width] => 1000 [1536x1536-height] => 667 [2048x2048] => https://willatatiana.pl/wp-content/uploads/2016/11/Apartament_Syberyjski_Willa_Tatiana_folk_Zakopane_07.jpg [2048x2048-width] => 1000 [2048x2048-height] => 667 [slider-image] => https://willatatiana.pl/wp-content/uploads/2016/11/Apartament_Syberyjski_Willa_Tatiana_folk_Zakopane_07-1000x430.jpg [slider-image-width] => 1000 [slider-image-height] => 430 [slider-image-thumb] => https://willatatiana.pl/wp-content/uploads/2016/11/Apartament_Syberyjski_Willa_Tatiana_folk_Zakopane_07-625x215.jpg [slider-image-thumb-width] => 625 [slider-image-thumb-height] => 215 [slider-apartamenty] => https://willatatiana.pl/wp-content/uploads/2016/11/Apartament_Syberyjski_Willa_Tatiana_folk_Zakopane_07-1000x240.jpg [slider-apartamenty-width] => 1000 [slider-apartamenty-height] => 240 [slider-apartamenty-thumb] => https://willatatiana.pl/wp-content/uploads/2016/11/Apartament_Syberyjski_Willa_Tatiana_folk_Zakopane_07-625x120.jpg [slider-apartamenty-thumb-width] => 625 [slider-apartamenty-thumb-height] => 120 [apartament-image] => https://willatatiana.pl/wp-content/uploads/2016/11/Apartament_Syberyjski_Willa_Tatiana_folk_Zakopane_07-290x177.jpg [apartament-image-width] => 290 [apartament-image-height] => 177 [apartament-gallery-image] => https://willatatiana.pl/wp-content/uploads/2016/11/Apartament_Syberyjski_Willa_Tatiana_folk_Zakopane_07-905x523.jpg [apartament-gallery-image-width] => 905 [apartament-gallery-image-height] => 523 [apartament-gallery-image-thumb] => https://willatatiana.pl/wp-content/uploads/2016/11/Apartament_Syberyjski_Willa_Tatiana_folk_Zakopane_07-150x84.jpg [apartament-gallery-image-thumb-width] => 150 [apartament-gallery-image-thumb-height] => 84 ) ) [7] => Array ( [id] => 1484 [alt] => Apartament Syberyjski Willa Tatiana folk sypialnia z akcentem drewnianym [title] => Apartament Syberyjski Willa Tatiana folk [caption] => [description] => [mime_type] => image/jpeg [url] => https://willatatiana.pl/wp-content/uploads/2016/11/Apartament_Syberyjski_Willa_Tatiana_folk_Zakopane_08.jpg [width] => 1000 [height] => 621 [sizes] => Array ( [thumbnail] => https://willatatiana.pl/wp-content/uploads/2016/11/Apartament_Syberyjski_Willa_Tatiana_folk_Zakopane_08-150x150.jpg [thumbnail-width] => 150 [thumbnail-height] => 150 [medium] => https://willatatiana.pl/wp-content/uploads/2016/11/Apartament_Syberyjski_Willa_Tatiana_folk_Zakopane_08-300x186.jpg [medium-width] => 300 [medium-height] => 186 [medium_large] => https://willatatiana.pl/wp-content/uploads/2016/11/Apartament_Syberyjski_Willa_Tatiana_folk_Zakopane_08-768x477.jpg [medium_large-width] => 620 [medium_large-height] => 385 [large] => https://willatatiana.pl/wp-content/uploads/2016/11/Apartament_Syberyjski_Willa_Tatiana_folk_Zakopane_08.jpg [large-width] => 620 [large-height] => 385 [1536x1536] => https://willatatiana.pl/wp-content/uploads/2016/11/Apartament_Syberyjski_Willa_Tatiana_folk_Zakopane_08.jpg [1536x1536-width] => 1000 [1536x1536-height] => 621 [2048x2048] => https://willatatiana.pl/wp-content/uploads/2016/11/Apartament_Syberyjski_Willa_Tatiana_folk_Zakopane_08.jpg [2048x2048-width] => 1000 [2048x2048-height] => 621 [slider-image] => https://willatatiana.pl/wp-content/uploads/2016/11/Apartament_Syberyjski_Willa_Tatiana_folk_Zakopane_08-1000x430.jpg [slider-image-width] => 1000 [slider-image-height] => 430 [slider-image-thumb] => https://willatatiana.pl/wp-content/uploads/2016/11/Apartament_Syberyjski_Willa_Tatiana_folk_Zakopane_08-625x215.jpg [slider-image-thumb-width] => 625 [slider-image-thumb-height] => 215 [slider-apartamenty] => https://willatatiana.pl/wp-content/uploads/2016/11/Apartament_Syberyjski_Willa_Tatiana_folk_Zakopane_08-1000x240.jpg [slider-apartamenty-width] => 1000 [slider-apartamenty-height] => 240 [slider-apartamenty-thumb] => https://willatatiana.pl/wp-content/uploads/2016/11/Apartament_Syberyjski_Willa_Tatiana_folk_Zakopane_08-625x120.jpg [slider-apartamenty-thumb-width] => 625 [slider-apartamenty-thumb-height] => 120 [apartament-image] => https://willatatiana.pl/wp-content/uploads/2016/11/Apartament_Syberyjski_Willa_Tatiana_folk_Zakopane_08-290x177.jpg [apartament-image-width] => 290 [apartament-image-height] => 177 [apartament-gallery-image] => https://willatatiana.pl/wp-content/uploads/2016/11/Apartament_Syberyjski_Willa_Tatiana_folk_Zakopane_08-905x523.jpg [apartament-gallery-image-width] => 905 [apartament-gallery-image-height] => 523 [apartament-gallery-image-thumb] => https://willatatiana.pl/wp-content/uploads/2016/11/Apartament_Syberyjski_Willa_Tatiana_folk_Zakopane_08-150x84.jpg [apartament-gallery-image-thumb-width] => 150 [apartament-gallery-image-thumb-height] => 84 ) ) [8] => Array ( [id] => 1485 [alt] => Apartament Syberyjski Willa Tatiana folk drewniana sypialnia [title] => Apartament Syberyjski Willa Tatiana folk [caption] => [description] => [mime_type] => image/jpeg [url] => https://willatatiana.pl/wp-content/uploads/2016/11/Apartament_Syberyjski_Willa_Tatiana_folk_Zakopane_09.jpg [width] => 1000 [height] => 667 [sizes] => Array ( [thumbnail] => https://willatatiana.pl/wp-content/uploads/2016/11/Apartament_Syberyjski_Willa_Tatiana_folk_Zakopane_09-150x150.jpg [thumbnail-width] => 150 [thumbnail-height] => 150 [medium] => https://willatatiana.pl/wp-content/uploads/2016/11/Apartament_Syberyjski_Willa_Tatiana_folk_Zakopane_09-300x200.jpg [medium-width] => 300 [medium-height] => 200 [medium_large] => https://willatatiana.pl/wp-content/uploads/2016/11/Apartament_Syberyjski_Willa_Tatiana_folk_Zakopane_09-768x512.jpg [medium_large-width] => 620 [medium_large-height] => 413 [large] => https://willatatiana.pl/wp-content/uploads/2016/11/Apartament_Syberyjski_Willa_Tatiana_folk_Zakopane_09.jpg [large-width] => 620 [large-height] => 414 [1536x1536] => https://willatatiana.pl/wp-content/uploads/2016/11/Apartament_Syberyjski_Willa_Tatiana_folk_Zakopane_09.jpg [1536x1536-width] => 1000 [1536x1536-height] => 667 [2048x2048] => https://willatatiana.pl/wp-content/uploads/2016/11/Apartament_Syberyjski_Willa_Tatiana_folk_Zakopane_09.jpg [2048x2048-width] => 1000 [2048x2048-height] => 667 [slider-image] => https://willatatiana.pl/wp-content/uploads/2016/11/Apartament_Syberyjski_Willa_Tatiana_folk_Zakopane_09-1000x430.jpg [slider-image-width] => 1000 [slider-image-height] => 430 [slider-image-thumb] => https://willatatiana.pl/wp-content/uploads/2016/11/Apartament_Syberyjski_Willa_Tatiana_folk_Zakopane_09-625x215.jpg [slider-image-thumb-width] => 625 [slider-image-thumb-height] => 215 [slider-apartamenty] => https://willatatiana.pl/wp-content/uploads/2016/11/Apartament_Syberyjski_Willa_Tatiana_folk_Zakopane_09-1000x240.jpg [slider-apartamenty-width] => 1000 [slider-apartamenty-height] => 240 [slider-apartamenty-thumb] => https://willatatiana.pl/wp-content/uploads/2016/11/Apartament_Syberyjski_Willa_Tatiana_folk_Zakopane_09-625x120.jpg [slider-apartamenty-thumb-width] => 625 [slider-apartamenty-thumb-height] => 120 [apartament-image] => https://willatatiana.pl/wp-content/uploads/2016/11/Apartament_Syberyjski_Willa_Tatiana_folk_Zakopane_09-290x177.jpg [apartament-image-width] => 290 [apartament-image-height] => 177 [apartament-gallery-image] => https://willatatiana.pl/wp-content/uploads/2016/11/Apartament_Syberyjski_Willa_Tatiana_folk_Zakopane_09-905x523.jpg [apartament-gallery-image-width] => 905 [apartament-gallery-image-height] => 523 [apartament-gallery-image-thumb] => https://willatatiana.pl/wp-content/uploads/2016/11/Apartament_Syberyjski_Willa_Tatiana_folk_Zakopane_09-150x84.jpg [apartament-gallery-image-thumb-width] => 150 [apartament-gallery-image-thumb-height] => 84 ) ) [9] => Array ( [id] => 1486 [alt] => Apartament Syberyjski Willa Tatiana folk sypialnia z akcentami drewnianymi [title] => Apartament Syberyjski Willa Tatiana folk [caption] => [description] => [mime_type] => image/jpeg [url] => https://willatatiana.pl/wp-content/uploads/2016/11/Apartament_Syberyjski_Willa_Tatiana_folk_Zakopane_10.jpg [width] => 1000 [height] => 667 [sizes] => Array ( [thumbnail] => https://willatatiana.pl/wp-content/uploads/2016/11/Apartament_Syberyjski_Willa_Tatiana_folk_Zakopane_10-150x150.jpg [thumbnail-width] => 150 [thumbnail-height] => 150 [medium] => https://willatatiana.pl/wp-content/uploads/2016/11/Apartament_Syberyjski_Willa_Tatiana_folk_Zakopane_10-300x200.jpg [medium-width] => 300 [medium-height] => 200 [medium_large] => https://willatatiana.pl/wp-content/uploads/2016/11/Apartament_Syberyjski_Willa_Tatiana_folk_Zakopane_10-768x512.jpg [medium_large-width] => 620 [medium_large-height] => 413 [large] => https://willatatiana.pl/wp-content/uploads/2016/11/Apartament_Syberyjski_Willa_Tatiana_folk_Zakopane_10.jpg [large-width] => 620 [large-height] => 414 [1536x1536] => https://willatatiana.pl/wp-content/uploads/2016/11/Apartament_Syberyjski_Willa_Tatiana_folk_Zakopane_10.jpg [1536x1536-width] => 1000 [1536x1536-height] => 667 [2048x2048] => https://willatatiana.pl/wp-content/uploads/2016/11/Apartament_Syberyjski_Willa_Tatiana_folk_Zakopane_10.jpg [2048x2048-width] => 1000 [2048x2048-height] => 667 [slider-image] => https://willatatiana.pl/wp-content/uploads/2016/11/Apartament_Syberyjski_Willa_Tatiana_folk_Zakopane_10-1000x430.jpg [slider-image-width] => 1000 [slider-image-height] => 430 [slider-image-thumb] => https://willatatiana.pl/wp-content/uploads/2016/11/Apartament_Syberyjski_Willa_Tatiana_folk_Zakopane_10-625x215.jpg [slider-image-thumb-width] => 625 [slider-image-thumb-height] => 215 [slider-apartamenty] => https://willatatiana.pl/wp-content/uploads/2016/11/Apartament_Syberyjski_Willa_Tatiana_folk_Zakopane_10-1000x240.jpg [slider-apartamenty-width] => 1000 [slider-apartamenty-height] => 240 [slider-apartamenty-thumb] => https://willatatiana.pl/wp-content/uploads/2016/11/Apartament_Syberyjski_Willa_Tatiana_folk_Zakopane_10-625x120.jpg [slider-apartamenty-thumb-width] => 625 [slider-apartamenty-thumb-height] => 120 [apartament-image] => https://willatatiana.pl/wp-content/uploads/2016/11/Apartament_Syberyjski_Willa_Tatiana_folk_Zakopane_10-290x177.jpg [apartament-image-width] => 290 [apartament-image-height] => 177 [apartament-gallery-image] => https://willatatiana.pl/wp-content/uploads/2016/11/Apartament_Syberyjski_Willa_Tatiana_folk_Zakopane_10-905x523.jpg [apartament-gallery-image-width] => 905 [apartament-gallery-image-height] => 523 [apartament-gallery-image-thumb] => https://willatatiana.pl/wp-content/uploads/2016/11/Apartament_Syberyjski_Willa_Tatiana_folk_Zakopane_10-150x84.jpg [apartament-gallery-image-thumb-width] => 150 [apartament-gallery-image-thumb-height] => 84 ) ) [10] => Array ( [id] => 1487 [alt] => Apartament Syberyjski Willa Tatiana folk sypialnia z akcentami drewnianymi [title] => Apartament Syberyjski Willa Tatiana folk [caption] => [description] => [mime_type] => image/jpeg [url] => https://willatatiana.pl/wp-content/uploads/2016/11/Apartament_Syberyjski_Willa_Tatiana_folk_Zakopane_11.jpg [width] => 1000 [height] => 667 [sizes] => Array ( [thumbnail] => https://willatatiana.pl/wp-content/uploads/2016/11/Apartament_Syberyjski_Willa_Tatiana_folk_Zakopane_11-150x150.jpg [thumbnail-width] => 150 [thumbnail-height] => 150 [medium] => https://willatatiana.pl/wp-content/uploads/2016/11/Apartament_Syberyjski_Willa_Tatiana_folk_Zakopane_11-300x200.jpg [medium-width] => 300 [medium-height] => 200 [medium_large] => https://willatatiana.pl/wp-content/uploads/2016/11/Apartament_Syberyjski_Willa_Tatiana_folk_Zakopane_11-768x512.jpg [medium_large-width] => 620 [medium_large-height] => 413 [large] => https://willatatiana.pl/wp-content/uploads/2016/11/Apartament_Syberyjski_Willa_Tatiana_folk_Zakopane_11.jpg [large-width] => 620 [large-height] => 414 [1536x1536] => https://willatatiana.pl/wp-content/uploads/2016/11/Apartament_Syberyjski_Willa_Tatiana_folk_Zakopane_11.jpg [1536x1536-width] => 1000 [1536x1536-height] => 667 [2048x2048] => https://willatatiana.pl/wp-content/uploads/2016/11/Apartament_Syberyjski_Willa_Tatiana_folk_Zakopane_11.jpg [2048x2048-width] => 1000 [2048x2048-height] => 667 [slider-image] => https://willatatiana.pl/wp-content/uploads/2016/11/Apartament_Syberyjski_Willa_Tatiana_folk_Zakopane_11-1000x430.jpg [slider-image-width] => 1000 [slider-image-height] => 430 [slider-image-thumb] => https://willatatiana.pl/wp-content/uploads/2016/11/Apartament_Syberyjski_Willa_Tatiana_folk_Zakopane_11-625x215.jpg [slider-image-thumb-width] => 625 [slider-image-thumb-height] => 215 [slider-apartamenty] => https://willatatiana.pl/wp-content/uploads/2016/11/Apartament_Syberyjski_Willa_Tatiana_folk_Zakopane_11-1000x240.jpg [slider-apartamenty-width] => 1000 [slider-apartamenty-height] => 240 [slider-apartamenty-thumb] => https://willatatiana.pl/wp-content/uploads/2016/11/Apartament_Syberyjski_Willa_Tatiana_folk_Zakopane_11-625x120.jpg [slider-apartamenty-thumb-width] => 625 [slider-apartamenty-thumb-height] => 120 [apartament-image] => https://willatatiana.pl/wp-content/uploads/2016/11/Apartament_Syberyjski_Willa_Tatiana_folk_Zakopane_11-290x177.jpg [apartament-image-width] => 290 [apartament-image-height] => 177 [apartament-gallery-image] => https://willatatiana.pl/wp-content/uploads/2016/11/Apartament_Syberyjski_Willa_Tatiana_folk_Zakopane_11-905x523.jpg [apartament-gallery-image-width] => 905 [apartament-gallery-image-height] => 523 [apartament-gallery-image-thumb] => https://willatatiana.pl/wp-content/uploads/2016/11/Apartament_Syberyjski_Willa_Tatiana_folk_Zakopane_11-150x84.jpg [apartament-gallery-image-thumb-width] => 150 [apartament-gallery-image-thumb-height] => 84 ) ) [11] => Array ( [id] => 1488 [alt] => Apartament Syberyjski Willa Tatiana folk kamienne umywalki [title] => Apartament Syberyjski Willa Tatiana folk [caption] => [description] => [mime_type] => image/jpeg [url] => https://willatatiana.pl/wp-content/uploads/2016/11/Apartament_Syberyjski_Willa_Tatiana_folk_Zakopane_12.jpg [width] => 1000 [height] => 667 [sizes] => Array ( [thumbnail] => https://willatatiana.pl/wp-content/uploads/2016/11/Apartament_Syberyjski_Willa_Tatiana_folk_Zakopane_12-150x150.jpg [thumbnail-width] => 150 [thumbnail-height] => 150 [medium] => https://willatatiana.pl/wp-content/uploads/2016/11/Apartament_Syberyjski_Willa_Tatiana_folk_Zakopane_12-300x200.jpg [medium-width] => 300 [medium-height] => 200 [medium_large] => https://willatatiana.pl/wp-content/uploads/2016/11/Apartament_Syberyjski_Willa_Tatiana_folk_Zakopane_12-768x512.jpg [medium_large-width] => 620 [medium_large-height] => 413 [large] => https://willatatiana.pl/wp-content/uploads/2016/11/Apartament_Syberyjski_Willa_Tatiana_folk_Zakopane_12.jpg [large-width] => 620 [large-height] => 414 [1536x1536] => https://willatatiana.pl/wp-content/uploads/2016/11/Apartament_Syberyjski_Willa_Tatiana_folk_Zakopane_12.jpg [1536x1536-width] => 1000 [1536x1536-height] => 667 [2048x2048] => https://willatatiana.pl/wp-content/uploads/2016/11/Apartament_Syberyjski_Willa_Tatiana_folk_Zakopane_12.jpg [2048x2048-width] => 1000 [2048x2048-height] => 667 [slider-image] => https://willatatiana.pl/wp-content/uploads/2016/11/Apartament_Syberyjski_Willa_Tatiana_folk_Zakopane_12-1000x430.jpg [slider-image-width] => 1000 [slider-image-height] => 430 [slider-image-thumb] => https://willatatiana.pl/wp-content/uploads/2016/11/Apartament_Syberyjski_Willa_Tatiana_folk_Zakopane_12-625x215.jpg [slider-image-thumb-width] => 625 [slider-image-thumb-height] => 215 [slider-apartamenty] => https://willatatiana.pl/wp-content/uploads/2016/11/Apartament_Syberyjski_Willa_Tatiana_folk_Zakopane_12-1000x240.jpg [slider-apartamenty-width] => 1000 [slider-apartamenty-height] => 240 [slider-apartamenty-thumb] => https://willatatiana.pl/wp-content/uploads/2016/11/Apartament_Syberyjski_Willa_Tatiana_folk_Zakopane_12-625x120.jpg [slider-apartamenty-thumb-width] => 625 [slider-apartamenty-thumb-height] => 120 [apartament-image] => https://willatatiana.pl/wp-content/uploads/2016/11/Apartament_Syberyjski_Willa_Tatiana_folk_Zakopane_12-290x177.jpg [apartament-image-width] => 290 [apartament-image-height] => 177 [apartament-gallery-image] => https://willatatiana.pl/wp-content/uploads/2016/11/Apartament_Syberyjski_Willa_Tatiana_folk_Zakopane_12-905x523.jpg [apartament-gallery-image-width] => 905 [apartament-gallery-image-height] => 523 [apartament-gallery-image-thumb] => https://willatatiana.pl/wp-content/uploads/2016/11/Apartament_Syberyjski_Willa_Tatiana_folk_Zakopane_12-150x84.jpg [apartament-gallery-image-thumb-width] => 150 [apartament-gallery-image-thumb-height] => 84 ) ) [12] => Array ( [id] => 1489 [alt] => Apartament Syberyjski Willa Tatiana folk łazienka z kamienia [title] => Apartament Syberyjski Willa Tatiana folk [caption] => [description] => [mime_type] => image/jpeg [url] => https://willatatiana.pl/wp-content/uploads/2016/11/Apartament_Syberyjski_Willa_Tatiana_folk_Zakopane_13.jpg [width] => 1000 [height] => 667 [sizes] => Array ( [thumbnail] => https://willatatiana.pl/wp-content/uploads/2016/11/Apartament_Syberyjski_Willa_Tatiana_folk_Zakopane_13-150x150.jpg [thumbnail-width] => 150 [thumbnail-height] => 150 [medium] => https://willatatiana.pl/wp-content/uploads/2016/11/Apartament_Syberyjski_Willa_Tatiana_folk_Zakopane_13-300x200.jpg [medium-width] => 300 [medium-height] => 200 [medium_large] => https://willatatiana.pl/wp-content/uploads/2016/11/Apartament_Syberyjski_Willa_Tatiana_folk_Zakopane_13-768x512.jpg [medium_large-width] => 620 [medium_large-height] => 413 [large] => https://willatatiana.pl/wp-content/uploads/2016/11/Apartament_Syberyjski_Willa_Tatiana_folk_Zakopane_13.jpg [large-width] => 620 [large-height] => 414 [1536x1536] => https://willatatiana.pl/wp-content/uploads/2016/11/Apartament_Syberyjski_Willa_Tatiana_folk_Zakopane_13.jpg [1536x1536-width] => 1000 [1536x1536-height] => 667 [2048x2048] => https://willatatiana.pl/wp-content/uploads/2016/11/Apartament_Syberyjski_Willa_Tatiana_folk_Zakopane_13.jpg [2048x2048-width] => 1000 [2048x2048-height] => 667 [slider-image] => https://willatatiana.pl/wp-content/uploads/2016/11/Apartament_Syberyjski_Willa_Tatiana_folk_Zakopane_13-1000x430.jpg [slider-image-width] => 1000 [slider-image-height] => 430 [slider-image-thumb] => https://willatatiana.pl/wp-content/uploads/2016/11/Apartament_Syberyjski_Willa_Tatiana_folk_Zakopane_13-625x215.jpg [slider-image-thumb-width] => 625 [slider-image-thumb-height] => 215 [slider-apartamenty] => https://willatatiana.pl/wp-content/uploads/2016/11/Apartament_Syberyjski_Willa_Tatiana_folk_Zakopane_13-1000x240.jpg [slider-apartamenty-width] => 1000 [slider-apartamenty-height] => 240 [slider-apartamenty-thumb] => https://willatatiana.pl/wp-content/uploads/2016/11/Apartament_Syberyjski_Willa_Tatiana_folk_Zakopane_13-625x120.jpg [slider-apartamenty-thumb-width] => 625 [slider-apartamenty-thumb-height] => 120 [apartament-image] => https://willatatiana.pl/wp-content/uploads/2016/11/Apartament_Syberyjski_Willa_Tatiana_folk_Zakopane_13-290x177.jpg [apartament-image-width] => 290 [apartament-image-height] => 177 [apartament-gallery-image] => https://willatatiana.pl/wp-content/uploads/2016/11/Apartament_Syberyjski_Willa_Tatiana_folk_Zakopane_13-905x523.jpg [apartament-gallery-image-width] => 905 [apartament-gallery-image-height] => 523 [apartament-gallery-image-thumb] => https://willatatiana.pl/wp-content/uploads/2016/11/Apartament_Syberyjski_Willa_Tatiana_folk_Zakopane_13-150x84.jpg [apartament-gallery-image-thumb-width] => 150 [apartament-gallery-image-thumb-height] => 84 ) ) ) aaas

A unique suite whose design was inspired by the elements of Siberian houses décor. A special attraction to guests is a fairy sleigh which turns sleep into an unforgettable experience. "Horses unharnessed and the cold winter is coming soon." Original icons, paintings and the décor create an atmosphere in which everyone will feel different than at home. A bedroom with bunk beds as if directly taken from a cottage in a Polish village by the Baikal lake. Natural grey colour of the wood which beautifully accentuates the nature of the apartment was achieved due to lack of sunlight.

see and book

4

Array ( [0] => Array ( [id] => 1463 [alt] => Apartament Karpacki Willa Tatiana folk drewniany pokój [title] => Apartament Karpacki Willa Tatiana folk [caption] => [description] => [mime_type] => image/jpeg [url] => https://willatatiana.pl/wp-content/uploads/2016/11/Apartament_Karpacki_Willa_Tatiana_folk_Zakopane_01.jpg [width] => 1000 [height] => 656 [sizes] => Array ( [thumbnail] => https://willatatiana.pl/wp-content/uploads/2016/11/Apartament_Karpacki_Willa_Tatiana_folk_Zakopane_01-150x150.jpg [thumbnail-width] => 150 [thumbnail-height] => 150 [medium] => https://willatatiana.pl/wp-content/uploads/2016/11/Apartament_Karpacki_Willa_Tatiana_folk_Zakopane_01-300x197.jpg [medium-width] => 300 [medium-height] => 197 [medium_large] => https://willatatiana.pl/wp-content/uploads/2016/11/Apartament_Karpacki_Willa_Tatiana_folk_Zakopane_01-768x504.jpg [medium_large-width] => 620 [medium_large-height] => 407 [large] => https://willatatiana.pl/wp-content/uploads/2016/11/Apartament_Karpacki_Willa_Tatiana_folk_Zakopane_01.jpg [large-width] => 620 [large-height] => 407 [1536x1536] => https://willatatiana.pl/wp-content/uploads/2016/11/Apartament_Karpacki_Willa_Tatiana_folk_Zakopane_01.jpg [1536x1536-width] => 1000 [1536x1536-height] => 656 [2048x2048] => https://willatatiana.pl/wp-content/uploads/2016/11/Apartament_Karpacki_Willa_Tatiana_folk_Zakopane_01.jpg [2048x2048-width] => 1000 [2048x2048-height] => 656 [slider-image] => https://willatatiana.pl/wp-content/uploads/2016/11/Apartament_Karpacki_Willa_Tatiana_folk_Zakopane_01-1000x430.jpg [slider-image-width] => 1000 [slider-image-height] => 430 [slider-image-thumb] => https://willatatiana.pl/wp-content/uploads/2016/11/Apartament_Karpacki_Willa_Tatiana_folk_Zakopane_01-625x215.jpg [slider-image-thumb-width] => 625 [slider-image-thumb-height] => 215 [slider-apartamenty] => https://willatatiana.pl/wp-content/uploads/2016/11/Apartament_Karpacki_Willa_Tatiana_folk_Zakopane_01-1000x240.jpg [slider-apartamenty-width] => 1000 [slider-apartamenty-height] => 240 [slider-apartamenty-thumb] => https://willatatiana.pl/wp-content/uploads/2016/11/Apartament_Karpacki_Willa_Tatiana_folk_Zakopane_01-625x120.jpg [slider-apartamenty-thumb-width] => 625 [slider-apartamenty-thumb-height] => 120 [apartament-image] => https://willatatiana.pl/wp-content/uploads/2016/11/Apartament_Karpacki_Willa_Tatiana_folk_Zakopane_01-290x177.jpg [apartament-image-width] => 290 [apartament-image-height] => 177 [apartament-gallery-image] => https://willatatiana.pl/wp-content/uploads/2016/11/Apartament_Karpacki_Willa_Tatiana_folk_Zakopane_01-905x523.jpg [apartament-gallery-image-width] => 905 [apartament-gallery-image-height] => 523 [apartament-gallery-image-thumb] => https://willatatiana.pl/wp-content/uploads/2016/11/Apartament_Karpacki_Willa_Tatiana_folk_Zakopane_01-150x84.jpg [apartament-gallery-image-thumb-width] => 150 [apartament-gallery-image-thumb-height] => 84 ) ) [1] => Array ( [id] => 1464 [alt] => Apartament Karpacki Willa Tatiana folk drewniany pokój [title] => Apartament Karpacki Willa Tatiana folk [caption] => [description] => [mime_type] => image/jpeg [url] => https://willatatiana.pl/wp-content/uploads/2016/11/Apartament_Karpacki_Willa_Tatiana_folk_Zakopane_02.jpg [width] => 1000 [height] => 628 [sizes] => Array ( [thumbnail] => https://willatatiana.pl/wp-content/uploads/2016/11/Apartament_Karpacki_Willa_Tatiana_folk_Zakopane_02-150x150.jpg [thumbnail-width] => 150 [thumbnail-height] => 150 [medium] => https://willatatiana.pl/wp-content/uploads/2016/11/Apartament_Karpacki_Willa_Tatiana_folk_Zakopane_02-300x188.jpg [medium-width] => 300 [medium-height] => 188 [medium_large] => https://willatatiana.pl/wp-content/uploads/2016/11/Apartament_Karpacki_Willa_Tatiana_folk_Zakopane_02-768x482.jpg [medium_large-width] => 620 [medium_large-height] => 389 [large] => https://willatatiana.pl/wp-content/uploads/2016/11/Apartament_Karpacki_Willa_Tatiana_folk_Zakopane_02.jpg [large-width] => 620 [large-height] => 389 [1536x1536] => https://willatatiana.pl/wp-content/uploads/2016/11/Apartament_Karpacki_Willa_Tatiana_folk_Zakopane_02.jpg [1536x1536-width] => 1000 [1536x1536-height] => 628 [2048x2048] => https://willatatiana.pl/wp-content/uploads/2016/11/Apartament_Karpacki_Willa_Tatiana_folk_Zakopane_02.jpg [2048x2048-width] => 1000 [2048x2048-height] => 628 [slider-image] => https://willatatiana.pl/wp-content/uploads/2016/11/Apartament_Karpacki_Willa_Tatiana_folk_Zakopane_02-1000x430.jpg [slider-image-width] => 1000 [slider-image-height] => 430 [slider-image-thumb] => https://willatatiana.pl/wp-content/uploads/2016/11/Apartament_Karpacki_Willa_Tatiana_folk_Zakopane_02-625x215.jpg [slider-image-thumb-width] => 625 [slider-image-thumb-height] => 215 [slider-apartamenty] => https://willatatiana.pl/wp-content/uploads/2016/11/Apartament_Karpacki_Willa_Tatiana_folk_Zakopane_02-1000x240.jpg [slider-apartamenty-width] => 1000 [slider-apartamenty-height] => 240 [slider-apartamenty-thumb] => https://willatatiana.pl/wp-content/uploads/2016/11/Apartament_Karpacki_Willa_Tatiana_folk_Zakopane_02-625x120.jpg [slider-apartamenty-thumb-width] => 625 [slider-apartamenty-thumb-height] => 120 [apartament-image] => https://willatatiana.pl/wp-content/uploads/2016/11/Apartament_Karpacki_Willa_Tatiana_folk_Zakopane_02-290x177.jpg [apartament-image-width] => 290 [apartament-image-height] => 177 [apartament-gallery-image] => https://willatatiana.pl/wp-content/uploads/2016/11/Apartament_Karpacki_Willa_Tatiana_folk_Zakopane_02-905x523.jpg [apartament-gallery-image-width] => 905 [apartament-gallery-image-height] => 523 [apartament-gallery-image-thumb] => https://willatatiana.pl/wp-content/uploads/2016/11/Apartament_Karpacki_Willa_Tatiana_folk_Zakopane_02-150x84.jpg [apartament-gallery-image-thumb-width] => 150 [apartament-gallery-image-thumb-height] => 84 ) ) [2] => Array ( [id] => 1466 [alt] => Apartament Karpacki Willa Tatiana folk drewniany salon [title] => Apartament Karpacki Willa Tatiana folk [caption] => [description] => [mime_type] => image/jpeg [url] => https://willatatiana.pl/wp-content/uploads/2016/11/Apartament_Karpacki_Willa_Tatiana_folk_Zakopane_03.jpg [width] => 1000 [height] => 671 [sizes] => Array ( [thumbnail] => https://willatatiana.pl/wp-content/uploads/2016/11/Apartament_Karpacki_Willa_Tatiana_folk_Zakopane_03-150x150.jpg [thumbnail-width] => 150 [thumbnail-height] => 150 [medium] => https://willatatiana.pl/wp-content/uploads/2016/11/Apartament_Karpacki_Willa_Tatiana_folk_Zakopane_03-300x201.jpg [medium-width] => 300 [medium-height] => 201 [medium_large] => https://willatatiana.pl/wp-content/uploads/2016/11/Apartament_Karpacki_Willa_Tatiana_folk_Zakopane_03-768x515.jpg [medium_large-width] => 620 [medium_large-height] => 416 [large] => https://willatatiana.pl/wp-content/uploads/2016/11/Apartament_Karpacki_Willa_Tatiana_folk_Zakopane_03.jpg [large-width] => 620 [large-height] => 416 [1536x1536] => https://willatatiana.pl/wp-content/uploads/2016/11/Apartament_Karpacki_Willa_Tatiana_folk_Zakopane_03.jpg [1536x1536-width] => 1000 [1536x1536-height] => 671 [2048x2048] => https://willatatiana.pl/wp-content/uploads/2016/11/Apartament_Karpacki_Willa_Tatiana_folk_Zakopane_03.jpg [2048x2048-width] => 1000 [2048x2048-height] => 671 [slider-image] => https://willatatiana.pl/wp-content/uploads/2016/11/Apartament_Karpacki_Willa_Tatiana_folk_Zakopane_03-1000x430.jpg [slider-image-width] => 1000 [slider-image-height] => 430 [slider-image-thumb] => https://willatatiana.pl/wp-content/uploads/2016/11/Apartament_Karpacki_Willa_Tatiana_folk_Zakopane_03-625x215.jpg [slider-image-thumb-width] => 625 [slider-image-thumb-height] => 215 [slider-apartamenty] => https://willatatiana.pl/wp-content/uploads/2016/11/Apartament_Karpacki_Willa_Tatiana_folk_Zakopane_03-1000x240.jpg [slider-apartamenty-width] => 1000 [slider-apartamenty-height] => 240 [slider-apartamenty-thumb] => https://willatatiana.pl/wp-content/uploads/2016/11/Apartament_Karpacki_Willa_Tatiana_folk_Zakopane_03-625x120.jpg [slider-apartamenty-thumb-width] => 625 [slider-apartamenty-thumb-height] => 120 [apartament-image] => https://willatatiana.pl/wp-content/uploads/2016/11/Apartament_Karpacki_Willa_Tatiana_folk_Zakopane_03-290x177.jpg [apartament-image-width] => 290 [apartament-image-height] => 177 [apartament-gallery-image] => https://willatatiana.pl/wp-content/uploads/2016/11/Apartament_Karpacki_Willa_Tatiana_folk_Zakopane_03-905x523.jpg [apartament-gallery-image-width] => 905 [apartament-gallery-image-height] => 523 [apartament-gallery-image-thumb] => https://willatatiana.pl/wp-content/uploads/2016/11/Apartament_Karpacki_Willa_Tatiana_folk_Zakopane_03-150x84.jpg [apartament-gallery-image-thumb-width] => 150 [apartament-gallery-image-thumb-height] => 84 ) ) [3] => Array ( [id] => 1467 [alt] => Apartament Karpacki Willa Tatiana folk drewniana jadalnia [title] => Apartament Karpacki Willa Tatiana folk [caption] => [description] => [mime_type] => image/jpeg [url] => https://willatatiana.pl/wp-content/uploads/2016/11/Apartament_Karpacki_Willa_Tatiana_folk_Zakopane_04.jpg [width] => 1000 [height] => 650 [sizes] => Array ( [thumbnail] => https://willatatiana.pl/wp-content/uploads/2016/11/Apartament_Karpacki_Willa_Tatiana_folk_Zakopane_04-150x150.jpg [thumbnail-width] => 150 [thumbnail-height] => 150 [medium] => https://willatatiana.pl/wp-content/uploads/2016/11/Apartament_Karpacki_Willa_Tatiana_folk_Zakopane_04-300x195.jpg [medium-width] => 300 [medium-height] => 195 [medium_large] => https://willatatiana.pl/wp-content/uploads/2016/11/Apartament_Karpacki_Willa_Tatiana_folk_Zakopane_04-768x499.jpg [medium_large-width] => 620 [medium_large-height] => 403 [large] => https://willatatiana.pl/wp-content/uploads/2016/11/Apartament_Karpacki_Willa_Tatiana_folk_Zakopane_04.jpg [large-width] => 620 [large-height] => 403 [1536x1536] => https://willatatiana.pl/wp-content/uploads/2016/11/Apartament_Karpacki_Willa_Tatiana_folk_Zakopane_04.jpg [1536x1536-width] => 1000 [1536x1536-height] => 650 [2048x2048] => https://willatatiana.pl/wp-content/uploads/2016/11/Apartament_Karpacki_Willa_Tatiana_folk_Zakopane_04.jpg [2048x2048-width] => 1000 [2048x2048-height] => 650 [slider-image] => https://willatatiana.pl/wp-content/uploads/2016/11/Apartament_Karpacki_Willa_Tatiana_folk_Zakopane_04-1000x430.jpg [slider-image-width] => 1000 [slider-image-height] => 430 [slider-image-thumb] => https://willatatiana.pl/wp-content/uploads/2016/11/Apartament_Karpacki_Willa_Tatiana_folk_Zakopane_04-625x215.jpg [slider-image-thumb-width] => 625 [slider-image-thumb-height] => 215 [slider-apartamenty] => https://willatatiana.pl/wp-content/uploads/2016/11/Apartament_Karpacki_Willa_Tatiana_folk_Zakopane_04-1000x240.jpg [slider-apartamenty-width] => 1000 [slider-apartamenty-height] => 240 [slider-apartamenty-thumb] => https://willatatiana.pl/wp-content/uploads/2016/11/Apartament_Karpacki_Willa_Tatiana_folk_Zakopane_04-625x120.jpg [slider-apartamenty-thumb-width] => 625 [slider-apartamenty-thumb-height] => 120 [apartament-image] => https://willatatiana.pl/wp-content/uploads/2016/11/Apartament_Karpacki_Willa_Tatiana_folk_Zakopane_04-290x177.jpg [apartament-image-width] => 290 [apartament-image-height] => 177 [apartament-gallery-image] => https://willatatiana.pl/wp-content/uploads/2016/11/Apartament_Karpacki_Willa_Tatiana_folk_Zakopane_04-905x523.jpg [apartament-gallery-image-width] => 905 [apartament-gallery-image-height] => 523 [apartament-gallery-image-thumb] => https://willatatiana.pl/wp-content/uploads/2016/11/Apartament_Karpacki_Willa_Tatiana_folk_Zakopane_04-150x84.jpg [apartament-gallery-image-thumb-width] => 150 [apartament-gallery-image-thumb-height] => 84 ) ) [4] => Array ( [id] => 1468 [alt] => Apartament Karpacki Willa Tatiana folk drewniana sypialnia z wanną [title] => Apartament Karpacki Willa Tatiana folk [caption] => [description] => [mime_type] => image/jpeg [url] => https://willatatiana.pl/wp-content/uploads/2016/11/Apartament_Karpacki_Willa_Tatiana_folk_Zakopane_05.jpg [width] => 1000 [height] => 667 [sizes] => Array ( [thumbnail] => https://willatatiana.pl/wp-content/uploads/2016/11/Apartament_Karpacki_Willa_Tatiana_folk_Zakopane_05-150x150.jpg [thumbnail-width] => 150 [thumbnail-height] => 150 [medium] => https://willatatiana.pl/wp-content/uploads/2016/11/Apartament_Karpacki_Willa_Tatiana_folk_Zakopane_05-300x200.jpg [medium-width] => 300 [medium-height] => 200 [medium_large] => https://willatatiana.pl/wp-content/uploads/2016/11/Apartament_Karpacki_Willa_Tatiana_folk_Zakopane_05-768x512.jpg [medium_large-width] => 620 [medium_large-height] => 413 [large] => https://willatatiana.pl/wp-content/uploads/2016/11/Apartament_Karpacki_Willa_Tatiana_folk_Zakopane_05.jpg [large-width] => 620 [large-height] => 414 [1536x1536] => https://willatatiana.pl/wp-content/uploads/2016/11/Apartament_Karpacki_Willa_Tatiana_folk_Zakopane_05.jpg [1536x1536-width] => 1000 [1536x1536-height] => 667 [2048x2048] => https://willatatiana.pl/wp-content/uploads/2016/11/Apartament_Karpacki_Willa_Tatiana_folk_Zakopane_05.jpg [2048x2048-width] => 1000 [2048x2048-height] => 667 [slider-image] => https://willatatiana.pl/wp-content/uploads/2016/11/Apartament_Karpacki_Willa_Tatiana_folk_Zakopane_05-1000x430.jpg [slider-image-width] => 1000 [slider-image-height] => 430 [slider-image-thumb] => https://willatatiana.pl/wp-content/uploads/2016/11/Apartament_Karpacki_Willa_Tatiana_folk_Zakopane_05-625x215.jpg [slider-image-thumb-width] => 625 [slider-image-thumb-height] => 215 [slider-apartamenty] => https://willatatiana.pl/wp-content/uploads/2016/11/Apartament_Karpacki_Willa_Tatiana_folk_Zakopane_05-1000x240.jpg [slider-apartamenty-width] => 1000 [slider-apartamenty-height] => 240 [slider-apartamenty-thumb] => https://willatatiana.pl/wp-content/uploads/2016/11/Apartament_Karpacki_Willa_Tatiana_folk_Zakopane_05-625x120.jpg [slider-apartamenty-thumb-width] => 625 [slider-apartamenty-thumb-height] => 120 [apartament-image] => https://willatatiana.pl/wp-content/uploads/2016/11/Apartament_Karpacki_Willa_Tatiana_folk_Zakopane_05-290x177.jpg [apartament-image-width] => 290 [apartament-image-height] => 177 [apartament-gallery-image] => https://willatatiana.pl/wp-content/uploads/2016/11/Apartament_Karpacki_Willa_Tatiana_folk_Zakopane_05-905x523.jpg [apartament-gallery-image-width] => 905 [apartament-gallery-image-height] => 523 [apartament-gallery-image-thumb] => https://willatatiana.pl/wp-content/uploads/2016/11/Apartament_Karpacki_Willa_Tatiana_folk_Zakopane_05-150x84.jpg [apartament-gallery-image-thumb-width] => 150 [apartament-gallery-image-thumb-height] => 84 ) ) [5] => Array ( [id] => 1469 [alt] => Apartament Karpacki Willa Tatiana folk drewniana sypialnia [title] => Apartament Karpacki Willa Tatiana folk [caption] => [description] => [mime_type] => image/jpeg [url] => https://willatatiana.pl/wp-content/uploads/2016/11/Apartament_Karpacki_Willa_Tatiana_folk_Zakopane_06.jpg [width] => 1000 [height] => 667 [sizes] => Array ( [thumbnail] => https://willatatiana.pl/wp-content/uploads/2016/11/Apartament_Karpacki_Willa_Tatiana_folk_Zakopane_06-150x150.jpg [thumbnail-width] => 150 [thumbnail-height] => 150 [medium] => https://willatatiana.pl/wp-content/uploads/2016/11/Apartament_Karpacki_Willa_Tatiana_folk_Zakopane_06-300x200.jpg [medium-width] => 300 [medium-height] => 200 [medium_large] => https://willatatiana.pl/wp-content/uploads/2016/11/Apartament_Karpacki_Willa_Tatiana_folk_Zakopane_06-768x512.jpg [medium_large-width] => 620 [medium_large-height] => 413 [large] => https://willatatiana.pl/wp-content/uploads/2016/11/Apartament_Karpacki_Willa_Tatiana_folk_Zakopane_06.jpg [large-width] => 620 [large-height] => 414 [1536x1536] => https://willatatiana.pl/wp-content/uploads/2016/11/Apartament_Karpacki_Willa_Tatiana_folk_Zakopane_06.jpg [1536x1536-width] => 1000 [1536x1536-height] => 667 [2048x2048] => https://willatatiana.pl/wp-content/uploads/2016/11/Apartament_Karpacki_Willa_Tatiana_folk_Zakopane_06.jpg [2048x2048-width] => 1000 [2048x2048-height] => 667 [slider-image] => https://willatatiana.pl/wp-content/uploads/2016/11/Apartament_Karpacki_Willa_Tatiana_folk_Zakopane_06-1000x430.jpg [slider-image-width] => 1000 [slider-image-height] => 430 [slider-image-thumb] => https://willatatiana.pl/wp-content/uploads/2016/11/Apartament_Karpacki_Willa_Tatiana_folk_Zakopane_06-625x215.jpg [slider-image-thumb-width] => 625 [slider-image-thumb-height] => 215 [slider-apartamenty] => https://willatatiana.pl/wp-content/uploads/2016/11/Apartament_Karpacki_Willa_Tatiana_folk_Zakopane_06-1000x240.jpg [slider-apartamenty-width] => 1000 [slider-apartamenty-height] => 240 [slider-apartamenty-thumb] => https://willatatiana.pl/wp-content/uploads/2016/11/Apartament_Karpacki_Willa_Tatiana_folk_Zakopane_06-625x120.jpg [slider-apartamenty-thumb-width] => 625 [slider-apartamenty-thumb-height] => 120 [apartament-image] => https://willatatiana.pl/wp-content/uploads/2016/11/Apartament_Karpacki_Willa_Tatiana_folk_Zakopane_06-290x177.jpg [apartament-image-width] => 290 [apartament-image-height] => 177 [apartament-gallery-image] => https://willatatiana.pl/wp-content/uploads/2016/11/Apartament_Karpacki_Willa_Tatiana_folk_Zakopane_06-905x523.jpg [apartament-gallery-image-width] => 905 [apartament-gallery-image-height] => 523 [apartament-gallery-image-thumb] => https://willatatiana.pl/wp-content/uploads/2016/11/Apartament_Karpacki_Willa_Tatiana_folk_Zakopane_06-150x84.jpg [apartament-gallery-image-thumb-width] => 150 [apartament-gallery-image-thumb-height] => 84 ) ) [6] => Array ( [id] => 1470 [alt] => Apartament Karpacki Willa Tatiana folk [title] => Apartament Karpacki Willa Tatiana folk [caption] => [description] => [mime_type] => image/jpeg [url] => https://willatatiana.pl/wp-content/uploads/2016/11/Apartament_Karpacki_Willa_Tatiana_folk_Zakopane_07.jpg [width] => 1000 [height] => 667 [sizes] => Array ( [thumbnail] => https://willatatiana.pl/wp-content/uploads/2016/11/Apartament_Karpacki_Willa_Tatiana_folk_Zakopane_07-150x150.jpg [thumbnail-width] => 150 [thumbnail-height] => 150 [medium] => https://willatatiana.pl/wp-content/uploads/2016/11/Apartament_Karpacki_Willa_Tatiana_folk_Zakopane_07-300x200.jpg [medium-width] => 300 [medium-height] => 200 [medium_large] => https://willatatiana.pl/wp-content/uploads/2016/11/Apartament_Karpacki_Willa_Tatiana_folk_Zakopane_07-768x512.jpg [medium_large-width] => 620 [medium_large-height] => 413 [large] => https://willatatiana.pl/wp-content/uploads/2016/11/Apartament_Karpacki_Willa_Tatiana_folk_Zakopane_07.jpg [large-width] => 620 [large-height] => 414 [1536x1536] => https://willatatiana.pl/wp-content/uploads/2016/11/Apartament_Karpacki_Willa_Tatiana_folk_Zakopane_07.jpg [1536x1536-width] => 1000 [1536x1536-height] => 667 [2048x2048] => https://willatatiana.pl/wp-content/uploads/2016/11/Apartament_Karpacki_Willa_Tatiana_folk_Zakopane_07.jpg [2048x2048-width] => 1000 [2048x2048-height] => 667 [slider-image] => https://willatatiana.pl/wp-content/uploads/2016/11/Apartament_Karpacki_Willa_Tatiana_folk_Zakopane_07-1000x430.jpg [slider-image-width] => 1000 [slider-image-height] => 430 [slider-image-thumb] => https://willatatiana.pl/wp-content/uploads/2016/11/Apartament_Karpacki_Willa_Tatiana_folk_Zakopane_07-625x215.jpg [slider-image-thumb-width] => 625 [slider-image-thumb-height] => 215 [slider-apartamenty] => https://willatatiana.pl/wp-content/uploads/2016/11/Apartament_Karpacki_Willa_Tatiana_folk_Zakopane_07-1000x240.jpg [slider-apartamenty-width] => 1000 [slider-apartamenty-height] => 240 [slider-apartamenty-thumb] => https://willatatiana.pl/wp-content/uploads/2016/11/Apartament_Karpacki_Willa_Tatiana_folk_Zakopane_07-625x120.jpg [slider-apartamenty-thumb-width] => 625 [slider-apartamenty-thumb-height] => 120 [apartament-image] => https://willatatiana.pl/wp-content/uploads/2016/11/Apartament_Karpacki_Willa_Tatiana_folk_Zakopane_07-290x177.jpg [apartament-image-width] => 290 [apartament-image-height] => 177 [apartament-gallery-image] => https://willatatiana.pl/wp-content/uploads/2016/11/Apartament_Karpacki_Willa_Tatiana_folk_Zakopane_07-905x523.jpg [apartament-gallery-image-width] => 905 [apartament-gallery-image-height] => 523 [apartament-gallery-image-thumb] => https://willatatiana.pl/wp-content/uploads/2016/11/Apartament_Karpacki_Willa_Tatiana_folk_Zakopane_07-150x84.jpg [apartament-gallery-image-thumb-width] => 150 [apartament-gallery-image-thumb-height] => 84 ) ) [7] => Array ( [id] => 1471 [alt] => Apartament Karpacki Willa Tatiana folk [title] => Apartament Karpacki Willa Tatiana folk [caption] => [description] => [mime_type] => image/jpeg [url] => https://willatatiana.pl/wp-content/uploads/2016/11/Apartament_Karpacki_Willa_Tatiana_folk_Zakopane_08.jpg [width] => 1000 [height] => 673 [sizes] => Array ( [thumbnail] => https://willatatiana.pl/wp-content/uploads/2016/11/Apartament_Karpacki_Willa_Tatiana_folk_Zakopane_08-150x150.jpg [thumbnail-width] => 150 [thumbnail-height] => 150 [medium] => https://willatatiana.pl/wp-content/uploads/2016/11/Apartament_Karpacki_Willa_Tatiana_folk_Zakopane_08-300x202.jpg [medium-width] => 300 [medium-height] => 202 [medium_large] => https://willatatiana.pl/wp-content/uploads/2016/11/Apartament_Karpacki_Willa_Tatiana_folk_Zakopane_08-768x517.jpg [medium_large-width] => 620 [medium_large-height] => 417 [large] => https://willatatiana.pl/wp-content/uploads/2016/11/Apartament_Karpacki_Willa_Tatiana_folk_Zakopane_08.jpg [large-width] => 620 [large-height] => 417 [1536x1536] => https://willatatiana.pl/wp-content/uploads/2016/11/Apartament_Karpacki_Willa_Tatiana_folk_Zakopane_08.jpg [1536x1536-width] => 1000 [1536x1536-height] => 673 [2048x2048] => https://willatatiana.pl/wp-content/uploads/2016/11/Apartament_Karpacki_Willa_Tatiana_folk_Zakopane_08.jpg [2048x2048-width] => 1000 [2048x2048-height] => 673 [slider-image] => https://willatatiana.pl/wp-content/uploads/2016/11/Apartament_Karpacki_Willa_Tatiana_folk_Zakopane_08-1000x430.jpg [slider-image-width] => 1000 [slider-image-height] => 430 [slider-image-thumb] => https://willatatiana.pl/wp-content/uploads/2016/11/Apartament_Karpacki_Willa_Tatiana_folk_Zakopane_08-625x215.jpg [slider-image-thumb-width] => 625 [slider-image-thumb-height] => 215 [slider-apartamenty] => https://willatatiana.pl/wp-content/uploads/2016/11/Apartament_Karpacki_Willa_Tatiana_folk_Zakopane_08-1000x240.jpg [slider-apartamenty-width] => 1000 [slider-apartamenty-height] => 240 [slider-apartamenty-thumb] => https://willatatiana.pl/wp-content/uploads/2016/11/Apartament_Karpacki_Willa_Tatiana_folk_Zakopane_08-625x120.jpg [slider-apartamenty-thumb-width] => 625 [slider-apartamenty-thumb-height] => 120 [apartament-image] => https://willatatiana.pl/wp-content/uploads/2016/11/Apartament_Karpacki_Willa_Tatiana_folk_Zakopane_08-290x177.jpg [apartament-image-width] => 290 [apartament-image-height] => 177 [apartament-gallery-image] => https://willatatiana.pl/wp-content/uploads/2016/11/Apartament_Karpacki_Willa_Tatiana_folk_Zakopane_08-905x523.jpg [apartament-gallery-image-width] => 905 [apartament-gallery-image-height] => 523 [apartament-gallery-image-thumb] => https://willatatiana.pl/wp-content/uploads/2016/11/Apartament_Karpacki_Willa_Tatiana_folk_Zakopane_08-150x84.jpg [apartament-gallery-image-thumb-width] => 150 [apartament-gallery-image-thumb-height] => 84 ) ) [8] => Array ( [id] => 1472 [alt] => Apartament Karpacki Willa Tatiana folk drewniana sypialnia [title] => Apartament Karpacki Willa Tatiana folk [caption] => [description] => [mime_type] => image/jpeg [url] => https://willatatiana.pl/wp-content/uploads/2016/11/Apartament_Karpacki_Willa_Tatiana_folk_Zakopane_09.jpg [width] => 1000 [height] => 667 [sizes] => Array ( [thumbnail] => https://willatatiana.pl/wp-content/uploads/2016/11/Apartament_Karpacki_Willa_Tatiana_folk_Zakopane_09-150x150.jpg [thumbnail-width] => 150 [thumbnail-height] => 150 [medium] => https://willatatiana.pl/wp-content/uploads/2016/11/Apartament_Karpacki_Willa_Tatiana_folk_Zakopane_09-300x200.jpg [medium-width] => 300 [medium-height] => 200 [medium_large] => https://willatatiana.pl/wp-content/uploads/2016/11/Apartament_Karpacki_Willa_Tatiana_folk_Zakopane_09-768x512.jpg [medium_large-width] => 620 [medium_large-height] => 413 [large] => https://willatatiana.pl/wp-content/uploads/2016/11/Apartament_Karpacki_Willa_Tatiana_folk_Zakopane_09.jpg [large-width] => 620 [large-height] => 414 [1536x1536] => https://willatatiana.pl/wp-content/uploads/2016/11/Apartament_Karpacki_Willa_Tatiana_folk_Zakopane_09.jpg [1536x1536-width] => 1000 [1536x1536-height] => 667 [2048x2048] => https://willatatiana.pl/wp-content/uploads/2016/11/Apartament_Karpacki_Willa_Tatiana_folk_Zakopane_09.jpg [2048x2048-width] => 1000 [2048x2048-height] => 667 [slider-image] => https://willatatiana.pl/wp-content/uploads/2016/11/Apartament_Karpacki_Willa_Tatiana_folk_Zakopane_09-1000x430.jpg [slider-image-width] => 1000 [slider-image-height] => 430 [slider-image-thumb] => https://willatatiana.pl/wp-content/uploads/2016/11/Apartament_Karpacki_Willa_Tatiana_folk_Zakopane_09-625x215.jpg [slider-image-thumb-width] => 625 [slider-image-thumb-height] => 215 [slider-apartamenty] => https://willatatiana.pl/wp-content/uploads/2016/11/Apartament_Karpacki_Willa_Tatiana_folk_Zakopane_09-1000x240.jpg [slider-apartamenty-width] => 1000 [slider-apartamenty-height] => 240 [slider-apartamenty-thumb] => https://willatatiana.pl/wp-content/uploads/2016/11/Apartament_Karpacki_Willa_Tatiana_folk_Zakopane_09-625x120.jpg [slider-apartamenty-thumb-width] => 625 [slider-apartamenty-thumb-height] => 120 [apartament-image] => https://willatatiana.pl/wp-content/uploads/2016/11/Apartament_Karpacki_Willa_Tatiana_folk_Zakopane_09-290x177.jpg [apartament-image-width] => 290 [apartament-image-height] => 177 [apartament-gallery-image] => https://willatatiana.pl/wp-content/uploads/2016/11/Apartament_Karpacki_Willa_Tatiana_folk_Zakopane_09-905x523.jpg [apartament-gallery-image-width] => 905 [apartament-gallery-image-height] => 523 [apartament-gallery-image-thumb] => https://willatatiana.pl/wp-content/uploads/2016/11/Apartament_Karpacki_Willa_Tatiana_folk_Zakopane_09-150x84.jpg [apartament-gallery-image-thumb-width] => 150 [apartament-gallery-image-thumb-height] => 84 ) ) [9] => Array ( [id] => 1473 [alt] => Apartament Karpacki Willa Tatiana folk łazienka z kamienia i drewna [title] => Apartament Karpacki Willa Tatiana folk [caption] => [description] => [mime_type] => image/jpeg [url] => https://willatatiana.pl/wp-content/uploads/2016/11/Apartament_Karpacki_Willa_Tatiana_folk_Zakopane_10.jpg [width] => 1000 [height] => 667 [sizes] => Array ( [thumbnail] => https://willatatiana.pl/wp-content/uploads/2016/11/Apartament_Karpacki_Willa_Tatiana_folk_Zakopane_10-150x150.jpg [thumbnail-width] => 150 [thumbnail-height] => 150 [medium] => https://willatatiana.pl/wp-content/uploads/2016/11/Apartament_Karpacki_Willa_Tatiana_folk_Zakopane_10-300x200.jpg [medium-width] => 300 [medium-height] => 200 [medium_large] => https://willatatiana.pl/wp-content/uploads/2016/11/Apartament_Karpacki_Willa_Tatiana_folk_Zakopane_10-768x512.jpg [medium_large-width] => 620 [medium_large-height] => 413 [large] => https://willatatiana.pl/wp-content/uploads/2016/11/Apartament_Karpacki_Willa_Tatiana_folk_Zakopane_10.jpg [large-width] => 620 [large-height] => 414 [1536x1536] => https://willatatiana.pl/wp-content/uploads/2016/11/Apartament_Karpacki_Willa_Tatiana_folk_Zakopane_10.jpg [1536x1536-width] => 1000 [1536x1536-height] => 667 [2048x2048] => https://willatatiana.pl/wp-content/uploads/2016/11/Apartament_Karpacki_Willa_Tatiana_folk_Zakopane_10.jpg [2048x2048-width] => 1000 [2048x2048-height] => 667 [slider-image] => https://willatatiana.pl/wp-content/uploads/2016/11/Apartament_Karpacki_Willa_Tatiana_folk_Zakopane_10-1000x430.jpg [slider-image-width] => 1000 [slider-image-height] => 430 [slider-image-thumb] => https://willatatiana.pl/wp-content/uploads/2016/11/Apartament_Karpacki_Willa_Tatiana_folk_Zakopane_10-625x215.jpg [slider-image-thumb-width] => 625 [slider-image-thumb-height] => 215 [slider-apartamenty] => https://willatatiana.pl/wp-content/uploads/2016/11/Apartament_Karpacki_Willa_Tatiana_folk_Zakopane_10-1000x240.jpg [slider-apartamenty-width] => 1000 [slider-apartamenty-height] => 240 [slider-apartamenty-thumb] => https://willatatiana.pl/wp-content/uploads/2016/11/Apartament_Karpacki_Willa_Tatiana_folk_Zakopane_10-625x120.jpg [slider-apartamenty-thumb-width] => 625 [slider-apartamenty-thumb-height] => 120 [apartament-image] => https://willatatiana.pl/wp-content/uploads/2016/11/Apartament_Karpacki_Willa_Tatiana_folk_Zakopane_10-290x177.jpg [apartament-image-width] => 290 [apartament-image-height] => 177 [apartament-gallery-image] => https://willatatiana.pl/wp-content/uploads/2016/11/Apartament_Karpacki_Willa_Tatiana_folk_Zakopane_10-905x523.jpg [apartament-gallery-image-width] => 905 [apartament-gallery-image-height] => 523 [apartament-gallery-image-thumb] => https://willatatiana.pl/wp-content/uploads/2016/11/Apartament_Karpacki_Willa_Tatiana_folk_Zakopane_10-150x84.jpg [apartament-gallery-image-thumb-width] => 150 [apartament-gallery-image-thumb-height] => 84 ) ) [10] => Array ( [id] => 1474 [alt] => Apartament Karpacki Willa Tatiana folk drewniana łazienka [title] => Apartament Karpacki Willa Tatiana folk [caption] => [description] => [mime_type] => image/jpeg [url] => https://willatatiana.pl/wp-content/uploads/2016/11/Apartament_Karpacki_Willa_Tatiana_folk_Zakopane_11.jpg [width] => 1000 [height] => 667 [sizes] => Array ( [thumbnail] => https://willatatiana.pl/wp-content/uploads/2016/11/Apartament_Karpacki_Willa_Tatiana_folk_Zakopane_11-150x150.jpg [thumbnail-width] => 150 [thumbnail-height] => 150 [medium] => https://willatatiana.pl/wp-content/uploads/2016/11/Apartament_Karpacki_Willa_Tatiana_folk_Zakopane_11-300x200.jpg [medium-width] => 300 [medium-height] => 200 [medium_large] => https://willatatiana.pl/wp-content/uploads/2016/11/Apartament_Karpacki_Willa_Tatiana_folk_Zakopane_11-768x512.jpg [medium_large-width] => 620 [medium_large-height] => 413 [large] => https://willatatiana.pl/wp-content/uploads/2016/11/Apartament_Karpacki_Willa_Tatiana_folk_Zakopane_11.jpg [large-width] => 620 [large-height] => 414 [1536x1536] => https://willatatiana.pl/wp-content/uploads/2016/11/Apartament_Karpacki_Willa_Tatiana_folk_Zakopane_11.jpg [1536x1536-width] => 1000 [1536x1536-height] => 667 [2048x2048] => https://willatatiana.pl/wp-content/uploads/2016/11/Apartament_Karpacki_Willa_Tatiana_folk_Zakopane_11.jpg [2048x2048-width] => 1000 [2048x2048-height] => 667 [slider-image] => https://willatatiana.pl/wp-content/uploads/2016/11/Apartament_Karpacki_Willa_Tatiana_folk_Zakopane_11-1000x430.jpg [slider-image-width] => 1000 [slider-image-height] => 430 [slider-image-thumb] => https://willatatiana.pl/wp-content/uploads/2016/11/Apartament_Karpacki_Willa_Tatiana_folk_Zakopane_11-625x215.jpg [slider-image-thumb-width] => 625 [slider-image-thumb-height] => 215 [slider-apartamenty] => https://willatatiana.pl/wp-content/uploads/2016/11/Apartament_Karpacki_Willa_Tatiana_folk_Zakopane_11-1000x240.jpg [slider-apartamenty-width] => 1000 [slider-apartamenty-height] => 240 [slider-apartamenty-thumb] => https://willatatiana.pl/wp-content/uploads/2016/11/Apartament_Karpacki_Willa_Tatiana_folk_Zakopane_11-625x120.jpg [slider-apartamenty-thumb-width] => 625 [slider-apartamenty-thumb-height] => 120 [apartament-image] => https://willatatiana.pl/wp-content/uploads/2016/11/Apartament_Karpacki_Willa_Tatiana_folk_Zakopane_11-290x177.jpg [apartament-image-width] => 290 [apartament-image-height] => 177 [apartament-gallery-image] => https://willatatiana.pl/wp-content/uploads/2016/11/Apartament_Karpacki_Willa_Tatiana_folk_Zakopane_11-905x523.jpg [apartament-gallery-image-width] => 905 [apartament-gallery-image-height] => 523 [apartament-gallery-image-thumb] => https://willatatiana.pl/wp-content/uploads/2016/11/Apartament_Karpacki_Willa_Tatiana_folk_Zakopane_11-150x84.jpg [apartament-gallery-image-thumb-width] => 150 [apartament-gallery-image-thumb-height] => 84 ) ) [11] => Array ( [id] => 1475 [alt] => Apartament Karpacki Willa Tatiana folk łazienka z kamienia [title] => Apartament Karpacki Willa Tatiana folk [caption] => [description] => [mime_type] => image/jpeg [url] => https://willatatiana.pl/wp-content/uploads/2016/11/Apartament_Karpacki_Willa_Tatiana_folk_Zakopane_12.jpg [width] => 1000 [height] => 667 [sizes] => Array ( [thumbnail] => https://willatatiana.pl/wp-content/uploads/2016/11/Apartament_Karpacki_Willa_Tatiana_folk_Zakopane_12-150x150.jpg [thumbnail-width] => 150 [thumbnail-height] => 150 [medium] => https://willatatiana.pl/wp-content/uploads/2016/11/Apartament_Karpacki_Willa_Tatiana_folk_Zakopane_12-300x200.jpg [medium-width] => 300 [medium-height] => 200 [medium_large] => https://willatatiana.pl/wp-content/uploads/2016/11/Apartament_Karpacki_Willa_Tatiana_folk_Zakopane_12-768x512.jpg [medium_large-width] => 620 [medium_large-height] => 413 [large] => https://willatatiana.pl/wp-content/uploads/2016/11/Apartament_Karpacki_Willa_Tatiana_folk_Zakopane_12.jpg [large-width] => 620 [large-height] => 414 [1536x1536] => https://willatatiana.pl/wp-content/uploads/2016/11/Apartament_Karpacki_Willa_Tatiana_folk_Zakopane_12.jpg [1536x1536-width] => 1000 [1536x1536-height] => 667 [2048x2048] => https://willatatiana.pl/wp-content/uploads/2016/11/Apartament_Karpacki_Willa_Tatiana_folk_Zakopane_12.jpg [2048x2048-width] => 1000 [2048x2048-height] => 667 [slider-image] => https://willatatiana.pl/wp-content/uploads/2016/11/Apartament_Karpacki_Willa_Tatiana_folk_Zakopane_12-1000x430.jpg [slider-image-width] => 1000 [slider-image-height] => 430 [slider-image-thumb] => https://willatatiana.pl/wp-content/uploads/2016/11/Apartament_Karpacki_Willa_Tatiana_folk_Zakopane_12-625x215.jpg [slider-image-thumb-width] => 625 [slider-image-thumb-height] => 215 [slider-apartamenty] => https://willatatiana.pl/wp-content/uploads/2016/11/Apartament_Karpacki_Willa_Tatiana_folk_Zakopane_12-1000x240.jpg [slider-apartamenty-width] => 1000 [slider-apartamenty-height] => 240 [slider-apartamenty-thumb] => https://willatatiana.pl/wp-content/uploads/2016/11/Apartament_Karpacki_Willa_Tatiana_folk_Zakopane_12-625x120.jpg [slider-apartamenty-thumb-width] => 625 [slider-apartamenty-thumb-height] => 120 [apartament-image] => https://willatatiana.pl/wp-content/uploads/2016/11/Apartament_Karpacki_Willa_Tatiana_folk_Zakopane_12-290x177.jpg [apartament-image-width] => 290 [apartament-image-height] => 177 [apartament-gallery-image] => https://willatatiana.pl/wp-content/uploads/2016/11/Apartament_Karpacki_Willa_Tatiana_folk_Zakopane_12-905x523.jpg [apartament-gallery-image-width] => 905 [apartament-gallery-image-height] => 523 [apartament-gallery-image-thumb] => https://willatatiana.pl/wp-content/uploads/2016/11/Apartament_Karpacki_Willa_Tatiana_folk_Zakopane_12-150x84.jpg [apartament-gallery-image-thumb-width] => 150 [apartament-gallery-image-thumb-height] => 84 ) ) [12] => Array ( [id] => 1476 [alt] => Apartament Karpacki Willa Tatiana folk łazienka z kamienia i drewna [title] => Apartament Karpacki Willa Tatiana folk [caption] => [description] => [mime_type] => image/jpeg [url] => https://willatatiana.pl/wp-content/uploads/2016/11/Apartament_Karpacki_Willa_Tatiana_folk_Zakopane_13.jpg [width] => 1000 [height] => 667 [sizes] => Array ( [thumbnail] => https://willatatiana.pl/wp-content/uploads/2016/11/Apartament_Karpacki_Willa_Tatiana_folk_Zakopane_13-150x150.jpg [thumbnail-width] => 150 [thumbnail-height] => 150 [medium] => https://willatatiana.pl/wp-content/uploads/2016/11/Apartament_Karpacki_Willa_Tatiana_folk_Zakopane_13-300x200.jpg [medium-width] => 300 [medium-height] => 200 [medium_large] => https://willatatiana.pl/wp-content/uploads/2016/11/Apartament_Karpacki_Willa_Tatiana_folk_Zakopane_13-768x512.jpg [medium_large-width] => 620 [medium_large-height] => 413 [large] => https://willatatiana.pl/wp-content/uploads/2016/11/Apartament_Karpacki_Willa_Tatiana_folk_Zakopane_13.jpg [large-width] => 620 [large-height] => 414 [1536x1536] => https://willatatiana.pl/wp-content/uploads/2016/11/Apartament_Karpacki_Willa_Tatiana_folk_Zakopane_13.jpg [1536x1536-width] => 1000 [1536x1536-height] => 667 [2048x2048] => https://willatatiana.pl/wp-content/uploads/2016/11/Apartament_Karpacki_Willa_Tatiana_folk_Zakopane_13.jpg [2048x2048-width] => 1000 [2048x2048-height] => 667 [slider-image] => https://willatatiana.pl/wp-content/uploads/2016/11/Apartament_Karpacki_Willa_Tatiana_folk_Zakopane_13-1000x430.jpg [slider-image-width] => 1000 [slider-image-height] => 430 [slider-image-thumb] => https://willatatiana.pl/wp-content/uploads/2016/11/Apartament_Karpacki_Willa_Tatiana_folk_Zakopane_13-625x215.jpg [slider-image-thumb-width] => 625 [slider-image-thumb-height] => 215 [slider-apartamenty] => https://willatatiana.pl/wp-content/uploads/2016/11/Apartament_Karpacki_Willa_Tatiana_folk_Zakopane_13-1000x240.jpg [slider-apartamenty-width] => 1000 [slider-apartamenty-height] => 240 [slider-apartamenty-thumb] => https://willatatiana.pl/wp-content/uploads/2016/11/Apartament_Karpacki_Willa_Tatiana_folk_Zakopane_13-625x120.jpg [slider-apartamenty-thumb-width] => 625 [slider-apartamenty-thumb-height] => 120 [apartament-image] => https://willatatiana.pl/wp-content/uploads/2016/11/Apartament_Karpacki_Willa_Tatiana_folk_Zakopane_13-290x177.jpg [apartament-image-width] => 290 [apartament-image-height] => 177 [apartament-gallery-image] => https://willatatiana.pl/wp-content/uploads/2016/11/Apartament_Karpacki_Willa_Tatiana_folk_Zakopane_13-905x523.jpg [apartament-gallery-image-width] => 905 [apartament-gallery-image-height] => 523 [apartament-gallery-image-thumb] => https://willatatiana.pl/wp-content/uploads/2016/11/Apartament_Karpacki_Willa_Tatiana_folk_Zakopane_13-150x84.jpg [apartament-gallery-image-thumb-width] => 150 [apartament-gallery-image-thumb-height] => 84 ) ) ) aaas

The interior of the suite features many elements made of wood from a 120-year-old barn… and its hue is due to the rays of the Sun which over time has given it such a noble colour … Natural stone, unique furniture which gained a second life in the new place… Antique 100-year-old stained-glass windows, atmospheric old paintings and decorative elements as well as warm colours of the interior give the suite a unique character and atmosphere…