Larch Apartment of a studio type
The interior was arranged with the use of larch with characteristic natural honey colour. Atmospheric, its resin scent brings to mind forests. Ideal for relaxation, very cosy and comfortable decor. Unusual design elements enhance its distinctive style and atmosphere.
double studio, a single-level apartment with a surface of 30 m²,
the apartment features a separate sleeping area, bathroom and living room with a kitchenette,
the kitchenette is equipped with a fridge with a freezer, electric cooker hob, Nespresso coffee machine with a starter kit, electric kettle, dishwasher, microwave oven, toaster, and all necessary kitchenware (glass, plates, cutlery, pots), ironing facilities,
the apartment is located on the ground floor of the building,
free WI-FI access,
free car park available on site (one parking space per apartment).
Additional information
breakfast catering (extra charge),
satellite TV in the apartment,
free cots and high chairs for children as well as baby baths (available on Customer's request),
free sledges in the winter season,
individual ski storage for the apartment,
sauna and salt graduation house (extra charge) in Villa TATIANA lux (a 5-minute walk).
car park – in case of the lack of parking spaces at Villa TATIANA boutique, there are parking places guaranteed at Villa TATIANA premium or Villa TATIANA lux.
The apartment is equipped with
a set of high quality toiletries (shampoo and hair conditioner, soap), towels, hair dryer, bed linen, slippers.
Important information
non-smokers only,
pets are not allowed,
organizing events and parties is prohibited.
Facilities and equipment
Nespresso coffee machine with a starter kit
sauna (extra charge – available in Villa Lux)
salt graduation house (extra charge – available in Villa Lux)
In order to acquire information concerning price and availability of the apartment, please determine the dates of your stay and then confirm them by clicking the "check" button
Online booking without brokers
guarantee of the best price | current availability of the apartments
See the layout of the apartment:
level 1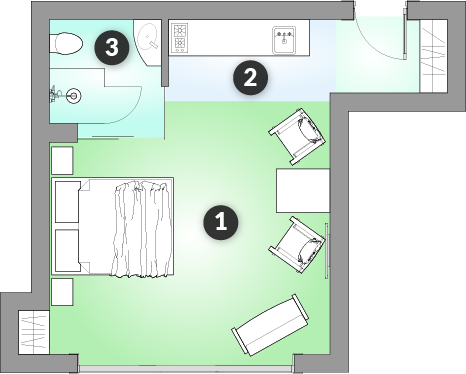 Leisure/
sleeping part (1)
The single-level apartment captivates with its honey colour of larch. It has a separate sleeping area with a large double bed with a 180×200 mattress, two bedsite tables and a spacious wardrobe. There is a TV set and a small sofa opposite the bed.
---
Kitchenette (2)
The kitchenette makes meal preparation effortless – it is fully equipped and has a separate dining area, i.e. a table with 2 highlander armchairs.
---
Bathroom (3)
Modern bathroom has standard equipment with a large mirror and a spacious shower.
---
See reviews Willa Tatiana boutique
Neighbourhood of Villa Tatiana
500 m – grocery store
300 m - park and children's playground
300 m – ice skating rink in winter
1,1 km - Aqua Park
1,4 km – market under Gubałówka
1,5 km – railway station
The nearest airports
31,4 km - Poprad-Tatry Airport
88,1 km - Kraków-Balice Airport
The most popular attractions
500 m – Krupówki
500 m – Museum of Kornel Makuszyński
800 m - Municipal Art Gallery in Zakopane
900 m - Szymanowski Museum
600 m – Gigant ski lift
900 m – Nosal ski lift
900 m - Wielka Krokiew ski jump
1 km – Białego Valley
1,6 km - Gubałówka funicular
1,8 km - Szymoszkowa lift
1,8 km – Cemetery on Peksowy Brzyzek
2,1 km – Villa Koliba
2,5 km - Kasprowy Wierch ski lift
2,7 km - Pardałówka ski lift
2,8 km - Gubałówka
4,1 km - Harenda ski lift
5,1 km – Strążyńska Valley
5,7 km - Cabanówka ski lift
6,4 km - Kasprowy Wierch
7 km – Kościeliska Valley
11,4 km - Ku Dolinie ski lift
12,9 km - Morskie Oko
14,9 km – Chochołowska Valley
15,3 km - Bania Thermal Bath